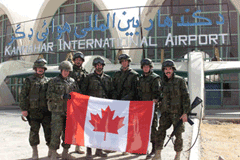 When Master Cpl. Anthony Klumpenhouwer fell from a communications tower in Kandahar last week, he became the 54th Canadian soldier to die in Afghanistan since Canada's mission there began in 2002.
That number, 54, makes the Afghan mission Canada's bloodiest since the Korean War. And for a generation born and raised after that conflict, it marks their first regular dose of flag-draped coffins and heartbroken young families.
The deaths, costs and moral compromises of the Afghan mission have proliferated since Canadian soldiers moved out of the areas surrounding Kabul two years ago and into the Taliban strongholds in the south. As the mission has bloodied, its status as political football has strengthened. When news of Klumpenhouwer's death reached Canada, it quickly became part of a growing political battle.
Last week, the Opposition Liberals tabled a motion in the House of Commons calling for Canada to withdraw its troops no later than the end of the current deployment in February 2009. The Conservative government responded by accusing the Liberals of using dead soldiers to their political advantage. The NDP, meanwhile, continue to call for an end to the bloody campaign.
Vexing questions
But divisions on Afghanistan don't break down easily along ideological lines. The questions about what we're doing there and why aren't partisan. Many advocates of the mission are hugely critical of its tactics. While among those who want to pull out, the why and the when are far from agreed on points.
Here's just a sample of the many questions that remain open about the mission:
Is it right to ask Canadian soldiers to die for a cause only tangentially related to Canadian security? On the other hand, what will the sacrifice of those who have already died mean if Canada pulls out before the mission is complete? For that matter, what does a complete mission in Afghanistan look like?
On the tactical end, if Canada leaves, does that mean the Taliban will return? And if we stay, can the Taliban be beaten?
On human rights, the Karzai government is rife with former warlords and accused war criminals. What does it mean for Canadian values when our military cooperates with them? That said, the Taliban regime had one of the worst human rights records of any the world, particularly when it came to women. How can we claim to be committed to rights if we allow them to come back to power?
On drugs, opium production has doubled since the Taliban was overthrown. What are we doing about that, and what should we?
Tyee panel: mixed perspectives
This Thursday in Vancouver, Michael Byers, an early critic of Canada's detainee policy, will join other Tyee regulars and Afghanistan experts to probe those questions at an informal forum in Gastown's Alibi room.
Joining Byers will be Vancouver journalist and writer Terry Glavin, reporter Jared Ferrie, who recently returned from his second trip to Afghanistan and whose writing on the country has appeared in the Tyee, This Magazine and Metro, among others, and human rights advocate Lauryn Oates, the vice-president of Canadian Women for Women in Afghanistan.
The panelists are all experts on the issue. But they don't all agree about the mission's future. If you want to learn more and live in the Vancouver area, feel free to come down and watch. If you don't live in Vancouver, but still have a question for the panel, email me at rwarnica@thetyee.ca, or put a comment below and I'll do my best to put it to them.
Michael Byers holds the Canada Research Chair in Global Politics and International Law at the University of British Columbia. Byers is a regular contributor to the London Review of Books, Toronto Star and Globe and Mail. He is the author or editor of five books, including War Law: Understanding International Law and Armed Conflict (2005) and Intent for a Nation: What is Canada For? (June 2007).
Byers is a prominent public critic of Canada's Afghan mission. He made his case against the deployment in these pages in October of 2006 and again, more recently, in the spring issue of Maisonneuve.
Byers was also one of the first to criticize Canada's policy of handing captured prisoners over to American and Afghan authorities, an issue that exploded Monday when a report in the Globe and Mail revealed that 30 detainees handed over by the Canadians had gone on to be tortured.
Jared Ferrie is a journalist who has written extensively about Afghanistan, where he has been and reported from twice since the fall of the Taliban. Ferrie's reporting on Sri Lanka's Tamil Tigers recently earned a citation for excellence from the Canadian Association of Journalists.
In a recent piece for This Magazine, Ferrie dissected some of the errors in NATO strategy and acknowledged the human rights failings of many Karzai allies. But, he argued, Canadian efforts are making a difference in the lives of ordinary Afghans and only with continued military and humanitarian support can those changes be secured and built upon.
Terry Glavin is a journalist, author and adjunct professor in UBC's department of theater, film and creative writing. Since he left daily journalism 14 years ago, he has won a dozen national and regional writing awards. His latest book is The Sixth Extinction: Journeys Among the Lost and Left Behind.
In recent years, Glavin has emerged as a leading proponent of liberal interventionism, the idea that military action is sometimes necessary to protect human rights abroad. You can read Glavin's writing on Afghanistan and related thoughts on Iraq and the left online in The Tyee and the Georgia Straight.
Lauryn Oates has worked as an activist on women's rights in Afghanistan since 1996, as the founder of the Vancouver and Montreal chapters of the non-profit solidarity network, Canadian Women for Women in Afghanistan (CW4WAfghan).
Oates is the recipient of numerous awards and distinctions, including the 2000 Chatelaine Women of the Year, the 2001 National Post/L'Oréal Canada Women of Influence and a YTV Achievement Awards finalist for public service. She is based in Vancouver as an independent consultant and travels frequently in the Middle East and Central Asia.
Related Tyee stories: