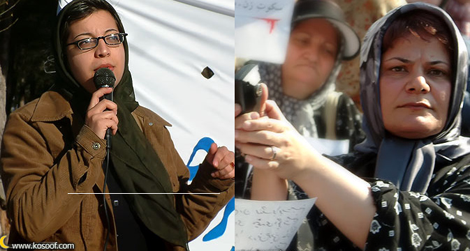 While the world was preparing to celebrate International Women's Day last Thursday, women activists in Iran were facing one of the most challenging and trying periods they've experienced in a decade.
On Sunday, March 4, government security agents rounded up more than 30 women, who had gathered in front of Tehran's Islamic Revolutionary Court in support of five women who were on trial inside the courthouse.
Four of the women appearing before the judge -- Sussan Tahmasebi, Parvin Ardalan, Noushin Ahmadi Khorasani and Shahla Entesari -- were on trial for the unlawful participation in a peaceful gathering last June, part of a larger effort to change sections of Iran's constitution that are discriminatory towards women.
The activists from Sunday afternoon's series of arrests were all transferred to the Evin Prison's infamous section 209.
Since President Mahmoud Ahmadinejad took office, civil society has seen increasing repression through both the ministries of Intelligence and the Interior, which have increasingly been monitoring civil society organizations.
Hunger strike
Women have been at the forefront of Iranian society in challenging the country's Islamic laws in recent years, while the Ahmadinejad administration has raised the political cost of social activism, perceived as a way for Western countries to wield influence in Iran's Islamic society, possibly opening the doors to revolution.
By Thursday midnight, 31 of the women had been released, although two of them, Mahboobeh Abbasgholizadeh and Shadi Sadr, remain in solitary confinement.
Eight of the women, released Monday, confirmed that the others were on a hunger strike. One of the released women told The Tyee that Jila Baniyaghoob, a prominent Iranian journalist, has joined the hunger strike and that her health was greatly threatened.
Judiciary authorities, however, have denied these reports.
Solitary confinement
This wasn't the first time some of the women had run afoul of officials in Tehran.
Abbasgholizadeh, who runs a women's resource centre in Tehran and works as an editor of Farzaneh Quarterly, was previously arrested for campaigning for women's rights and held for almost a month in November 2004. Soon after, she was exonerated from all her charges.
Shadi Sadr, also still being detained, is another well-known journalist and also Abbasgholizadeh's legal representative.
A women's rights activist stated that the released women reported being interrogated in detail about their planned activities for International Women's Day, which the authorities call a Western ceremony and therefore anti-Islamic.
Another woman, who wished to remain nameless, said, "I believe that the two remaining women will not be released very soon, when they have been active in organizing large gatherings of women."
The same time last year, several women, including Ms. Abbasgholizadeh, were called to the Ministry of Interior and received threats to stop their activities for the March 8 assemblies, or face being arrested. They replied that the women's movement is not based on individuals and it goes on its way.
Coverage, contrasted
In the past nine days, Human Rights Watch, Amnesty International, the United Nations Human Right's High Commissioner and many other organizations and individuals have condemned this wave of suppression and violence against women activists in Iran.
Iranian news agencies and newspapers have kept silent about the event.
Official judicial authorities, and specifically the judiciary's spokesperson, Alireza Jamshidi, have likewise not released any information about the rationale for the arrests. On Tuesday, in an act of solidarity, 620 academics, researchers, lawyers and journalists signed and submitted a letter objecting to the Sunday arrests, asking the head of judiciary, Hashemi Shahroudi, to release the women.
'Blind-folded'
Parastoo Dokoohaki, a journalist and blogger and one of the released women, told The Tyee that they have been kept blindfolded in detention and during the interrogations.
"We objected to being blindfolded and to the detestable conditions, but in reply, we were sworn at. Their favourite cuss word, which they used repeatedly, was 'anti-revolutionary bastards.'"
Dokoohaki related that up to that point the detainees had been blindfolded in a large room. After they complained, they were broken up into groups of four to five and sent to separate cells.
"Our cell had a toilet. But I heard that other cells didn't have toilets. It looked like it would be a cell used for solitary confinement, but they were using it for several people," said Dokoohaki during a phone conversation from Tehran a day after release.
She added that she was in a solitary confinement cell for less than an hour when they called her for her interrogation.
According to the released women, they were interrogated one by one from 11:30 p.m. until 3:30 a.m. the next day. Interrogators extracted private information from each woman, including their social activities, where they had travelled, and details about their sexual lives.
Two women unbowed
Mahmoubeh Hosseinzadeh, who was released on Wednesday at midnight, told The Tyee that it was not clear why the security forces arrested her and the others.
"I've told everybody, including the interrogators, that I will continue my activities and efforts to support women's campaigns."
While previously she had worried about what emotional strain the political activities would have on her mother, this recent arrest assured her that "she can handle it very well."
"So, I have fewer concerns about her now and I can follow my activities with less apprehension," she added.
Parastoo voiced similar resolve.
"The arrest will not change my goals. However, it may change the methods which we have chosen to reach our ideals, considering the cost-benefit dynamic."
'Law without stoning'
Many of the arrested women were key organizers of the two critical advocacy campaigns for women's rights: one being the "Law without Stoning" movement and the other a campaign called "One Million Signatures Demanding Changes to Discriminatory Laws," also referred to as the "Change for Equality" campaign.
The first campaign targets the Islamic law that upholds the practice of stoning women for adultery, while the second campaign aims to collect one million signatures to demand changes to other discriminatory laws against women in Iran. Security agencies have shown alarm at these activities, claiming they are funded by the Islamic Republic's enemies, specifically the U.S.
The day after the arrests, Keyhan, the nation's most hardliner daily, printed accusations against activists in the "One Million Signatures" campaign, alleging they had received payouts of $75 million from the budgets of the Netherlands and the U.S. In the eyes of many Iran-watchers, Keyhan is notorious for its connection to intelligence forces, which often operate outside the legal system, and have repeatedly leaked information on cases of political prisoners, they say.
U.S.-funded women's rights?
In this latest article, Keyhan attempted to rally public opinion by defining a "campaign" as "a means for battle, attack or non-military and public confrontation," in order to portray the movement for women's rights as an anti-government action.
"This coalition is comprised of seculars, liberals and atheists, and is a convergence to join rebels with those who claim to be reformists, such as people like Shirin Ebadi [2003 Nobel Peace Laureate]," read the editorial.
The crackdown on human rights activists has worsened since last February, when the U.S. State Department declared that it was creating a $75 million fund to "reach out to the people of Iran." The Netherlands has created a similar fund.
In the hands of the Islamic government, these announcements have become an excuse to monitor and scrutinize the activities of activists and intellectuals more closely, in an attempt to isolate them from the outside world.
The women activists in both campaigns have repeatedly denied acceptance of any funds from the U.S.
Best at being the worst
Dr. Hadi Ghaemi, a researcher for Human Rights Watch, had the following to say about the status of women's rights in Iran: "These kinds of arrests are unprecedented and extremely concerning. It damages Iran's international image more than ever."
He said these arrests send "a warning to all human rights activists" and demonstrate "an utmost lack of tolerance by the regime towards civil society institutions and women's rights activists."
Ghaemi also called on Iran to uphold Iranian and international law. "The regime cannot simply overlook the fact that the demands of Iranian women represent demands of half of the Iranian nation."
"In no country in the world [are] pioneers of civil movements and leaders of the society arrested so wantonly and recklessly."
Making a statement
Meanwhile, the "Women's Cultural Center," which saw six of its top members arrested, criticized the authoritarian pressure in a written statement.
"The detainment of 33 women's movement activists on March 4 displays the special awareness of the legislative and judicial authorities towards women's rights and their demands on the threshold of International Women's Day."
This statement continues, saying that repression, physical abuse and detentions are having the opposite effect of that desired by the government.
"Contrary to [the government's] efforts, the joint communiqué of various groups, and the presence of different organizations...have revived the women's movement."
Related Tyee stories: