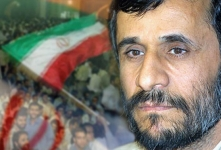 Today is the deadline requiring the IAEA to report on Iran's compliance with the UN Security Council decision requiring it to abandon enrichment efforts. Given what is at stake, most analysts are puzzled by Iran's continual insistence on its inalienable right to enrich uranium on its territory.
Iran may be calculating that escalation can enhance their ability to extract face-saving concessions over its ability to enrich uranium on its soil. However, ratcheting-up the situation could backfire, causing events to spiral out of control. The result would be economic and even military confrontations inimical to the interests of all parties involved, especially those of the Islamic Republic of Iran.
Sanctions?
The only types of sanctions that can impel Iran to forgo its right to produce nuclear fuel and capitulate to the IAEA are prohibitions on its oil and gas exports. The Iranian government funds 68 percent its budget from the sale of petroleum. Not least because governmental and quasi-governmental enterprises dominate 80 percent of the Iranian economy, any hindrance to the government's ability to access petroleum funds will cripple the Iranian economy, devastate its society and increase inordinately the fragility of the regime.
Such sanctions, however, are unlikely to be forthcoming for a variety of reasons. The Chinese and Russians are likely to veto any proposed sanctions. Oil prices are already steep and even the US has declared its intention to mitigate the impact of sanctions on the Iranian people. All this means the imposition of an embargo on Iranian oil and gas is virtually impossible.
But this is not to say that Iran would be invulnerable to further international isolation or even symbolic sanctions. The psychological impact of greater international isolation and censure is likely to exert a heavy toll on Iran's vulnerable economy and exacerbate its existing defects: unemployment, inflation, rising poverty and disparity of wealth.
Baby boom bust
Due to the population explosion that occurred in the first decade after the Islamic revolution, annually between 700,000 and 900,000 individuals enter Iran's job market. But the economy, even when registering growth rates of 6 to7 percent a year, is hard-pressed to create, at most, 400,000 jobs per year. According to official statistics, Iran's overall unemployment rate hovers around 11 percent, while youth unemployment is estimated to be twice that figure. Official statistics also show Iran has one of the world's most inequitable distributions of income.
The IAEA's decision last September to find Iran in non-compliance of its obligations triggered a massive capital flight and caused the Iranian stock market to crash. The government, awash in petro dollars, was able to prevent the market from reaching abysmal lows by providing money to quasi-public organizations to buy stocks. Similarly, it was able to prevent a run on the Iranian currency by using its petro dollars to shore it up. This time, however, the looming international showdown could trigger a worse financial crisis beyond the capacity of the Iranian government to handle.
A run on the Iranian currency will create massive inflation, which will exert its most pernicious impact on the dispossessed, a large proportion of whom voted for Ahmadinejad, expecting him to lift them out of grinding poverty. Moreover, with the government having to use its resources to shore up its currency and financial markets, there would be less money for public works projects Ahmadinejad promised.
Meanwhile, even if no international restrictions are imposed on the import of industrial inputs, which are absolutely essential for the proper functioning of the economy, such imports will have to be cut back. The resulting shortages are bound to exacerbate both inflation and unemployment. At the same time, if the crisis of confidence reaches critical proportions, Iran's hitherto booming real estate market is also bound to crash and destroy much of the accumulated wealth of the middle and upper classes.
Military option?
More ominously still, if no compromise is reached on Iran's uranium enrichment, the council could eventually impose some type of punitive economic sanctions, perhaps on the import of gasoline, on the Islamic Republic. Moreover, because of the inability of its refineries to produce sufficient amounts of gasoline, Iran depends on imports for 40 to 50 percent of its gas needs. If the Security Council reaches a deadlock on how to prevent Iran from full-scale industrial enrichment activities, however, the issue of resorting to unilateral military strikes against Iran on the part of the US or Israel may come into play.
President Bush as well as prominent American senators and congressmen have frequently stated that the US will retain the military option as a means of retarding Iran's nuclear program. As the 2006 US Congressional elections and the 2008 presidential elections draw closer and Iran's enrichment of uranium continues unabated, increasing pressure may be exerted on the president to resort to military strikes to destroy Iran's nuclear infrastructure.
Such a move will prompt Iran to retaliate, to the best of its abilities, in Iraq, Afghanistan, the Persian Gulf region and Lebanon. It will also cause Iran to leave the NPT, and redouble its efforts, through the installations it has undoubtedly replicated, concealed, and dispersed, to achieve nuclear capability. It will also set back the cause of democracy in Iran by enabling the most radical elements within the regime to consolidate their hold on power. Most significantly, the resulting "collateral" damage will give rise to strong anti-American feelings among the Iranian masses, who, in the course of the past 30 years, have forgiven the US for its previous transgressions and interferences in Iran.
The US may reciprocate, but at what cost? Instability in Iran will easily seep out of its borders and further destabilize the entire region. Both sides should derive appropriate lessons from the case of Iraq, recognizing that chaos in Iran could make the current Iraqi fiasco look tame by comparison. To avoid these ominous scenarios, which will benefit no one, both sides should tone down their rhetoric and begin to directly negotiate with one another.
Dariush Zahedi is a political scientist at the University of California at Berkeley. Omid Memarian, an Iranian journalist and blogger, is a visiting scholar at the university's Graduate School of Journalism. They wrote this for The Tyee.