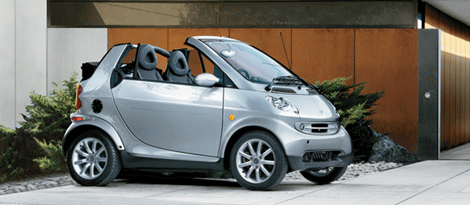 Can it be done? Is sustainable transport possible? Well, there's walking, jogging, skipping, running or strolling, but they won't haul you and your family from Nanaimo to Abbotsford in less than say, two weeks. An SUV will do the job, but not without guzzling gas, emptying your pockets and picking at that scab in the ozone layer. The bus is another option, but is rarely conducive to taking road trips, running errands and fetching the wee ones.
But more people are keen to avoid being energy-sucking planet haters, myself included. So in an effort to find methods beyond buses, horse-drawn carriages and my own two feet, I test drove a sample of alternative vehicles, in hopes of understanding some of the science behind the trendy appeal. I found that people's choices in eco-vehicles, from shiny electric scooters to celebrity-friendly hybrids, are often about style and lifestyle, even more than sustainability. And I found that, as with all things green, the guilt-free scale goes from pale lime to deep forest.
Pimp my bike ride
On one extreme end of the scale, there are those like Justin Lemire-Elmore, an electric bike guru. With a background in engineering physics, he used an old laptop battery to power a hub motor on his bike, then went on to found UBC's e-bike, and now runs his own bike business.
For him, it's about making better choices. "The amount of energy used to move a person is increasing and is completely unsustainable," he says.
But he thinks the pursuit of the eco-car is misguided. Why? He says cars don't work as well as bikes for urban transport, and says that while in traffic, on his bike, he often passes cars.
He dreams of a day when busy thoroughfares are free of vehicles and replaced by eco-friendly bikes. And he says that day would actually be simpler to manage than the automobile world we currently live in: e-bike riders aren't required to get a license for their bikes and can often travel along the same paths as any ordinary biker. So no new infrastructure would be needed. And he says it's low effort: riders can use the pedals when they feel like it and the motor when they don't.
But so far, it's been a tough sell. Lemire points to the Segway as an example of green technology too obscure to appeal to the majority of bikers. "It was an issue with image," he says.
Surprisingly, he also worries about the ever-looming threat of e-bikes becoming a trend, because he says trends are destined to reach their peak and plummet to a pop culture death. Lemire-Elmore thinks that, unlike the pocket bikes and Razor scooters of the past, e-bikes could become a serious replacement for existing transportation methods.
How mainstream are e-bikes now? Canadian Tire now offers its own version for $999.
You're not cool until you scoot
But even if these bikes are showing up is large numbers at hardware stores, the style conscious might still be averse to the idea. This is where GWEV comes in.
"What was a funky, hobby, nerdy thing is now mainstream," says Gabrielle Le Forestier, director of Green World Electric Vehicles (GWEV), a retailer of power-assisted bicycles and electric limited-speed motorcycles. The store is set up as modern showroom, with a colourful display of the scooters and bikes already so popular in Europe and Asia. In many ways, the motorcycles in his store resemble the Euro-hip Vespa, but without the conspicuous trail of diesel fumes; although, the Vespa company is rumoured to be developing a hybrid scooter of its very own.
While I didn't feel very cool struggling to mount the rather heavy bike in front of a busload of curious onlookers, my oversized helmet tilting to one side -- riding it was the most fun I'd had in weeks. It harkened back to the joy of riding a bike as a kid, but with delightful grownup oomph.
These bikes feel fast, but really aren't. Power-assisted bicycles don't exceed 32 km/hour, as regulated by Transport Canada. With different motor wattages available for each model, riders can get anywhere from 35 to 45 km out of one battery charge, depending on the weight of the rider and the terrain covered.
Limited speed motorcycles are different: they can reach a maximum speed of 70 km/hour and their riders are required to obtain a license and buy insurance.
But both are cheap compared to cars and fuel. E-bikes start at about $700, and limited-speed motorcycles can cost anywhere from $2,000 and $8,000. Le Forestier says the cost of charging a battery (some detach from the bike or motorcycle and some don't) is about 15 to 20 cents in electricity. And some of the more elaborate motorcycles employ regenerative braking, where energy is fuelled back into the battery pack.
A sweat-free hedonist
Aside from the eco-friendly aspects of the bikes, they have their own set of practical benefits -- like looking good and leaving the rider feeling dry.
"Riding a power-assisted bicycle is quite a different thing from a regular bike," Le Forestier explains. "You can wear nice clothes to work and not get sweaty. You can run little errands in your neighborhood."
Surprisingly, Le Forestier says it was the 60-and-over age demographic that latched on to the trend first. "A lot of older women don't drive, and an e-bike is a new lease on life," he says. "Many retired people buy the motorcycles for their cottages on the island and keep them there."
And what about B.C.'s, uh, occasional rainy weather? Le Forestier pulled out a sheet of rubber with convenient sleeves and loops for the rider and the bike. I wasn't so enthused, but apparently it works.
But some of us prefer to take to the open roads encased in a shell made of metal, so I decided to see what the fuss around ethical vehicles was all about.
'Everyone stares at you'
As I snuck by a gleaming Mercedes Benz, trying to find my Smart Car contact, I snickered at the idea of the two vehicle strains sharing a dealership space on West Broadway. It didn't abate my concern that eco-transport is still just for the wealthy. My perception changed when I met the floor rep, a perky environmental science grad full of enthusiasm for green transportation. She said only the national office could comment officially about the Smart Car, but was happy to open up about her own.
She gushed about how she drove the very first Smart Car in Vancouver a couple of years ago. And while promoting the product is clearly part of her job now, she is going to hang on to her car when she leaves the dealership later this month to go to another job in environmental science.
"Everyone stares at you," she says. "I loved it. You start to recognize other Smart Car drivers in the city." She said she was proud to be part of a group of people concerned with vehicle emissions and willing to take the extra step to do something about it. The more people stared at her car, the more chances she had to tell them about the gas-efficient product.
After a cruise over the Granville Street Bridge in a sparkly blue smart fortwo, with the sunroof open and the heated seats humming, I was smitten. Despite the miniature look of the vehicle from the outside, there is plenty of room inside for two passengers to sit comfortably and I liked that the dashboard was simple and uncluttered. As we approached a steep hill in lower Kitsilano, I decided to try manually shifting with the six-speed semi-automatic transmission, which doesn't require a clutch. We climbed the hill with amusing power and speed.
When I managed to shake the fuzzy feelings of hedonism, I was hit with the fact that Smart Cars, which have to be custom ordered, can cost anywhere from $23,000 to $30,000, including paint, frills, body style, delivery and tax. Depending on your driving style, you're meant to get 300 to 500 km out of every 22-litre gas tank. Filling the tank with diesel is supposed to cost about $17, but has been higher recently due to the gas costs. Eco it is, cheap it's not.
And large it's not. If you've got three kids, big dogs, a kayak or a penchant for camping, the Smart Car might not meet your diverse needs. So, Penny Isbell, the executive director of BALLE BC (Business Alliance for Local Living Economies), was kind enough to take me for a spin in what is becoming the popular choice for celebrities and environmentalists: the hybrid car. It seems the integration of gas engines and electric motors is very "in" right now.
'We have to do everything we can'
"Buying the car is just one piece of it," Isbell says, in reference to maintaining an environmentally and socially conscious lifestyle. "I really believe we have to do whatever we can."
Isbell estimates that her Toyota Prius uses about half the gas of her previous vehicle, which was also a small Toyota. She says that because she lives with her partner and her daughter downtown in a high-density area, she doesn't use the car very much, but appreciates how spacious it is when she does.
"We can actually sleep in here," she says.
The experience of a hybrid is different than one might expect. You don't use a conventional ignition to start the vehicle, but a large power button, much like a desktop computer. A computer screen on the dashboard informs the driver of how many litres of gas the car is consuming for every 100 km, dependent on the car's speed. The car itself is very quiet and glides smoothly away from the curb.
The dashboard screen made me acutely aware of the energy being used to run the car, and the emissions coming out. Some would say the simple awareness is valuable.
If it feels good…
I might just get a pink e-bike, then go on to be a proud, hybrid-driving soccer mom.
Allison Cross is on staff at The Tyee.