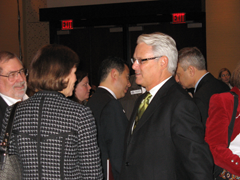 Ever have one of those days when nothing goes right? If so, spare a little pity for Gordon Campbell on Tuesday.
First, he had to deal with a messy little scandal featuring a junior minister who had fired off a profanely insulting e-mail to a constituent.
Then his own star turn at a Vancouver Board of Trade luncheon, usually a friendly setting in which he can expect warm support, was at least a little dimmed by the fact that two of the expert speakers who preceded him at the podium cast doubt on the wisdom of introducing new private sector elements into the province's health care system, an option widely viewed as one of the premier's favourites.
The premier had taken a pass on attending the recent first public meeting in Kamloops of his government's much heralded Conversation on Health, thus avoiding a spirited crowd of demonstrators protesting that the Campbell government might use the Conversation to justify already-made decisions to up the level of privatization in B.C. health care. So he might have been forgiven if he expected the proceedings at the Board of Trade's day-long conference at the luxurious downtown Hyatt to be a love-in for more business involvement in health care. The event was, after all, promoted like this:
BRITISH COLUMBIA'S HEALTH CARE SYSTEM is one of the biggest businesses in the province. So what lessons can health care learn from business? Can innovative solutions from Europe, Britain and the U.S.A. work here? Join Premier Gordon Campbell and leading international health care professionals as they examine the challenges and opportunities facing B.C.'s health care system.
Besides, the expert speaker who was chosen to kick off the day was Dr. Kenneth Kizer, a physician best known for introducing business-style reforms into the working of the American Veteran's Administration when he served as Under Secretary for Health in the late 1990s. The program notes promised that Dr. Kiser would tell a "health care success story with lessons for British Columbia."
'Business of health care!'
Hopes for a business-friendly presentation must have soared when the conference co-chair, Frank Borowicz , introduced Kizer in a speech bemoaning the fact that the Canadian health care system largely excludes the creativity of the private sector. He drew audience attention to an alarming graphic displayed on the Hyatt ballroom's large video screens -- a "Health Clock" recording and adding up the $406.93 allegedly spent on B.C.'s health care system every second.
Then, with a flourish that drew applause from the audience, he cried "Now to the business of health care!"
But Dr. Kizer had a more nuanced and more interesting tale to tell.
Kizer described the Veteran's Administration as the largest integrated health system in the United States, comprising, when he took over, 172 hospitals, 600 clinics, 131 nursing homes and 206 counselling centers. The VA is also a provider of health insurance and the country's largest server of the homeless, he told the crowd at the Hyatt, before describing a dramatic "re-engineering" of this cumbersome system under his leadership, a process that involved performance management systems, goals and the relentless use of metrics and information technology. Universal primary care was instituted for all VA patients, integrated service networks created efficiencies, case management and preventative care were emphasized, a system-wide electronic record keeping system was implemented and everything was measured. "What gets measured gets done," he said.
Kizer's reforms reduced costs by 25 per cent per patient in constant dollars and increased customer satisfaction and clinical outcomes for the system dramatically. The reformed Veteran's Administration, according to a number of research studies he presented, now outperforms medicare on many measures, and also outperforms private for-profit systems on these same measures. This was not necessarily the argument for more involvement from the private sector we had been promised, given the fact the VA is an entirely public system.
The Tyee asked Dr. Kizer after his presentation whether his experience at the VA and the research cited suggested that health care reform could create efficiencies and better clinical results within a public system without introducing new elements of for-profit care.
"Absolutely, no question," he said.
Myths and misunderstandings
Kizer went on to tell The Tyee that he agreed in large part with suggestions to be found in the work of Canadian researcher Micheal Rachlis that substantial savings and improvements can be created within a publicly funded system without introducing the profit motive. Rachlis's ideas have been reported in The Tyee here.
Kizer was not the only speaker at the Board of Trade event who presented critical alternatives to the board's manifest enthusiasm for private market mechanisms in health care.
Dr. Jonathan Lomas, CEO of the Canadian Health Services Research Foundation, was the next featured speaker, and he began by saying there were two important lessons to learn from Kizer's presentation. One was that the VA was a public system, and two, that research was vitally important. The aim of the Canadian Health Service Research Foundation, which is federally funded but functions independently, is to link research to policy. He recommended that listeners visit the CHSRF website and consider its Mythbusters section, which refutes many common misconceptions about health care, and went on to suggest that the public argument about public vs. private health care was littered with myths and misunderstandings. He said these include:
General ignorance about how much health care spending in Canada is already private (30 per cent).
The suggestion that for-profit health care would reduce wait times.
That for-profit health care would necessarily lead to efficiencies or that the private sector could function as the saviour of the health care system.
All of these are false, according to Lomas's research and analysis. (At this point, some of the Board of Trade officers on the stage with Dr. Lomas seemed to stir uncomfortably.)
Lomas urged the audience to think clearly to distinguish between private funding, ownership and management of health care services and facilities, and to recognize that the introduction of private funding into health care always had negative impacts on equity. When health care is in the market place, he pointed out, the poor do less well and the rich are healthier.
More deaths, more cost
Dr. Lomas presented an array of research studies to illustrate his points. He told the audience, for example, that studies in the United Kingdom showed that National Health Service health insurance was more comprehensive than private, and cost nearly $230 Cdn a year less.
He also cited studies comparing publicly funded and private-sector hospitals in the United States that showed the for-profit institutions generated five per cent more deaths and 20 per cent more cost. Again, there was little in this presentation to give comfort to fans of the private sector.
Not everyone who spoke at Check Up 2007 registered critical perspectives on privatization and a greater role for the private sector in health care. In fact, with the exceptions noted, most speakers and panellists were closer to the pro-business enthusiasms expressed by Board Chairman Borowicz, and the afternoon's featured speaker, Mark Britnell, who is an administrator in Britain's embattled National Health Service. Britnell gave an account of private-sector reforms within that system that was very positive.
Britnell reported on the introduction of for-profit elements into hospitals and clinics as well as the use of public-private partnership mechanisms (called PFIs in Britain) in building hospitals.
He celebrated the breakup of the NHS into smaller units required to compete with each other.
He told the crowd in the Hyatt that market-based reforms introduced by the Blair government had dramatically reduced wait times for NHS patients and increased patient satisfaction.
Spiking health costs?
In a conversation with The Tyee after his presentation, Britnell dismissed claims by British researcher Allyson Pollock that the introduction of for-profit elements had driven NHS administration costs up from around six per cent before Blair's reforms to between 12 and 20 per cent.
"I don't recognize those figures," he said. "If they need to invest more in management to improve service, that's a matter for them. I'm comfortable with figures of eight to 10 per cent."
Board of Trade economist Dave Parks told The Tyee in an interview late in the day, echoing what the premier had said several times in his noon time address, that health care costs would soon spike upward toward 70 per cent of the provincial budget, a share he sees as unsustainable.
This claim has been challenged by many critics, who point out that percentage of budget is irrelevant given major expenditures have been shed from the budget through accounting measure and cuts to welfare payments and other areas. Those critic, including former Socred advisor Will McMartin and former NDP advisor David Schreck, say health care costs as a percentage of GDP is a more realistic way to measure trend lines, and such calculations show health spending growing only slightly as a ratio of GDP.
Related Tyee stories: