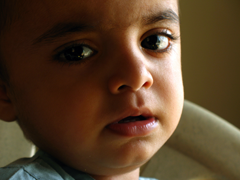 A new study from the Canadian Policy Research Networks (CPRN) reveals that a large number of Canadians lack appropriate and adequate access to the health care services the rest of us take for granted. Fully one third of the population lives on the health care margins. These are people living literally beyond the reach of mainstream medical care: in rural, remote and northern communities. Or they are socially out of reach: the homeless, recent immigrants, the frail elderly or Aboriginal Peoples.
Many Canadians struggle to find a family doctor -- or wait long months for tests or operations. But in Frontline Health Care in Canada: Innovations in Delivering Services to Vulnerable Populations, CPRN found that these marginalized populations routinely have no access to an emergency room, maternity ward, psychiatrist, dentist, speech language pathologist or physiotherapist. The list of health care services either completely unavailable or requiring unacceptably long waits (often six months or more) or unacceptably long travel times is growing every day.
While politicians argue about health care, many Canadians living in small towns or farming communities, on First Nations reserves or in sub-standard housing find themselves shut out of the debate. While some Canadians wait for knee-replacement surgery, those living in rural or northern areas wait six to nine months to see a visiting psychiatrist to address their suicidal feelings.
Frontline fevers
The Romanow Report aptly stated there is an "inverse care law" in operation in Canada. According to the report, "people in rural communities have poorer health status and greater needs for primary health care, yet they are not as well served and have more difficulty accessing health care services than people in urban centres" (Commission on the Future of Health Care in Canada, 2002: 162). CPRN found that recent immigrants and refugees, urban Aboriginal people and the homeless and underhoused are in a similar situation: they generally have greater and more complex health needs, yet have limited access to adequate and appropriate health services.
CPRN spoke to health care providers across the country to get a better idea about how frontline health care providers are struggling to reach these marginalized Canadians. It's the first time such a study has been undertaken. The conversations not only revealed the stark health realities of marginalized Canadians, but found inspiring examples of frontline health care workers going above and beyond the call of duty to meet the needs of these populations. Doctors, nurses, paramedics, mental health professionals and others described their creative ways of getting critically important services to the underserved -- for the most part, without government recognition or support.
CPRN highlighted a number of innovative health initiatives in British Columbia. In urban areas, services provided are usually targeted at a specific population such as street youth, people with HIV/AIDS, immigrants and refugees, women, the homeless and underhoused, or substance users. Agencies such as the Health Contact Centre in Vancouver's Downtown Eastside provide an unusually broad range of services that can include the following: primary health care, palliative care, chronic care, foot care, HIV/AIDS care, substance use counselling and management, sexual and reproductive health care, health education, simple pharmacy services, prevention and promotion, mental health care and referrals services to other health providers.
To take innovation a step further, these health initiatives also serve other important roles. They can be used as a community or family "home" where clients are resting, hanging out, cleaning up and eating nutritious food. They often employ harm-reduction strategies to deal with addictions and ultimately help to restore clients to mainstream society (for example, the Victoria Youth Clinic).
Health hotspots
Rural B.C. residents have benefited from United Church Health Services (UCHS) for many years. UCHS has been offering health care to remote and isolated residents at the request of rural communities. UCHS was involved in the establishment of 35 rural hospitals across Canada. UCHS currently operates three small rural hospitals in isolated communities in northern British Columbia. UCHS pioneered many approaches to rural health care including placing physicians on salary and working in multidisciplinary teams. UCHS offers a broad range of high-quality care to community residents -- in contrast to other, similar communities that have seen their hospitals closed or reduced to small health clinics.
While there are successful and innovative services out there, and a number of issues and challenges facing frontline health service providers, including:
Inadequate training -- health care professionals are not always trained or aware of the specific health care needs of inner city or rural and remote populations.
Shortage of health care professionals -- while a shortage is recognized across Canada, this is particularly acute in inner city and rural and remote areas. For example, one estimate is that 1,500 family doctors are needed to meet health care needs in Canada's rural areas. (As one informant put it: some rural hospitals are "one retirement away from closure.")
Funding -- many of the most innovative frontline health services operate as independent non-profit organizations. Their funding is precarious at best, relying on a mix of donations, from governments, foundations and so on.
In every province and territory there are promising practices designed to compensate for the lack of a comprehensive and adequate health care system for many Canadians living on the margins. However, the inescapable conclusion of this new research is that the current health-care debate in Canada, limited to "wait times" for particular surgical procedures, is missing the point.
While better access to a limited set of medical procedures is certainly a part of the solution, it is but a small part at best. More attention needs to be paid to providing appropriate access to a wider set of basic services for all Canadians, wherever they live.