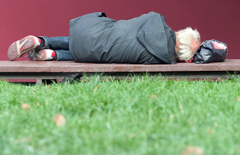 The Greater Vancouver Regional District figures it will cost $250 million a year to solve the region's homeless crisis.
It's a tricky number to calculate. As experts point out, people don't even agree on how many homeless people there are in Greater Vancouver.
Almost everyone agrees we need a lot more social housing, but how much that will cost will depend on where it's built.
David Eby of the Pivot Legal Society says he's heard estimates of $200 million to solve homelessness in the Lower Mainland and $2 billion to solve homelessness across Canada.
"It's a lot of money," he says, "but you know what? It's the provincial surplus in British Columbia to solve homelessness across Canada."
'Nobody wants to pay for it'
Eby, co-author of Pivot's report on homelessness in the Downtown Eastside, notes that the $2 billion figure is a relatively small percentage of the federal surplus. That federal surplus came in at more than $13 billion for the last fiscal year.
"It's a lot of money, but its an investment," Eby said. "And it's not out of reach. It's not an unrealistic investment."
The problem, Eby said, is that everyone in government knows the money is needed, "but nobody wants to pay for it.
"Nobody wants to tap into their piggy banks for what they know are needed services."
Tackling homelessness would save governments money on health care, jails and emergency services. But, said Eby, the savings are spread over different levels of government.
The federal government would see the least amount of savings if homelessness were wiped out.
"All of the savings are experienced by the province and the city," Eby said. "So the feds are like, 'Why would we bother paying for it if we're not going to get any return on it?'"
GVRD wants special fund
The federal government once put up most of the money for social housing. But in 1993, then-finance minister Paul Martin cancelled spending on new social housing projects.
The current federal government has dedicated some money to subsidized housing and says it will be announcing a homeless strategy in a few months. The province is promising money to fight homelessness, but has yet to give many details.
Meanwhile, the GVRD is trying to get into the act, but is being told to butt out by some officials.
The GVRD figure of $250 million a year is contained in a draft report written in November. The report, prepared by the regional district's policy and planning department, proposes the creation of a fund made up of $50 million from the regional district, $100 million from the province and $100 million from Ottawa.
The report proposes raising the region's share of the fund by placing a surcharge on existing GRVD levies and charges.
The money would be used to build social housing.
The report has been dismissed by municipal politicians, who oppose the increased fees, and by B.C. Housing Minister Rich Coleman, who has said there is no need for a fourth level of government getting involved in housing.
More than 1,000 on streets nightly
The GVRD report says that, for the last dozen years, the market has fallen far short of providing enough affordable housing. Between 1994 and 2005, the report says, there has been an average shortfall of 2,500 rental units a year
At the same time, the number of homeless has soared. The number of homeless people in the region, as estimated in last year's Regional Homeless Count Report, doubled between 2002 and 2005. (Estimates of the number of homeless in the city of Vancouver alone vary from Mayor Sam Sullivan's "over 1,000" to a figure of more than 2,000 cited by some activists. Most, however, agree that the number has jumped dramatically in recent years.)
The GVRD draft report notes that the $325 a month provided by welfare for a single person's shelter assistance hasn't gone up since 1991.
"In 2005, the average market rent for a bachelor apartment in Greater Vancouver was $678 per month, more than double the shelter allowance rate," the report says.
Medical needs part of equation
Housing shelters are also coming under strain.
"There were 26,525 incidents of people being turned away during the 2004/2005 cold/wet weather season (October to April)," says the report, "and 92 per cent of those turn-aways were a result of the shelter being full.
"It is estimated that 1,100 people across this region are without shelter any night of the year."
The homeless count classified 2,100 persons in the region as homeless; in addition to the 1,100 living on the street, about 1,000 spent their nights in shelters, safe houses or transition houses.
Homeless people have an array of medical problems: half of those surveyed in the homeless count reported being addicted; a third had conditions such as diabetes or Hepatitis C. A quarter suffered mental illness.
The report describes the immediate need for affordable housing that supports people with mental and physical health problems.
"At least 675 supportive housing units are required to meet the immediate need to house unsheltered people in the region," it says. "To make substantial progress towards eliminating chronic homelessness, the region needs an estimated 5,000 units of supportive housing."
Vancouver's 'Action Plan'
Perhaps the most widely cited set of solutions to the region's homeless crisis is the City of Vancouver's Homeless Action Plan. The solutions are built on three concerns -- what an earlier GVRD report called the "three ways to home": adequate income, affordable housing and physical and mental health support services that are tied into that housing.
Under the heading of adequate income, the action plan calls for increased welfare benefits and for making benefits easier to get for those in need -- for many homeless people, especially the mentally disabled, applying for welfare is too difficult or takes too long.
The plan also notes that many homeless people work part time, but cannot afford housing in Vancouver's heated market.
Many work at minimum-wage construction jobs, the plan says: "They may not be able to secure work every day, and are often laid off when it rains or business is slow. Even if they work full time, they report that their pay is not enough to be able to save the money needed for a security deposit and the first month's rent for a room while they are living outside."
The action plan, which was adopted by city council in 2005, calls on the province to raise the minimum wage and scrap the $6-an-hour "training wage."
The report also sets an often-quoted target of 800 new units of subsidized housing a year for the next 10 years in the city. And it notes that most of the funding for this will have to come from senior governments.
Pivot Legal Society's Eby says it's "highly unlikely" that the target will be achieved.
"It needs to happen," he said. "It must happen. But it's not going to happen."
Related Tyee stories: