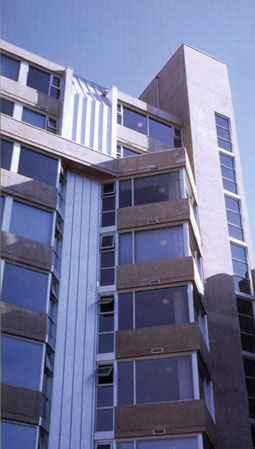 TheTyee.caVancouver's high-end housing market is doing well of late. Cranes and sales centres dot the downtown landscape. In February, prospective buyers even camped out overnight to get first dibs on a hot new Yaletown development. There were no reports of Chianti or brie being served, but if buyers learned anything about what it's like to sleep on the streets, they quickly forgot as they helped the realtor sell a record 494 suites in one day.
Statistics Canada reported earlier this month that Vancouver building permits issued in January and February will result in development worth $1.34 billion - up 45 per cent from 2003. Last year, provincial residential sales hit $24.2 billion, obliterating the 2002 high of $19.7 billion.
At the other end of the spectrum, it's a different story. On Vancouver's North Shore, a shelter in the works for four years almost ground to a halt in March due to funding complications, with potentially devastating consequences. Downtown, PHS Community Services (formerly the Portland Hotel Society) has been struggling since 2000 to turn the empty Pennsylvania Hotel into low-income housing. Meanwhile, tent cities are becoming a regular occurrence and Vancouver's homeless population continues to rise.
So what's the hold-up? Money, of course -- but it's often more confusing than lacking. To get its project off the ground, PHS has spent years patching together funding from a bewildering array of acronyms: SCPI, CMHC, RRAP, GVHC and AHFA, among others.
Tom Laviolette of the Carnegie Community Action Project works with PHS, and he says the funding maze is a nightmare: "More liability, responsibility ... more boards, more everything, more bureaucracy. It's just more complicated."The problem, in part, is that Canada hasn't had a straightforward affordable housing policy for more than a decade. Instead, homelessness and housing have become the domain of the crisis, the public outcry and the piecemeal response. After yet another winter of media reports on squats and rising homelessness in B.C. and across the country, a serious national discussion of our affordable housing crunch seems way past due. But will it happen?
Mulroney, Martin cut federal role
Major cuts to government funding for social housing began in 1984 under Brian Mulroney's government, following years of decline in private sector investment. The real turning point, though, was Paul Martin's 1993 budget, which saw the federal government cancel all spending on new social housing projects. Most provinces followed suit.
In a draft chapter for a forthcoming book on Canada's housing history, University of Toronto professor and federal NDP candidate Michael Shapcott points out the irony of Martin's role. "In 1990, as Liberal housing critic," he writes, "he had been a strong champion for increased government investment in social housing. From 1993 to 2000, as federal finance minister, Martin not only failed to fulfill his promise to renew spending, but presided over huge cuts in social spending.
"British Columbia was one of the few provinces to continue funding affordable housing in the wake of federal cuts, supporting the construction of at least 600 units per year. In March 2002, however, the Campbell government cancelled the Homes B.C. program responsible for those units, choosing instead to spend the money on its Independent Living British Columbia program for B.C.'s frail seniors.
To pay for this initiative, B.C. looked once more to the Canadian government which, in response to public outcry over rising homelessness, had returned to the affordable housing game early in the new millennium.
Skippy money new for frontline
Beginning in 1999, the federal government introduced two new programs for housing and homelessness. First, there was the $753-million National Homelessness Initiative and its attendant SCPI ("Skippy") money, designed for frontline initiatives like the North Shore shelter. The Feb. 2003 budget renewed the initiative with another $405 million through to 2006.The North Shore shelter was delayed after a number of bureaucratic hurdles pushed construction into the gap between the two rounds. The Lookout Society, which was building the shelter, couldn't get all the money from the first round spent before their deadline, and the government agency giving out the funding wouldn't sign a contract for the second round until the first round was complete. The day before work would have stopped, the agency relented, and shelter construction was able to continue.
Lookout's executive director, Karen O'Shannacery says, "I had one day's grace whether or not we had to do a work stoppage." The result was ulcers, sleepless nights, and an extremely unhappy work situation for a woman who runs three shelters.
Province 'robbed' Peter, paid Paul
The second major federal initiative was the Dec. 2001 Affordable Housing Framework Agreement, which saw the government allocate $680 million over five years for sustainable low-cost housing. The provinces were then required to match the funds, either from their own budgets or local partnerships.
A few weeks after the housing agreement was announced, the B.C. Liberals became the first provincial government to sign a deal, for $88.7 million in federal money. They quickly earmarked the cash for their remaining commitments to the NDP's Homes B.C. program, and to their seniors program.
With the B.C. Housing waiting list currently sitting at about 9,400 households, over 4,500 of them families, the focus on the frail elderly left many others in the lurch. Linda Mix of the National Housing and Homelessness Network explains the decision: "In the 2001 election, the B.C. Liberals made a promise of 3,500 new long-term care beds or intermediate care beds. But they needed money to deliver those beds."That money wasn't going to come from health care services, whose budgets were also being slashed. To some critics, it looked like the province was taking money meant for housing and giving it to health care. "They stole the money, in my opinion," says Laviolette.
Mix, who also works with the Tenants' Rights Coalition, says the government created a situation in which advocates for other groups in need of affordable housing appear to be senior-bashing. "What they're doing is pitting one group of vulnerable people against another," she says. "But a single mother who's struggling to keep a roof over her head is just as vulnerable as a frail elderly person."The province is now set to sign another deal with the federal government, which kicked $320 million more into the AHFA kitty in its 2003 budget.
Discussions on funding priorities have taken over a year to get underway. According to B.C. Housing CEO Shayne Ramsey, who met with federal representatives in Halifax in early 2004, the delays are partly because the provinces haven't been holding up their end of the bargain.
Ontario example created problems
Ontario, for example, had qualified for a paltry $1.2 million of an agreed-upon $244.7 million of federal money as of October 2003. Without provincial commitment, federal money accomplishes very little. Although things are expected to improve under the new Ontario government, the federal government is still taking its time drawing up terms for the second go-round.
As for B.C., Ramsey said he expects the province to finish allocating the first round of funding by the end of 2004. The question then becomes how the province will spend the second round (if it matches federal money at all.
One of the complaints critics had about the first round of federal affordable housing money was that provinces were able to offload much of their financial responsibility to communities. (The City of Vancouver, for its part, contributes land for social housing, requires developers to contribute in return for zoning benefits, and funds some operating and construction costs through grant programs.)
Ramsey said the federal government will likely tighten up its conditions this time around, and require provinces to contribute more of the money. He doubted B.C. would opt out to avoid paying a bigger share, but, he said, "Anything's possible."
What we've got is "really nothing"
On Mar. 10, Ramsey met with a dozen members of the Lower Mainland Network for Affordable Housing. He told them Homes B.C. has almost entirely run its course, and the last affordable housing dollars for groups other than frail seniors are about to run out.
He said one of their challenges will be "to get a message to the provincial government that [B.C.'s share of new federal money] should be directed to client groups other than frail seniors."
"I didn't say that," he then remarked, drawing laughs. But the joke found the crux of the affordable housing problem. When the CEO of B.C. Housing has to hope for public pressure to get a point across, it suggests a certain lack of vision at the top.
As it stands, the upcoming federal money is not going to create many new units. A good chunk of it will likely go toward renovating the Woodward's building downtown, but there isn't much to work with beyond that. "If you look at B.C.'s share of $320 million, which could be $40million, over four years, that's $10 million a year," Ramsey said. "Do the math on that and you may do a couple hundred units a year. It's really nothing."
Acronymphobia
Then there's the matter of overlap between the different federal projects. Federal representatives told Ramsey the new affordable housing money will be targeted towards high-need urban areas -- the same population federal homelessness money is designed to deal with. So the acronym-scape is unlikely to simplify anytime soon.
Mix told Ramsey that the current funding structures make no sense for organizations like PHS and Lookout. "I'm sure they all play by the same rules, but it's got to be awfully frustrating for those groups," she said.
Indeed, O'Shannacery says the process draws her away from her primary responsibility as a service provider. "I have been spending, on the North Shore shelter, about 20 hours a week of my work time," she says. "I don't have that."The North Shore situation, which Ramsey called a "horror show," prompted another advocate to point out dryly, "It would be nice if it was just pooled to a delivery agency that knew what they were doing." O'Shannacery agrees, saying "In the province of B.C., we have a development arm [in BC Housing]. Why not use it?"
The One Percent Solution
Mix suggested at the end of the meeting that it might be time for advocates to dust off their "One Percent Solution" campaign buttons. The One Percent Solution, which has been part of the NDP's platform for years, seeks a return to funding levels of the 1960s and 1970s -- about one percent of federal and provincial government budgets. The total amount for housing would then be about $2 billion per year.
Stephen Mahoney, Jean Chretien's housing minister, wrote Shapcott last year that this amount was unreasonable. Advocates like the idea, not only because of the money involved but because it represents a return to a stable, year-after-year approach to funding affordable housing.
As the acronyms pile up, housing advocates get conflicting signs from the Martin government. Although Martin has promised to work towards an affordable housing program, the 2004 budget made no mention of new housing dollars. Martin also dropped Mahoney from his cabinet in early December, replacing him with a junior minister working under the Minister of Environment, David Anderson.
Ramsey said he expects housing dollars to be an election issue. If so, voter response to the parties' housing platforms will help decide whether the country continues along its haphazard road, or begins working toward a comprehensive solution.Laviolette believes the solution to B.C.'s affordable housing problem lies in the past. Homes B.C., he says, should have been a bellwether. "Nothing was more successful than the social housing program that we had," he says. "Under that model, the '90s were extremely good."
In the meantime, PHS continues trying to get the Penn Hotel renovations underway. "The hope was that we'd be over all the hurdles and start renovation in the summer," Laviolette says. "I'm crossing my fingers."
Frequent Tyee contributor Jeremy Keehn recently acquired affordable accommodation in Edmonton.