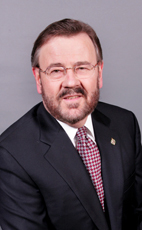 Federal Green leader Elizabeth May laid out an unusual welcome mat Wednesday, inviting dissident Tory MP Garth Turner to join her party.
Turner, the MP for Halton, was suspended from the Conservative caucus earlier in the day for what caucus chair Rahim Jaffer called breaches of confidentiality. And it was the source of those alleged breaches that soon had tongues across Ottawa wagging that Turner wouldn't be homeless for long.
Since being elected last January Turner has kept a daily, and for his fellow party members annoying, blog on his website, garth.ca. On Tuesday, Turner posted a near-fawning account of an interview he conducted with May earlier that week.
In the post, Turner describes May as exuding "an earth-motherliness punctuated by flying blonde hair, glasses, an uninhibited laugh and lots of touching," later saying he found the former Sierra Club of Canada chief to be "sharp, engaging and surprisingly political."
He added that global warming was "a moment now looking for a heroine."
Blogs abuzz
The May love-in came on the heels of earlier surprisingly strident posts establishing the Tory MP's bona fides on the environment.
"Climate change is the greatest all-round threat this country faces," Turner wrote. "My nation's government should not let us down with half-measures, a curtsy to junk science or a sell-out to the tar sands."
The posts and Turner's not so sudden exile from the Tory bosom sparked a furor of speculation and chatter in the blogosphere Wednesday.
"I can't tell you how good it feels to belong to a party where I can today blog in support of Garth without fear of reprisal," wrote Chris Tindal, a Toronto blogger and former Green Party candidate, late Wednesday. "Please consider offering Garth your verbal and, heck, financial support."
Turner was not available for comment Wednesday. But an assistant in his Ottawa office said that, at the moment, her boss had no plans to move on.
May, however, did not hesitate to sing Turner's praises.
In an interview with The Tyee, May said she "thinks the world" of Turner, adding that "should he want to become a Green MP, we'd be honoured."
And while the idea of Turner, a fiscally conservative real estate wonk (he continued writing a nationally syndicated column on the housing market for months after being elected) joining a party more associated with communes and biofuel than condo speculation may seem absurd, it makes sense on some levels, according to many.
Green the new red?
"Garth has blogged a lot about environmental issues," David Akin, a CTV Ottawa correspondent wrote on his blog Wednesday. "And, though many think that the Green Party and the NDP are interchangeable, many Green members might describe themselves as Progressive Conservatives without the social baggage."
In fact, green might fast be replacing red as the maverick Tory colour of choice. Preston Manning, the founder and former leader of the Reform party, has been busy re-creating himself as a conservationist of late.
"There are such creatures as 'green conservatives,'" Manning wrote recently, "people who believe in free markets and fiscal responsibility and are genuinely committed to the conservation of natural capital -- land, water, forests and wildlife."
Might Turner be the first small and big 'G' Green conservative in Ottawa? If so, May thinks he'd be a good fit.
Unlike some of his erstwhile colleagues, Turner is tolerant and has a sense of social responsibility, May said. And the Greens, she said, have always been rooted in fiscal discipline.
"He also has one of the key attributes of a Green," May added, "They don't like authority."
Richard Warnica is a senior editor of The Tyee.
Related Tyee stories: