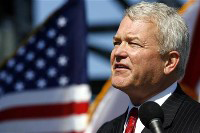 In one of those delightful turns that make politics so repellently fascinating, the pederastic fantasies of a drunken Florida conservative congressman seem likely to become a deciding issue in the upcoming American mid-term elections. Mark Foley's follies are more smoking than the average gun, so to speak.
With their puritan sensibilities, American voters are frequently more horrified by sexual improprieties than by war -- remember Bill Clinton's oral predilections leading to his near impeachment. Never mind that Congress just passed legislation abrogating 800 years of Anglo-American justice, ending habeas corpus for selected prisoners, who thus can rot forever in prisons where they can be subjected to torture. This law was passed just last week, but "Pagegate" seems to have driven that monstrously draconian piece of legislation out of public concern.
Lincoln did it
Of course the main Republican electoral strategy had been to fear-monger the "war on terror" into yet another victory. Although the American electorate disapproves of President Bush by two to one, and by the same margin fails to believe the war in Iraq is going well, their gut-level fears of going soft on terrorism were, the Republics believed, bound to drive them into the Republican camp once more. And the craven Democrats had to support a vigorous war on terror and to support American boys fighting in Iraq, lest they appear any less patriotic than the party in power. They therefore caved on the gulag bill just signed by the President, and in general looked like wimps ready for another political defeat.
Even last week's CIA report that concluded that the Iraq war has worsened, not lessened, the construction of the forces of Islamic terror failed to register fully with the voters. The Bush trump card was that in wartime all means are to be used to win the struggle, whether or not the various policy elements work together, or for that matter separately.
In a sense there is nothing new about Congress embracing the destruction of freedom during war. Abraham Lincoln suspended habeas corpus during the Civil War, and somewhere between 7,000 and 11,000 northern men were thrown in jail on suspicion of treason and held without trial, sometimes for years. Democracies need not commit suicide during a civil war, Lincoln declared, and the Supreme Court did not overrule this presidential destruction of freedom until 1867, two years after the war was over and Lincoln assassinated. Such mass incarcerations were repeated in both world wars. After the conflicts were over, the policies were withdrawn.
Now, as George Orwell predicted in his book 1984, the United States is engaged in perpetual, if undeclared, war -- who can imagine the war on terror ever ending? And so permanent war means permanent abrogation of basic civil rights, and the imprisonment and horrific treatment of anyone the government deems a terrorist for as long as it takes. Perpetual war also means that the Republicans in power can fan up enormous public fear for as long and as hard as they need to be perpetually elected. And the Democrats have to show a genuinely frightened but also artificially whipped-up public that they would be just as tough, thus in effect endorsing the policy of the Republican president while arguing that somehow they can do it better.
Handed the wedge
Therefore Pagegate comes as a greatly ironic wedge issue. But this time, the wedge issue is dividing Republican voters, all those holy Christians horrified at sexual misconduct, most especially homosexuality.
Last time it was gay marriage, and the time before that, flag burning -- both wedge issues of Republican creation that solidified their fear-driven base.
This time the Democrats have been handed the wedge, and they will drive it in with hope and with joy and with every bit as much canting hypocrisy as the Republicans used on Clinton and on gay marriages.
Smelling a coverup, the Democrats are already demanding to know when House Speaker J. Dennis Hastert knew that Mark Foley was writing to the pages. On the other side of the aisle, already the house majority leader, Republican John A. Bohner of Ohio is saying that the buck stops with Hastert -- surely a preparation for possibly dumping the Speaker, even as President Bush defends him. And Hastert is waffling amid a set of prevarications he cannot escape. This scandal ought to run up to Election Day, and whether Hastert stays or quits, the Republicans will look terrible in Kansas, and many of those morally righteous Republican voters might well sit out the election.
Would that American politics could deal honestly and calmly with the big issues of the day: war and peace, security, poverty and social justice. Perhaps the wedge issue of the abuse of children, a terrible wrong in itself, will work this time against the self-reputed Party of God, and hoist them on their own petard, even while Iraq continues to burn.
And so American politics tumble toward November in a darkly comic turn. Soul-stirring, isn't it!
Historian Michael Fellman is the author of several books on the Civil War, including The Making of Robert E. Lee. He is also director of the Graduate Liberal Studies Program at Simon Fraser University. He writes an occasional column on U.S. politics for The Tyee.
Related Tyee Stories: