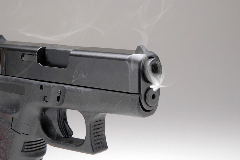 Last weekend in Vancouver, a Hells Angel was arrested for trying to bring a gun on a flight to Edmonton, a robbery-gone-wrong at the Congee and Noodle restaurant on Main Street turned into a shooting spree that left one person dead and several wounded early Saturday morning and that same night, a gunman took aim at a young man and shot him several times.
Those bad couple of days shouldn't have come as a surprise. Gun crimes doubled in many Greater Vancouver localities in the past year, according to Richmond's Cpl. Peter Thiessen. His department investigated about 35 firearm related crimes in 2004. Last year the number topped 70.
To understand why the availability of guns in BC is growing so fast, meet mild-mannered Algene Wilkerson. He has been a law-abiding citizen for most of his 56 years and lives a quiet life in Seattle, just "getting by," as he says. But Wilkerson is a gun smuggler, and on a February night in 2003, he was an accomplice in a crime involving the smuggling of approximately 40 handguns, $50,000 U.S. cash and $8,000 worth of low-quality diamonds into Canada.
Three other members of his gun smuggling network were caught that February night and later convicted. Wilkerson met the man who would make him a gun smuggler, one Curtis Coleman, while he was playing dominoes at a Seattle games hall. Coleman, 20 years Wilkerson's junior, was an unlikely friend, and to this day, Wilkerson claims they certainly were not "running buddies." But they got along well enough and Coleman found out that Wilkerson was broke. As a diabetic who had recently ended his truck-driving career, Wilkerson needed cash and Coleman promised him just that.
"About $500 is what they told me I'd get," said Wilkerson, "but I never saw a penny of it." The gun run could have made Coleman thousands in Canada had he not been caught.
Wilkerson's role was small - he purchased guns and drove a van to the border - but in gun smuggling, all the roles are small. One person buys the guns; another person pays for them. Someone else carries them across the border and yet another purchaser buys them in Canada (often a middle-man who resells the firearms to gangs).
A Tyee investigation into the workings of gun smuggling reveals that the crime flourishes thanks to flawed policy, inadequate policing and the sheer enormity of the U.S.-Canadian border. And here's a fact that doesn't brighten the prospects for change: the Canadian conversation about guns - even in the last federal election where guns were supposedly central - is rife with myths.
Myth #1: Smugglers are Harley-riding roughnecks
"People involved in cross-border smuggling can fit any type of mould," says White Rock RCMP Cpl. Alec Borden. "There is no character type." As a result, border offices have no way of profiling gun smugglers. "It's really a hit in the dark when we find guns," said Erik Lupien, spokesman for the Customs Excise Union Douanes Accise (CEUDA). Guns confiscated at the border are found because border services are checking vehicles on an unrelated suspicion, like expired plates or a passenger's armed-and-dangerous status.
Organized crime circles are savvy to this, so they have found other people to traffic guns for them - people who won't raise suspicions. Wilkerson was perfect for the part: elderly, lonely, innocent and desperate for cash. He represented one common group of smugglers: the unemployed. But truckers, "snowbirds" (older couples who spend winters in the states and return to Canada for the summer), college kids and women claiming to come north for bingo nights are also fairly frequent smugglers.
"I think the more you look at this the more you will see that a lot of these 'criminals' are mom and pops, just trying to offset their income," said Randy Wong of the bi-national Integrated Border Enforcement Team (IBET).
Myth #2: What trickle? It's the Fraser River
Between 2000 and 2004, 5,446 firearms were seized along the Canadian border. Lupien says that number represents only about five percent of the guns actually smuggled, which means that close to 30,000 guns per year are flowing into this country. Most of them stay. Though they tend to come in two or three at a time, the steady "trickle" that officials, politicians and media outlets so often refer to actually looks more like a swift-flowing river.
There is no reason for this influx to slow, either. Criminals can turn great profits on guns. A $50 firearm in Guadalajara can go for $400 in Vancouver, said Alcohol, Tobacco and Firearms Bureau's (ATF) Julianne Marshall. And a high-quality $300 pistol from Seattle can sell for $2,000 in Vancouver. Even the small-scale middlemen make a bit of easy money. "Right now, there's a high demand for high-quality handguns," said inspector Bill Carver of the RCMP's investigative support team, NWEST. People will pay large sums of money for good guns.
RCMP's Tom Seaman agreed. "Criminals have become more violent and their use of weapons, firearms particularly, has increased greatly."
Myth #3: We're sealing the border
This increase in demand has had specific implications in BC, said Carver, noting "gun smuggling is very region-specific."
Approximately half of the guns confiscated from Toronto criminals were originally stolen from Ontario residents. Toronto gangs appear to be keeping tabs on gun collectors, picking out certain houses to rob. In contrast, a much higher number of guns in BC criminals' hands come from the United States. BC's gun smuggling industry is dictated by three main factors: ports, proximity and pot. As a coastal province, goods come in by sea as well as land and air.
"There are many, many points of entry and there are a variety of means used to cross the border [by land or sea]. You are limited only by your imagination," he said.
The border service union claims 232 roads from the U.S. into Canada are unguarded. "The Canada Border Service Agency says 1,600 vehicles forced their way into Canada in 2004 by blowing through customs," according to a December 2005 press release.
Those individuals, vehicles and cargo go untracked into Canada and police have no mandate to arrest them for busting in. "And then, of course, there's the distance between roads. We have no patrol [there] - it's all fields and prairies," elaborated CEUDA's Erik Lupien. The government cut the token posts in those areas to cut costs. As for the ocean border, CBSA has only two boats guarding BC's water borders. That's thousands of miles of coastline and over one hundred ports.
Myth # 4: Buy lots of guns, attract attention
Easy entry is only half of the problem, though. Washington, the state next door, makes the challenge tougher with its notoriously lax gun laws. To conceptualize the ease with which a Canadian can become the owner of a Washington gun, take Wilkerson's case. Strapped for cash, he met Curtis Coleman, who befriended him and offered him money to buy guns. All Wilkerson had to do when buying the guns was check the box indicating that the guns were for his own personal use - a small lie to turn a small profit.
Wilkerson drove Coleman and his companions to the border and they crossed into Canada without his help. From there, if they hadn't been caught, a middle-man would have handed over payment, picked up the firearms and brought them to their new purchasers.
In Washington, there is no limit on the number of firearms a single person can purchase. Wilkerson said he bought five or six at a time and no red flags were raised. Plus, Washington gun stores only sometimes require a state check to supplement the federal background check. Federal records are often less complete and less frequently updated than state records, so even criminals (who were recently issued restraining orders or diagnosed with mental illness) can purchase guns.
Even more worrisome than gun shops are gun shows, where no background check at all is required in the sale of a firearm. Individual sellers - on the Internet, in newspapers and at gun shows - do not register their sales, so police cannot trace the guns they sell. Washington holds an average of two gun shows a month.
Myth # 5: Pot makes us mellow
The final and perhaps most noteworthy factor feeding BC's gun-trafficking surge is BC's bud. This province is renowned for its potent pot, which is highly valued in the states. "We have a significant demand [for guns] in B.C., and that's driven by the cross-border trade for guns and dope," said Carver.
Guns come north in exchange for pot partly because grow-ops are much more severely criminally prosecuted in the U.S., while gun sales are much more complicated, expensive and restrictive in Canada. Gun purchasers in the United States are often law-abiding citizens who will not be charged for "straw purchasing" guns for another party. Similarly, in BC, marijuana growers are rarely prosecuted - and when they are, sentences rarely exceed $10,000 fines.
From a criminal perspective, it is a win-win trade as far as penalties are concerned, particularly as gun trafficking in Canada is generally prosecuted as a customs violation, not a gun crime. Police officers are hesitant to discuss the situation openly, because they are not at liberty to criticize the legal system.
As Marshall put it "We don't pass laws, Congress does. Our responsibility is to try to enforce those laws as best we can." Marshall reiterated that line every time The Tyee questioned her about Washington's lax gun laws and the limited powers of Canadian border guards.
TOMORROW: Demoralized enforcement on both sides of the border.
Kendyl Salcito is on staff at The Tyee this summer. Lucy Saunders is a journalism student at UBC, as is Salcito.