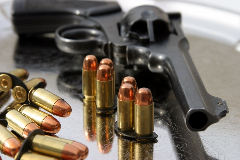 [Second of two parts. Read the first article here.]
Curtis Coleman had a gift for zeroing in on hard luck people and recruiting them into his gun smuggling business. In Seattle, he learned that Algene Wilkerson was broke and talked him into buying guns and sneaking them into BC.
But in February of 2003, Coleman's luck ran out when he, Wilkerson and two others were nabbed by border police.
Authorities from Canada and the U.S. worked together to identify and capture the group. Don't assume, though, that such cooperation has been honed like a well oiled machine. Police on both sides of the border say their fight against gun smuggling is hampered by national policies that increase supply and demand and by a local lack of resources as other law enforcement priorities press for their attention.
As a result, they admit, attempts to stop the flow of guns have been largely futile.
Consider, for example, the thriving exchange of BC bud for US guns. The United States government cannot dictate Canadian marijuana policies and BC cannot influence Washington's gun laws. The best that enforcement can do is aggregate resources and work together. Just as smuggling rings involve a complex network of people, so do anti-smuggling operations (see sidebar for a glimpse of the organizations working together against gun smuggling). But unlike these criminals, law enforcement has much more on its platter than the transport of contraband guns.
'The demand is there'
British Columbia lacks a unit like Ontario's Provincial Weapons Enforcement team, which works actively to keep guns from re-entering Canada, even attending U.S. gun shows and patrolling gun stores. The six other cross-border agencies that deal with gun trafficking focus on much broader problems, including national security, hard-drug trafficking and organized crime. Comparatively, the driver carrying a couple of pistols is small potatoes - especially when he could be any of 30,000 cars crossing the border each day.
There is no gun trafficking czar. Instead, there is a network of overloaded cops and bureaucrats working for a labyrinth of organizations in two nations. In the Seattle office of the U.S. Alcohol, Tobacco, and Firearms Bureau (ATF), public information officer Julianne Marshall laughed when asked what would solve the gun trafficking problem. "When the land borders are like they are at the airport, where you and your car and everything you're carrying is sent through an x-ray."
"That's the thing when you talk about gun smuggling," said Randy Wong of the U.S.-Canadian Integrated Border Enforcement Team (IBET). "For whatever reason, the demand is there, and so long as that's the case, someone is going to supply it. How do you get rid of the demand? That's the underlying question."
Dejection resonated in the voices of Wong and Marshall, reflecting their perception that manpower and resources aren't adequate to meet the mounting challenge. Border service officials claim they have the same number of officers today as ten years ago, despite the sharp increase in cross-border traffic.
Teaming up is tough
Agents say that border services need more people for searches, the RCMP needs more money to retrieve serial numbers and everyone needs more information about what other units are doing. Each unit is so overwhelmed that "integration" only occasionally works and information is not effectively shared. Even basic information, like serial number tracking, is unevenly dispersed. The ATF works closely with the RCMP, often retrieving serial numbers from guns used in Canadian crimes (the ATF has the technology to retrieve serial numbers that have been filed, hammered, burned with acid and melted). But Carver claimed that obliterating serial numbers ruins the RCMP's chances of tracking a gun.
Coleman's case was a rare occurrence of integrated effort. After Coleman and the other two jumped out of the van, U.S. Border Services spotted the trio and informed Surrey RCMP, who tracked them through fields using a police dog. After the arrests, NWEST consulted with ATF to trace the guns back to Wilkerson.
More often, though, a quick, integrated response is unfeasible. Erik Lupien of Canada's Customs Excise Union Douanes Accise (CEUDA) said that 45 percent of Canada's land border crossings have no computers. "They've been using clipboards and the telephone." Even those with computers have very partial information. At one point, customs' "armed and dangerous" list held only 162 names - the Canadian Police Information Centre (CIPC) had 33,742.
Fear of failure
The people responsible for staunching the flow of guns have struggled to gain politicians' attention. CEUDA released a series of press releases starting in the fall of 1995, begging for bulletproof vests, side-arms, improved technology and intelligence and additional manpower, but the pleas fell largely on deaf ears. Five years later, the Canadian Border Services Agency was empowered to enforce the Criminal Code of Canada, but still lacked the right to bear arms and were issued only 400 bulletproof vests. New York police, Washington State University security guards and the California State Highway patrol donated additional vests, shocked at the Canadian government's miserliness.
If politicians aren't loudly vowing to tackle gun trafficking, it may because they're wary of setting themselves up for failure. When it comes to stopping the smugglers, there is no silver bullet.
CEUDA has recommended reducing the number of cars that go unchecked through borders. Canadian border guards will soon be permitted to carry side arms. And border posts are going to be issued more computers - albeit with dial-up connections. "It will be so slow," chuckled Lupien, "It's going to be funny."
Some academics have suggested harsher penalties might be another way to slow the flow of illegal gun running. But the trend in Canada is to keep fewer convicts in prison.
Gun registry
In 1995, the government took the advice of Ryerson University professor Wendy Cukier: revamp the gun registry. Bill C-68 was passed that year, broadening the 60-year-old registry log to include long guns and rifles (formerly, it had only logged handguns). The Coalition for Gun Control, headed by Wendy Cukier and advocating government measures to monitor gun purchases, believes that the newly updated gun registry is contributing to public safety. Its website explains that the registry "played a pivotal role" in uncovering a firearm smuggling operation in which nearly 23,000 rifles and receivers were seized.
But critics, including John Hicks, former Canadian Firearms Centre (CFC) Webmaster, say the registry is profoundly flawed. Adding long guns and rifles to the registry caused costs to soar. And, until recently, criminal organizations could easily hack into the registry logs. "Basically," said Hicks, "a 16-year-old could have broken into that system in a heartbeat."
The system contains gun owners' names, addresses and the quantity, type and serial numbers of firearms they own. Some officials suspect that recent Toronto robberies targeting gun collectors' houses might be a result of registry hacks and three Toronto murders last September were committed with guns stolen from collectors' houses.
Cukier recently told the Toronto Star that it is "silly" to suggest gun collectors are being targeted because of a breach in registry security. "It's as secure as the police CPIC." As it happens, the CPIC experienced 1,495 computer security breaches between 1995 and 2003.
Border officers interviewed by The Tyee expressed doubt that the gun registry has had a significant effect on illegal importing of guns from the United States.
People who prefer to look on the bright side may well point out that Curtis Coleman, Algene Wilkerson and their gun running cohorts were caught. Clearly, the net stretched across the border is capable of snagging smugglers.
Then again, after serving just under two years in B.C. prison, Coleman moved back to his hometown, Seattle. He did not try to contact Wilkerson upon his release, but that was no indication that he had changed his ways.
In March, Coleman was arrested at the BC border, charged with "possession for the purpose of trafficking" guns. He will return to Surrey Provincial Court on May 9.
SIDEBAR: Gunning for Gun Smugglers
Seven agencies fighting the cross-border flow of firearms trafficking.
| | | |
| --- | --- | --- |
| IBET | Integrated Border Enforcement Team | A U.S.-Canadian team that analyzes border data and enforcement, focusing specifically on national security and organized crime |
| ATF | Alcohol, Tobacco, and Firearms Bureau | Like PWE, it regulates only licensed dealers. Unlicensed dealers, individual sellers can't be monitored. |
| RCMP E-DIVISION | British Columbia's RCMP division | Responsible for every type of crime in BC. All of them. |
| CBSA | Canadian Border Services Agency | Responsible for searching every car, plane and boat that arrives in BC. This includes thousands of cars each day, several boats and dozens of airplanes. That being as it is, most cars receive only cursory checks |
| USBP | United States Border Protection | Armed, unlike their Canadian counterparts, but responsible for the same tasks in the U.S. They're checking for terrorists, drugs. |
| PWE | Provincial Weapons Enforcement. Only exists in Ontario. | Mandate: To identify and take enforcement action against persons involved in the illegal movement of firearms, ammunition and explosives. This includes the offenses of smuggling, trafficking and possession of "crime guns". |
Kendyl Salcito is on staff at The Tyee this summer. Lucy Saunders is a student at the UBC School of Journalism, as is Salcito.