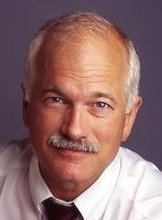 You've got to love B.C. When a bandwagon rolls across the country, we're the ones at the back, leaping off.
On Monday night, Canadian voters swung, however tentatively, to Stephen Harper's Conservatives.
That could have been B.C.'s moment to get out in front of the parade. We're a Conservative type of province; last time we gave Harper 22 of our 36 federal seats.
Monday was our chance to earn Harper's undying gratitude by pumping up his slim minority. A Conservative wave from B.C. - 27 or 28 seats, say - would have given us some real clout in confederation.
So what did we do? While Canada went moderately nuts for Harper, B.C. voters were dumping Conservatives in favour of New Democrats and - we did not make this up - Liberals.
Sure, most of our MPs are still Conservatives - 17 at last count. But we also elected five more New Democrats than in 2004 and one more Liberal. The last time B.C. elected this many Liberals, Stephen Harper was eight years old.
Think about it: the rest of the country was driving a stake through Paul Martin's heart and we start to warm up to the guy.
Familiar behavior
Not that we haven't done this sort of thing before.
In 1974, unlike the rest of the country, we went for Bob Stanfield over Pierre Trudeau.
In 1980, we went for Joe Clark over Trudeau.
The last time we voted the same way as the rest of Canada was in 1984, when we went for Brian Mulroney. In '88, we reverted to form, favouring the NDP while the rest of the country gave Mulroney a second majority.
And so it goes: when Jean Chretien swept the country in 1993, we went crazy over the Reform Party. After that, we just kept shipping Reformers and Alliancers to Ottawa by the boxcar load, while Chretien rolled up majority after majority in the rest of Canada.
Here in B.C., the federal leader we really got behind was … Stockwell Day, the man that most of Canada decided was a couple of dinosaurs short of a full Bedrock.
Now it must be said of Monday night's results that the shifts don't reflect big changes in the popular vote.
Despite the loss of five seats, the Conservatives actually appear to have increased their share of the overall B.C. vote by about one percentage point.
Conversely, the Liberals appear to have dropped a point or two while increasing their total to nine seats from eight in 2004.
And the NDP appears to have doubled its seat total - jumping to 10 seats from five - on the strength of an increase in its share of the popular vote of about one percent.
Blame it on the first-past-the-post system if you want. What matters is not how many votes you get, but where those votes are.
NDP finessed close races
It will take a few days, at least, for the dust to settle, but it appears the NDP benefited last night by coming out on the right end of several close three-way fights. If the standings at the end of the night hold up, the NDP will have taken three seats from the Conservatives, one from the Liberals, and one that went independent in 2004.
The formerly independent seat was Surrey North, where former provincial cabinet minister Penny Priddy will succeed Chuck Cadman, who died of cancer last year.
The NDP took the B.C. Southern Interior seat from the Conservatives, after Conservative candidate Derek Zeisman was revealed to be facing charges of attempting to smuggle a Mercedes-Benz and 112 bottles of liquor across the Canada-U.S. border.
Former NDP MP Dawn Black picked up New Westminster-Coquitlam from Conservative Paul Forseth, who had won the riding by 113 votes in 2004.
And at last count, the NDP's Catherine Bell also appeared to have taken Vancouver Island North from the Conservatives.
The Liberal seat taken by the NDP was Victoria, formerly held by one-time environment minister David Anderson, who didn't run this time.
To balance the loss in Victoria, the Liberals took two seats from the Conservatives.
Sukh Dhaliwal, a Surrey land surveyor, took Newton-North Delta from the Conservatives. The riding had been held by Gurmant Grewal, the Conservative MP who secretly taped conversations with Liberals whom he claimed were trying to induce him to cross the floor.
In West Vancouver-Sunshine Coast-Sea to Sky Country-Boy Does This Riding Have a Long Name Or What, Liberal chartered accountant Blair Wilson won a close one over Conservative John Weston.
Weston was one of several losing Conservative candidates who had been identified as social conservatives during the campaign. Cindy Silver in North Vancouver and Darrel Reid in Richmond both tried during the campaign to play down past ties to Focus on the Family Canada.
It may be that the Conservative party's reputation as a home for social conservatives ended up hurting them in urban and suburban ridings here in B.C.
We're no extremists
Last week, Innovative Research Group pollster Greg Lyle told The Vancouver Sun that British Columbians are more likely than other Canadians to say the Conservative party is too extreme.
Roughly 60 percent of British Columbians believe Harper is a scary extremist, Lyle said.
British Columbians, Lyle said, are much more secular than "the typical anglophone province," which means that we are liable to be particularly sensitive to charges that the Conservatives have a hidden agenda on issues such as abortion and same-sex marriage.
As well, Lyle said, B.C. is more left wing than anywhere else in Canada outside Quebec.
Monday, it appears that enough of those secular, left-leaning voters went to the polls in enough close ridings to ensure that B.C. both echoed and contradicted the national mood.
So you can forget what they say back east about our West Coast latte-loving tendencies. After Monday night, no one should ever call us trendy.
Tom Barrett is a contributing editor to The Tyee.