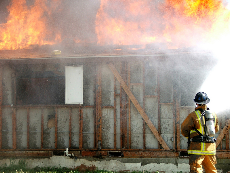 In any blaze, firefighters battle a toxic soup of smoke and chemicals. The fire itself is less of a health risk. For years, B.C.'s full-time firefighters have contended that this consistent exposure to poisonous smoke and materials is what's caused them to have at least twice the cancer rate of the rest of society.
So full-time firefighters celebrated a major victory against the Workers' Compensation Board last week, when the provincial government passed legislation forcing the WCB to recognize seven kinds of cancer (brain cancer, bladder cancer, kidney cancer, non-Hodgkin's lymphoma, ureter, leukemia and colorectal cancer) as being work-related and compensatable injuries.
Firefighters say the battle was won because of conclusive scientific and medical studies. These studies were often conducted to help individual claims and were usually paid for by firefighters, individual departments or supporters.
"We really had very broad-based support for this [research on fulltime firefighters] for many years," said Al Leier, President of the B.C. Professional Firefighters' Association, "and that's what it took. It took quite a while for the government to understand this problem. Our association contracted studies from medical experts and various provincial governments, so we're the best 'lab rats' known to man."
Part-time danger
But the battle may not be over. Ontario's policy has covered part and full-time firefighters since 1999. Since then, Alberta, Saskatchewan and Nova Scotia have introduced policies. And last month, Manitoba's Labour Minister chose Hallowe'en to change its policy to cover both volunteer and part-time firefighters. But BC's provincial legislation does not cover volunteer firefighters or part-timers and the Fire Chiefs' Association of B.C. (FCABC) wants Bill 11 (Cancer Presumption -- WCB) changed quickly.
FCABC President Richard Lawrie called on cabinet minister Mike de Jong to make good on his comment that "the contributions our firefighters make in communities all over B.C. should never be underestimated and it's important we support them in every way we can."
The FCABC struggle to achieve parity with other provinces' compensation schemes (which include part-time workers) has been difficult, in large part because municipalities feared successful claims would cause their premiums to climb. The burden has been on individual firefighters and fire departments to prove each claim and that will continue to be the case for part-timers.
Volunteer battles
That's why even though Reier, who represents some 3,350 rank-and-file members in full-time fire departments, out of B.C.'s estimated 5,000 firefighters, is pleased with the new legislation, but he says there's still a tough battle ahead.
Leier says that the small, rural, volunteer fire departments do not have the money to fight WCB for workers' benefits, or to have studies done on possible cancer patterns among their members. To date, there haven't been any studies done on volunteer firefighters -- many of whom operate in small country fire stations on a callout basis. And an added difficulty is that many of those volunteers may also have full-time jobs that expose them to cancer-causing chemicals and agents, making each case harder to prove.
Firefighting and cancer fighting
Leier notes also that although the legislation is a victory, it won't slow the cancer rates in today's long-term firefighters.
"We just had a funeral last week for one guy who died of leukemia," he said. "We just had another diagnosed in Abbotsford. Cancer B.C. estimates 16 people out of our ranks will be identified with cancer next year."
In Campbell River, one cancer-surviving firefighter had to battle City Hall for close to three years to get his claim fully resolved in his favour, even though the WCB did okay it in an initial ruling.
Colin Flebbe, a retired firefighter who was a member of the municipal fire department for 35 years, subsequently lost a liver to a cancerous tumour. Now clear of cancer, he said he fought City Hall to win the case not just for himself and his family, but for B.C.'s other firefighter cancer victims.
Quentin Dodd is a frequent Tyee contributor, based in Campbell River.