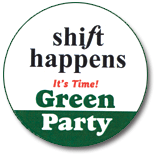 Did the Greens, by siphoning off potential NDP votes, deliver the election to the BC Liberals?
Pending final counts by June 1, the BC Liberals won 45 ridings, and the NDP 34. They would need to have reversed six ridings to form an NDP government. By the numbers, this is possible, but the calculations, like the politics, are complex enough to make nothing certain.
The combined Green-NDP vote would have given the NDP twelve additional seats and flipped the election to a 46-33 NDP victory. But that is too superficial a way to figure it.
More useful for calculating whether the Greens spoiled NDP chances are "second choice" polls, which indicate that if the Green Party did not run candidates, the NDP would pick up from 45 to 70 percent of the green vote, BC Liberals would gain 20-25 percent, and the remainder may not vote at all.
Ipsos-Reid's figures give the NDP 45 percent of the Green vote, at the low end.
At the high end are polling figures cited by Michael Magee, a strategist with NDP candidate Gregor Robertson's winning campaign in Vancouver Fairview. Magee claims that Robertson would have also won 70 percent of the Green voters in his riding, had there been no Green running against him. "The urban Greens," says Magee, "are socially progressive, in line with NDP values."
Vancouver pollster Angus McAllister says, "Generally, the Green vote will split 50 percent to the NDP, 20 to the Liberals, with the remaining 30 per cent voting for another protest candidate or none at all."
Doing the math
Applying this moderate 50-20-30 split to the May 17 election, assuming no Green candidates, the NDP would have picked up four additional seats – Burnaby North, Burquitlam, Comox Valley, and Maple Ridge-Mission – not enough to form a government.
To reverse six ridings, the NDP would have needed to have claimed 64 percent of the potential Green vote with another 20 percent of going to the BC Liberals. In that case, without Green opposition, they would have won in Burnaby-Willingdon and Saanich North in addition to the previously mentioned four ridings.
With 66 percent of the Green vote the NDP also would have taken North-Vancouver-Lonsdale, which, like Burnaby-Willingdon, is a good fit for one of Magee's "urban greens" ridings.
So it depends on what percentage of Green voters you believe would have cast NDP ballots in swing ridings. If Ipsos-Reid (45 percent) or McAllister (50 percent) are right, the NDP still would have lost by three ridings. If Mike Magee (70 percent) is right, they would have won by one or even two ridings.
Soft Candidates
Under Adriane Carr, the Greens adopted a goal of placing a candidate in every riding, "to give everyone the opportunity," says Carr, "of voting Green." However, they struggled to find qualified candidates, and NDP critics claim the Greens tendered "paper candidates" who may not have been serious about campaigning much less winning.
"Some of us recommend they not run in every riding," said Karen Mahon, Director of the non-partisan Hollyhock Leadership Institute. "Run Greens in a handful of ridings, and run to win. The Greens ran a few soft candidates, some with almost no communication with the party."
Andrea Welling, the Green candidate in Fort Langley, did not put her name forward until half-way through the campaign, then departed for New Zealand a week before the election. Green Party chair Alan Dolan acknowledges, "Some Green candidates had less time to put into a campaign, some were nominated late, and some may not have all the right stuff. Our council is meeting this week to revisit our strategic plan."
Richard Warnica wrote in The Tyee that 13 Green aspirants were current or recent university students, which he called "kid candidates," and that some of their bios amounted to "camp councilor applications."
In Burquitlam, one of the key swing ridings, Green candidate Carli Travers remains a full time student preparing for a career in youth services. Her bio claims two years of coordinating funding for a community service agency provided "experience within government." The Georgia Straight savaged her as an inexperienced spoiler.
"Age should not matter," says Travers. "I was a serious candidate. Greens are different from the NDP. We support all workers, not just unionized workers"
On May 14, three days before the election, Liberal, NDP, Marijuana Party, and Rhino candidates appeared at St. Stephen's church hall for an all-candidates meeting. Travers did not attend. Nevertheless, she took 1,542 votes and Liberal Harry Bloy defeated New Democrat Bart Healey by 417 votes. Using the most conservative formula, Healey would almost certainly have won without the Green candidate.
Healey earned a degree in history and political science at the University of Saskatchewan, operates a small business, co-founded Burnaby's first Community Policing office, and served for nine years on the Community Policing Advisory Council. He sat on the Board of Directors of New Vista Foundation advocating for seniors, served as president of his townhome community of 300 residents, and was a delegate to the New Westminster Labour Council. He campaigned hard for two years, and published his literature in 14 languages. "Travers," he says, "was my Achilles heel."
Alliance next time?
Travers and the other Green candidates, of course, have every right to put their names forward. But is this a sound strategy for achieving a progressive government in the province? That's the question Greens and NDP insiders are grappling with in the election aftermath.
Pure numbers suggest the NDP had a chance of winning the May 17 election had the Greens sat out in the seven key ridings. Such analysis, however, would amount to little more than post-election hand wringing, except that strategists on all sides already contemplate the next election. "Depending on how this plays out," says Michael Magee, "the NDP could win in 2009."
Alan Dolan says, "Adriane Carr approached Carole James about cooperation, but wasn't well received." Karen Mahon believes Carr feels "slighted by the NDP. There was some dialogue with Joy McPhail before she stepped down, but Joy blew her off. So there are hurt feelings involved, unfortunately."
Green insiders remain miffed that James changed the announcement of the NDP platform to the precise day and time that Carr intended to deliver the Green platform in Victoria. Although Carr took it in stride, Mahon says she resented James showing up in her riding on Earth Day, proclaiming the Green Party to be "extreme" on the day's newscasts.
Joy MacPhail now urges "third party partisans," the Greens, to "extend an invitation" to Carole James to engage in real dialogue regarding the future of progressive politics in British Columbia. MacPhail has also cajoled the NDP leader to "accept the offer."
Mahon agrees, "The Greens have to make the first move. They need to make a bold statement, and reinvent the party. Running in every riding is not strategic. They should concentrate the effort and not run against green NDP candidates. They'd gain a lot of respect."
Consider Point Grey
Strong Green candidate Damian Kettlewell earned 3,700 votes in Point Grey, where Premier Gordon Campbell beat New Democrat Mel Lehan by 2,200 votes. Kettlewell's votes, if delivered to Lehan, would have turfed the Premier from the legislature, but those votes would not likely have gone to Lehan. "The Green voters in this riding are fiscally conservative but socially progressive," says Kettlewell. Internal polls suggest 27 percent would go to the Liberals and 40 percent to the NDP, not enough to reverse the results.
Nevertheless, Kettlewell favors the Green Party being "more strategic. To do a deal, it could not be one-sided. The NDP would have to step aside for a Green candidate in certain ridings." He offers the example of West Vancouver Garibaldi, where Dennis Perry won 26 per cent of the vote for the Greens, finishing second.
Early in the campaign, Forest Ethics founder Tzeporah Berman endorsed NDP candidate Gregor Robertson in Fairview. "It is not impossible," she said, "to create a policy that will benefit forest-dependent communities and our environment." Robertson embodies what Carole James has dubbed the "balanced" NDP. He grew up on a farm, grows organic produce, and turned his mother's smoothie recipes into a successful business that buys local produce and practices a fair labour policy. The NDP asked the Greens not to run a candidate against him, but failed to close the deal.
"We spent a lot of time and resources running against the Greens," says strategist Magee, "and we had one of the most environmentally aware candidates in the election. Eighteen months ago, Robertson considered himself a Green. He's now one of the bright lights in the legislature. This is how we can get green ideals on the public agenda. We have a four-year window to prove we are socially progressive and offer intelligent new blood in the party. The Green vote is the big nut to crack."
"The Greens are not going to fold up their tents and go away," says former Green Party Chair Colleen McCrory. "The Green vote may have been a factor in some ridings, but we may have helped the NDP in some ridings by taking Liberal votes."
"A lot of angry Liberals voted Green," says Adriane Carr. Nevertheless, Carr intends to "pursue discussions with Carole James," to find "common ground."
Blue-green future?
The notion that the Greens and the blue-collar NDP could come together in a blue-green alliance on behalf of social justice and ecology remains far easier contemplated than actualized. Hard core Greens resent past NDP attacks on environmentalists, and certain labour advocates feel betrayed by the new, "balanced" NDP. Hard-core radicals in both camps make compromise difficult.
"How this will play out," says Carr, "I don't know. In the meantime, we're working on the issues that the other parties ignore: renewable energy, food safety regulations, mining and pollution regulations, and proportional voting."
Electoral reform could change everything, which inspired the NDP and Liberals to speak against the Single Transferable Voting system. Carr, however, turned soft on STV because it wasn't the proportional voting system she wanted, and some analysts believe this helped sink electoral reform.
Andrea Reimer, Executive Director of the Western Canada Wilderness Committee and a Green elected to the school board in Vancouver, believes "the Greens and the NDP could develop a common platform if the NDP held an honest worker-environment position and open attitude. We need to get beyond deficit thinking, blaming others for stealing votes. There is synergy to be gained, and we could take full advantage of our human and natural capital in this province."
In the final tally, yes, the NDP might have won the election had they not split progressive votes with the Greens. However, as Ben Franklin said, "There's many a slip twixt cup and lip."
Rex Weyler is a Vancouver journalist. His history of Greenpeace was published last fall by Raincoast Books.