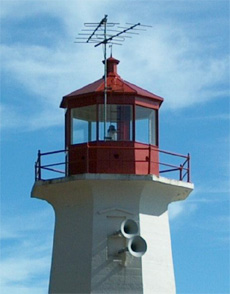 The Canadian Coast Guard's Pacific Region management this week shut down another part of the West Coast's marine safety network. Just four years after installing a new generation of electrical fog horns -- less powerful devices which replaced the coast's much-beloved but high-maintenance air-compressor horns -- the coast guard's regional superintendent of marine navigation services told three Inside Passage light keepers near Campbell River that their stations' fog-horn warning devices would be immediately taken out of service.
The three sites are the Cape Mudge Light at the southern tip of Quadra Island, Vancouver Island's Chatham Point Light near the northern end of Quadra Island, and the Pulteney Point Light on the west end of Malcolm Island.
The lightstations maintain watch over a comparatively narrow passageway up the east coast of Vancouver Island, which is extensively used by a wide variety of large and small vessel: kayaks, sports and commercial fishing boats, freighters, container barges and tugboats, and giant cruise ships.
Rick Nordstrom, president of the Gulf Trollers Association, which uses the area extensively, noted that the passage regularly has problems with fog in summer, and said the cruise ships frequently use their own fog horns to try to warn other marine traffic of their location and approach.
The disconnections were quickly condemned by members of the commercial fishing fleet and municipalities along the route. Federal Fisheries Minister Geoff Regan is due to meet a regional district government official to discuss the issue next week.
"There's a real risk that there could be an accident, with potential loss of life." said Garth Mirau, vice-president for the United Fishermen and Allied Workers Union. He added that an accident on water is very different from on land, because help can be "very hard to get and very expensive."
Cuts are "false economy"
Mirau compared the disconnections to the coast guard's previous, largely unsuccessful efforts to destaff of lightstations, efforts he said degraded the safety service based on "a false economy." Mirau said lightkeepers are afraid of speaking out against the ongoing reduction of coast guard services because they fear being reprimanded, and claims lightkeepers have even been disciplined for taking part in rescues.
At first, the recent disconnections were blamed on Ottawa, but Victoria coast guard superintendent Terry Weber confirmed this week that he made the decision a month or two ago, following a review of services at the stations. He notified the three lightkeepers by telephone early this week, informing them that a helicopter-carried crew would arrive at the stations -- all accessible by road -- within a few days, to disconnect the fog horns.
Weber told The Tyee he expects the remaining four fog horns left at B.C. lightstations also to be taken out of operation in the next year or two.
Weber said that with most marine traffic now equipped with charts, radar and extremely accurate electronic global positioning systems, the fog horns are no longer seen as needed. "Very, very few mariners rely on fog horns for navigation," he said, adding that the devices are now regarded internationally as "very imprecise" guides for navigation and warning.
Renewed onus on boaters
Asked about the numerous pleasure craft and small recreational fishing boats which operate in the area, often without global positioning systems, Weber said the coast guard will be placing renewed onus on all vessel operators to ensure they are suitably equipped for safe navigation along the coastline, in fog or not. "We deal with many different kinds of mariners, including the small boat, and they're expected to share the responsibility and be equipped to travel accordingly," he said.
Memories of the Cap Rouge incident -- when a coast guard dive team was initially refused permission to rescue hoped-for survivors from the overturned seiner -- are still vivid, exacerbating the reaction of lightkeepers and maritime observers.
All three lightkeepers said the current generation of fog horns, which use solar power, are extremely reliable, require virtually no maintenance, and cost almost nothing to run.
Nordstrom said some members of the small-boat trolling fleet have not installed GPS systems, and added that electronic systems have a nasty habit of breaking down. "Things always go wrong," he said, "it's Murphy's Law. And when do things go wrong with your electronics? In the fog, of course."
Nordstrom and Mirau both said they intend to fight the disconnections as an unjustified increase in risk to mariners.
Further cuts feared
During the recent federal election, concerns arose that the plan to destaff the Cape Mudge Light was about to be revived. Neither the North Island Liberal candidate nor Island MP David Anderson -- who promised several years ago that the light destaffing program would not be reinstated while the Liberals were in power -- was able offer any reassurances on the issue. Anderson, once B.C.'s top MP and the federal fisheries minister responsible for the coast guard, is no longer in cabinet.
Weber said this week that if there is any renewed plan to destaff the Mudge Light -- seen by some as one of the most crucial on the B.C. coast -- it is news to him.
Quentin Dodd is a journalist based in Campbell River.