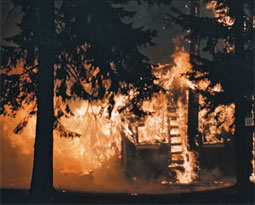 As an uncommonly dry spring threatens southern British Columbia with a new round of fierce forest fires, the province has embraced the recommendations of the Filmon Firestorm report, calling for better communication and more fire crews and water bombers.
All of that makes sense if the goal is douse fires. But when it comes to saving homes, like the 250 consumed by flames in Kelowna last summer, the most crucial prescription may be the least Hollywood dramatic.
We must change the way we build houses and neighbourhoods nestled in forest areas, say fire safety experts, the Filmon report, and now the provincial government.
If we don't, future devastation may be magnitudes higher, warn experts. And because we have waited this long to get serious about the matter, they say Whistler and other established communities face risk that could have been prevented as they were built up.
Homes nestled in forest areas are highly vulnerable when covered in cedar shake roofs and surrounded by bark mulch and other flammable landscaping. Had homes and neighbourhoods been constructed differently in Kelowna, most of them would have been left standing after the fire, according to members of a forensic team inspecting the destruction.
Need will only grow hotter
The need to build fire safety into forest communities is rising for a number of reasons. As in Whistler, ever more numerous and expensive properties are being built in and around forests. Global warming and other weather trends point towards worsening fire conditions in B.C.'s future. And B.C.'s forest managers will permit more fires to take their course because they clear out combustible undergrowth and are part of the natural lifecycle of forest ecologies. Allowing more "controlled burns" is a Filmon report recommendation.
But until now, it has been difficult to convince British Columbians to build fire resistant homes and communities, say frustrated experts and officials. They warn the danger exists anywhere people are building in and around the forest.
Michael Feller, a fire researcher at the University of British Columbia, looks at the increasing number of homes in forested Whistler and worries that if nothing changes, a fire there could wreak major destruction.
Kelowna homes could have survived
Across B.C, the Ministry of Forests estimates that several hundred thousand people and thousands of private and business properties are at risk from so-called "interface fires."Interface fires are those that occur where the natural landscape's trees, brush and grasses interface with human settlement's landscaping and buildings.
Most of the homes lost in Kelowna were in two subdivisions built next to the forest. They weren't protected by the lush, green lawns that buffered the advancing flames. Sparks carried on the wind jumped onto cedar shake roofs that are "kindling" in dry weather, according to Rick Arthur, the president of Partners in Protection, an Alberta volunteer organization that educates the public about the dangers of interfacefires.
The "vast majority" of lost homes in Kelowna had shake roofs, said Bob Hickey, the former Fire Commissioner for of the Interior, and a member of the Kelowna forensic team. Airborne sparks also ignited cedar fences, coniferous hedging such as junipers and cedars, and bark mulch ground cover, says Judi Beck, another member of the forensic team, and leader of the fire science program for the B.C. forest service protectionprogram.
Had the Kelowna homes been built and landscaped differently, more would have survived the surrounding forest blaze that never actually reached their doors.
Guidelines for prevention
Arthur and Partners in Protection have even created the FireSmart Manual to show homeowners what they can do. The Alberta-developed program is now being promoted Canada-wide.
The FireSmart Manual provides communities and homeowners with checklist to evaluate the wildfire risks in and around their homes. The manual suggests the roof is the biggest danger and recommends using only fire-retardant materials such as metal, tile, or asphalt. Untreated wood shakes should be avoided.
After the roof, the most vulnerable part of a home is the siding. The manual suggests using non-combustible material such as stucco, metal or brick, and avoiding wood or vinyl.
The vegetation surrounding a home also plays an important role in fire safety, according to the manual, which suggests homeowners avoid Coniferous trees within 30 metres from the house and that traditional lawns and rock landscaping are safer than wild grass and shrubs.
B.C. slow to implement basic protections
But when it comes to requiring fire-resistant building and landscaping in fire-prone zones, B.C.'s government has lagged behind others in Australia and California, where there are some stringent regulations.
In B.C., building codes are the mandate of local municipal government and regional districts - yet many of them are unaware of the dangers, says Hickey.
The B.C. forest service "has no mandate to protect structures," according to Erwin MacDermid, the service's superintendent of prevention and detection.
Earlier this month, the B.C. government accepted all the Filmon report's 42 recommendations. Filmon recommended that the government "require a community protection plan in those communities with a high probability and consequence of fire in the interface zone" and that municipalities adopt, for new subdivisions, "at minimum," the interface fire prevention standards in the Partners in Protection FireSmart Manual. How and even whether the province will enforce such measures is not yet clear.
Langford sets example
Economic incentives through insurance premium reductions could be another spur to fire-resistant practices. But before the Kelowna fire, which cost of over $250 million, making it the worst fire loss in Canadian history, companies offered few such inducements. Even now, the general response to the Kelowna fire among insurers has been to refuse new policies to homeowners in hazardous areas and refuse to renew existing ones.
Local fire departments haven't led the charge to require fire-resistant building and education, says Hickey, because they are usually staffed with fire fighters less focused on wildland blazes, and many smaller communities have only volunteer departments strapped for time and personnel.
Not everyone has ignored the threat from forest fires. The district of Langford, a small community north of Victoria requires fire protection for all new homes. Despite the added cost, "people have acknowledged the risk, even prior to this summer but especially since this summer, and are supportive of the regulations," says Robert Bucham, a city planner involved responsible for the new requirements.
Too little too late?
Even Kelowna started addressing wildfire problems a few years ago but, like Langford, it focused on new construction only. "There is no legislative authority going into someone's pre-existing property and house and have them do [what we are asking]," says Bucham.
This leaves thousands of homes unprotected across British Columbia. Over the last 30 years, says Arthur, homeowners have opted for more natural materials. "The disaster in Kelowna could have occurred in Calgary or Vancouver subdivisions," he says, because of architectural guidelines that actually require cedar-shake roofs."
If I were buying a home, I would look into what protection measures the developers have taken," says Arthur. "I would even pay more to make sure my house was protected."Hickey is trying to educate the public about interface-fire resistant measures through a volunteer organization called the Thompson-Okanagan Interagency Committee.
His group invites the public and officials to its symposiums, but "we get perhaps half of one per cent," he says. "The problem is there are many people, including the elected officials, that feel it will not happen to them.""It's not 'if,' " says Hickey. "It's 'when.'"