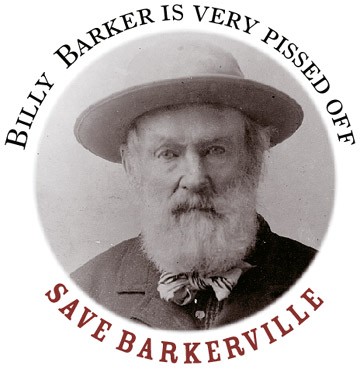 It's a bitter night in Wells, record cold for this time of November, as I trudge up the hill to the Legion Hall. Inside there is that sort of pickled, orange light that you find in Legions across the country, as well as a pitcher of Molson, a pool table, and a local using strong language to express his feelings about Big City Government.
"All you down in Flatbush," he growls at me, using a term he has coined for the Lower Mainland, "you Flatbushers just rape and pillage small communities!"
It's true that the town of Wells is struggling. When your mayor goes on hunger strike over one provincial cutback, and concerned citizens mount a costumed protest in Victoria over another, you know it's been a bad year.
The local sputters for a while and a cooler voice, a local mining engineer, steps in. "You see, when you write a column for a newspaper, it adds no value to the economy" -- ouch! -- "but if we go out and extract minerals or timber, that's different. We're keeping this province alive.
"But people in Flatbush," he says, savoring the new word for a moment, "put so many environmental regulations in place…"
Into this discussion walks Judy Campbell, a town councillor and no stranger to barroom grievances. She quickly parries a few bellyaches -- "Don't exaggerate, of course you can still get a gun, you just need to register it" -- and sits down to tell me her own concerns.
"I don't want Wells to become another of one of Gordon Campbell's ghost towns," she says.
Thirty years ago, Judy Campbell quit graduate studies in Calgary and took a coin out of her pocket. She needed to decide whether to go to Wells, where she had spent one summer doing an archeological dig at nearby Barkerville, or Brag Creek. The coin landed and she pointed her car over the Rockies.
Since she arrived, Wells has shrunk from more than 700 full time residents to about 200. Nearby mines have shut down and funding for the local tourist draw, Barkerville, crested and this year fell sharply.
"With the cuts in funding that the government is making, Barkerville is going to deteriorate," says Campbell. "And if Barkerville goes, Wells is next."
Who cares, anyway?
Maybe you've heard all this before. You've read elsewhere that the government cut $350,000 out of Barkerville's budget, cut 10 full-time staff, and offered no real vision of how the site would be able to maintain itself. You know that the government made a "request for proposals" to find a private operator to take Barkerville over, and that the only one who responded - Wells itself - dropped out of competition when they realized they'd lose hundreds of thousands of dollars a year.
It's hard to keep up with all the bravely creative stunts, from a hunger striking mayor to a calendar full of naked locals, tried by the people of Wells to draw attention to their survival fight. For an overview, see the accompanying story, Naked Defiance, today in The Tyee.
In October, the news media's interest was briefly aroused when costumed protestors - the Barkerville character actors - marched on the Provincial Legislature, and the "Queen" demanded to have tea with the Premier and give him a piece of Her mind.
But all this begs the question: What about all the other small communities in BC that are on the brink, trying to find ways to hold on? What lessons might they take from the entertaining blitz of protest emanating from Wells?
True, not every town has a tourist draw like Barkerville, one of the few brand names from the B.C. Interior. But the key first step for a few people in Wells was to recognize that times had changed, that their MLA wasn't going to stick up for them, and that their only hope was to do something unusual and jack into the Lower Mainland's news cycle.
"We realized that we had to get into a media battle," says Judy Campbell. "Otherwise the town would slip away and disappear."
Starving to save school
The town council first came to this conclusion when told that Wells' school would be shut. Without a school, families won't move to your town. No school, no families, no Wells. Concerned citizens tossed around ideas and some were pretty extreme, like blockading highways.
"My idea was to go on a hunger strike," says Mayor Dave Hendrixson, who I meet the next day in his office. "I didn't think it was fair for us to punish people who have to use the road, and with a hunger strike the only ones hurt would be ourselves."
If there is such a thing as a typical hunger striker, Hendrixson is not it. He's 71, with short-cropped white hair and a face that's youthful but wrinkled, as if make-up had been used to age him for a movie role. He's also a guy who likes his food.
"The first week was pretty bad," he says. "After that, you kind of get out of the habit of eating, until it starts to affect your health."
After 33 days of juice only, and 35 pounds lost, the mayor was rewarded in two ways. First, he could dine again. ("I wanted to eat a whole pizza but could only manage a single piece. It was pretty good, though.") Second, the media came. They rang his phone, they took pictures. Wells was on the map.
Of course, media success is not a victory, it's a bargaining tool. Wells struck a deal and bought the school off the province for $1. Despite struggles to pay upkeep costs, they can tell families that the town has a school.
Bet on 'gambling, federal money'
On the Barkerville front, the Victoria protest got them some face time with George Abbott, minister of community, aboriginal and women's services. Abbott seems to be listening, Hendrixson says, although the minister hasn't yet explained how Barkerville will cope with the $350,000 budget cut and the loss of 10 maintenance and security staff.
"One would hope that when you start to lay people off, you have a plan," the mayor says. "But they're not telling us yet."
A consultant for the provincial government released a report on Nov. 7 that suggests ways to increase revenue, such as historically authentic gambling, more marketing (though no money would be made available to do this), and snagging more federal government involvement. The province may or may not have a private operator willing to give it a shot -- again, they haven't yet told the people of Wells.
"We're going to keep the pressure up and see what happens," says Judy Campbell.
Ironically, the best hope for Wells might lie in the encircling mountains. International Wayside has begun exploratory drilling for gold on Cow Mountain. If it's successful, the history of Barkerville and Wells might repeat itself -- find gold and people will come, regardless of schools or a diversified economy.
Hendrixson and Campbell don't want to rely on a coin toss like that. (Though, some would argue that media campaigns and lobbying efforts aren't much better odds.) But one thing is sure: they've got more attention from us Flatbushers than you could get from a million tears spilled into a million beers.
Chris Tenove, a contributing editor to The Tyee, will file irregular dispatches from around British Columbia this winter. If you want to comment on a story or to suggest a future trip, email him at ctenove@yahoo.com