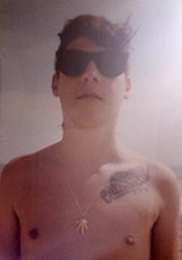 Rock 'n' roll might be a young person's game, as we're often told, but it isn't something you turn off at 30. It sticks with you, even when it comes at more neighbour-appropriate volumes, filling in the spaces between grown-up discussions about RRSPs and mortgages.
But even then, damn it, there will always be certain bands that make a guy feel old -- like WAVVES, for instance, the all-caps project from a self-proclaimed "Seinfeld-loving, skateboard-obsessed San Diegan" known as Nathan Williams.
In rapid time, the hype behind this baby-faced 22-year-old has reached a near-ridiculous fever pitch, with WAVVES getting big-ups from the likes of VICE, Spin and even ABC News, via Pitchfork. And like most blog success stories, this one comes with seemingly little effort on the part of Williams, who only began churning out his slacker noise-pop anthems in early 2008 -- in, of all places, his parents' pool house.
In many ways, it's an easy, breezy rise to blog stardom that would make any hard-working over-30 dark green with envy. And if it somehow doesn't, there's always WAVVES's music to make you feel like a total curmudgeon.
His lo-fi garage pop simply screams teenage angst, coming fully loaded with a screw-it DIY attitude that could only exist in a mind at its tender, post-adolescent prime. Take "So Bored," for example, a track that basically serves as a benchmark for WAVVES' sophomore effort, WAVVVES. (Note that extra "v" distinguishing it from the band's self-titled debut.)
With no recording budget whatsoever, Williams delivers a full-on blast of thrashy, bratty beach punk, thrown together with blown-out amps, trashcan drums and layer upon layer of bargain-bin noise. Add some warped Brian Wilson innocence and hooky Spector-pop melodies, and you have a song that's as much punk rock as it is surf rock, not to mention one that shows Williams making damn good use of his parents' record collection.
In a sense, it's not so far off from what those No Age fellas did back on their Weirdo Rippers LP, but with Williams cashing in big on those boyish charms, adding yet another reason to why WAVVES is going to make you miss your youth all that much more.
But, hey, look on the bright side. At least you still don't live in your parents' basement.
Listen to this:
Brock Thiessen is a Vancouver music writer and regular contributor to Exclaim!