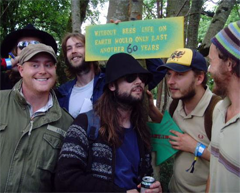 I've started to buy music again. Perhaps this shouldn't be as noteworthy as I think it is, but considering the music industry is in a free fall, my personal attempt to save it might give execs something to cheer about. As you know, music execs are avid Tyee readers.
Over the past four months, I've probably bought around 20 CDs, a number easily representing my same purchasing patterns from the last half decade. As I am ostensibly supposed to give music suggestions in this column, please find forthwith a sampling of my recent purchases.
Dean & Britta -- 'Back Numbers'
The Sound Opinions team considered this record one of the best albums of 2007, to date, and, while I'm not sure I agree with that assessment, it is a very enjoyable listening experience. While I know that damns it with faint Coldplay praise, it is a perfect record to put on while one is preparing a meal of sautéed baby bok choy and clams.
Standout Track: "You Turned My Head Around." It shimmers with Spector-esque production and a chorus so joyful you'll want to fall in love to it.
Peter Bjorn and John -- 'Writer's Block'
I know, I know -- everyone knows this album. They were on Gray's Anatomy! They whistle! While undoubtedly the indie summer hit of this year, "Young Folks" is not the standout track. In my mind that goes to...
Standout Track: "Paris 2004." "Monday morning/We have to fly back home again/While I'm sleeping/You paint a ring on my finger with your black marker-pen." Maybe it's because I am in love, or maybe it's the Cassis talking, but when Peter (or Bjorn or John) told Sound Opinions (seeing a theme here?) that this was his partner's favourite song, well, how can one avoid dreaming all day of Paris in the springtime?
The Bees (also: A Band of Bees) -- 'Octopus'
First of all, why couldn't I buy this album anywhere in Canada? (I don't consider HMV "in Canada." I know that makes no sense. Leave me alone.) What I meant to say is, why is this album $24.99? How many people are going to spend a quarter of a c-note, an entire quarter, on an album with 10 songs? I'll tell you how many -- one. And whomever that person is who went outside of Canada to HMV and bought this album before I could get back to the store -- shame on you. Shame, shame, shame.
Standout Track: "Listening Man." Let's say you don't have a computer and don't know anyone who does. And let's say you don't have a library card, or a dollar to spend at an Internet café, or the wherewithal to go into a store with Internet and "test-drive" one of their laptops. If that's the case, then I suppose you might not have seen the amazingly endearing, albeit possibly misogynistic, video for "Listening Man." But for everyone else -- if you haven't seen it, shame. Shame, shame, shame. Watch it now.
Related Tyee stories: