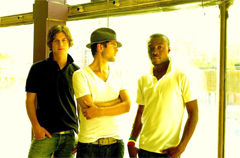 Bedouin Soundclash makes me crazy. This is the Canadian, faux-roots three-piece that won the popular vote in 2004 with "When the Night Feels my Song," an insidiously upbeat, summer singalong that lingered around in Nowheresville for a few months, until Zellers came along and turned it into a commercial.
The marginally famous, and totally dead, comedian Bill Hicks had a good line about doing commercials. "Here's the deal, folks," he would say. "You do a commercial, you're off the artistic roll call, forever." You can read the rest of the bit here. It's not work-safe, but it's true.
So Bedouin Soundclash is off the artistic roll call forever, assuming it was ever on it. Add to that its dispiriting rebel music stance; the way songwriter Jay Malinowski co-opted Caribbean and African folk sound on the band's breakthrough album, Sounding a Mosaic, splicing it with the politics of Third World resistance as interpreted by a white kid from Vancouver (an alumnus of Point Grey's all-boy St. George's School, no less). Ugh.
There was just so much to hate about Bedouin Soundclash. The big punch-line, of course -- like you didn't see it coming -- is how much I played Sounding a Mosaic during that particularly sun-baked summer of '04, or how often I would involuntarily break into the chorus of "When the Night Feels My Song" around friends who thought I'd lost the plot forever. Not unlike when I was a six-year-old music critic with a guilty taste for the calorifically empty, pop- Caribbeana of Paul Simon or Johnny Nash.
The 'clash, as I like to call them when I'm being especially cute, has just released Street Gospels -- its follow-up to Sounding a Mosaic. I'm happy to report from my love/hate perspective that everything about the album improves on its predecessor, from its pristine production (by the Bad Brain's Darryl Jenifer), to the dexterity of an already sharp band, to Malinowski's grasp and subsequent mutation of a musical idiom that he shouldn't really be able to grok so expertly.
The opening track alone, "Until We Burn in the Sun," pits dancehall echo against African juju guitar and a downturn into the song's hook that inspires romance, mystery, joy, and melancholy all at the same time. It's a trick Malinowski pulls off again and again on Street Gospels, which also throws gospel, doo-wop, Sam Cooke and sound system heaviosity into the mix. It shouldn't work, but it does, from top to bottom. The bastard!
Let's just hope -- and by hope, I mean fervently pray, to Jah, God, Xenu, whomever -- that Bedouin can keep their noses clean this time around. As long as the department stores, burger joints and soft drinks companies can keep their hands off 'em, I'm sure even Bill Hicks would give these guys a second chance.
Tyee related stories: