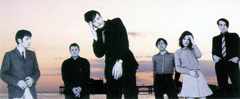 When I started university in the mid-'90s, I had a lot of friends who wanted to be poor. We tended to cluster together on hills with acoustic guitars, drink in bars with cheap beer and free snacks and furnish apartments with cinder blocks and two-by-fours. Used clothes were used, not vintage. No one seemed to own shoes.
The majority of these people actually lived at home, drove cars and occasionally vacationed in Paris. One or two of them may have actually been poor, in that student-loan, spend-all-your-money-on-computers kind of way. When the Kraft dinner got to be a little too orange, we'd pile into a car and go for all-you-can-eat sushi. We faked poverty with a passion, and I was caught up in it, mooning around in a torn corduroy blazer and fingerless gloves and MEC hiking boots.
In one of those perfect life-imitating-art moments, Pulp's "Common People" came out in 1995, but of course I was only tangentially aware of it. I mean, I knew the song, and remember the thin, jerky man with the crooner's voice who danced in the video with his strangely dispassionate band. But I didn't know what it was about, and more to the point, I didn't know it was about us. And, of course, it was.
"You'll never live like common people, you'll never do whatever common people do," Cocker sings. "You'll never fail like common people; you'll never watch your life slide out of view. And dance and drink and screw, because there's nothing else to do."
And of course we didn't fail. People went on to law and medical school and lives in journalism and Ivy League graduate programs. Perhaps it's fitting that it would only resonate with me now that I'm finally out of university, 13 years after I started there (with a five year interlude in which I took abuse from teenagers who didn't want to read the @#*&%$ poetry).
I don't know what this site, Paradise Engineering, is about, or why it has a picture of rock forms in a misty ocean. I only know that for some reason it has the lyrics and the song available for download. God bless the Internet.
Related Tyee stories: