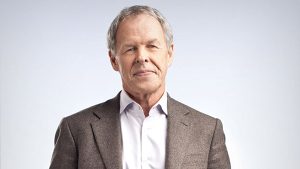 After 24 years hosting The Fifth Estate, CBC's flagship investigative program, Linden MacIntyre announced his retirement on Wednesday. Named the first "high-profile casualty of CBC's cuts," MacIntyre stepped down to make room for behind-the-scenes colleagues he deemed vital to the broadcaster's future.
Late last month, CBC's equivalent French-language program Enquête lost three journalists and one producer as part of the network's attempt to address its $130-million shortfall, despite being credited with breaking the explosive and high-reaching Québec corruption scandal.
With funds for harder-hitting, longer investigations drying up across media platforms, it's no wonder journalists are calling for a public conversation. "The state of the media industry is not very good right now," said Sean Holman, a long-time investigative reporter in B.C. who now teaches journalism at Calgary's Mount Royal University. Former editor of Public Eye, Holman says the public may not understand how reporters hold power to account. "Who is going to be the arbiter of honesty in the public square without the media?" he said.
Holman and other veterans in the field will make a case for investigative journalism today at J-Fest, an event offering a window into the Canadian Association of Journalists (CAJ) conference being held in Vancouver, titled "Journalism Matters." The CAJ, the 600-member national voice of Canadian journalists, has named three Tyee articles investigative award finalists this year, to be announced Saturday.
For organizers like Holman, the task of demanding answers, digging into pledges of the powerful, and exposing shadowy, out-of-sight dealings remains as crucial as ever.
"There has to be more support out there for this kind of work, otherwise these stories just don't get told," Holman said. "That's why journalism really is important. Who else is going to tell those stories out there?"
Eyes on the ground
The J-Fest panelists include documentary filmmaker Damien Gillis -- who is in production of a film on B.C.'s natural gas fracking boom, Fractured Land set for release this autumn -- as well as the Times-Colonist's Lindsay Kines, one of the reporters who first broke open the missing women crisis in Vancouver's Downtown Eastside nearly 20 years ago and police inaction in investigating potential serial killers.
Another panelist is ex-Province editorial cartoonist Dan Murphy, who made headlines in 2012 over an animated video which combined serene Enbridge Northern Gateway advertisements with oil leeching in from all sides of the screen. The video was removed, and Murphy no longer works at the paper.
For the issues investigated and explored in Fractured Land, Gillis said the distance of mainstream media offices from northern B.C. have limited on-the-ground coverage, and in fact much of his footage of natural gas operations has been licenced by major outlets.
But the government's promised 100,000 jobs in liquefied natural gas, despite few new investments in the sector, has raised questions that only journalism can answer through investigation, Gillis said.
"We're intimately aware of the nuances and complexities of this industry in B.C., and the tradeoffs on the other side of the equation -- the destruction of large bodies of water, the fragmentation of the land and what that means in terms of impacts," he said. "We're going to be proud of the story that we come out with.
"We're looking at it from a more human perspective... We've developed a really interesting human connection through this story."
Journalists' 'vital' role
According to the CAJ's conference co-chair, the hope of the event is to help audiences "outside the industry" see the power of reporters' work -- "and why it's so vital," wrote Dale Bass in a statement.
"We created J-Fest as a way of reaching out to the public," he added, "telling them who we are, what we do, why we do it and how we do it."
J-Fest, part of the Canadian Association of Journalists conference this weekend in Vancouver, will be held May 9 at the Holiday Inn downtown. Tickets $5.