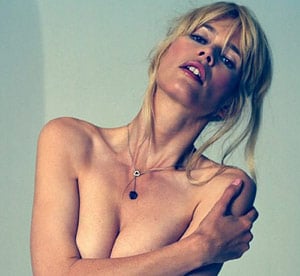 Several "older" women are taking their kits off this week, to use the British expression. Seems they're bucking the post-Labour-Day trend of settling down, possibly out to prove that their, um, assets haven't settled at all.
Claudia Schiffer, 39, is in Tank magazine (with the line, "I Claudia,"), Mila Jovovich is in Purple magazine, French first lady Carla Bruni Sarkozy has announced a new exhibition of previously unreleased nude photos of her, and Heidi Klum is on Page Six, to name a few.
Women taking their clothes off in magazines and on TV -- whether they bare all or not -- is hardly news. But the number of women taking off over the age of 30 is. And it falls in a year when two legendary film "goddesses," Brigitte Bardot and Sophia Loren, will turn 75, and are aging publicly in very different ways.
Redefining beauty?
The idea of a glass (or numeric) ceiling couldn't be less absurd when it comes to beauty. But, nonetheless, until recently, women over 30 were considered "on the shelf," or old maids, and few "aging" models or actors got work. (Think of the shameful scene in Mad Men when someone posts the Marilyn Monroe-esque office manager, Joan Holloway's, driver's license on the bulletin board, showing she's, gasp, 31.)
I have to say I'm bothered that these women have decided that the best way to change public perception of women's beauty is to fight to play in the same arena as those in their 20s, rather than fighting to create a new arena altogether. I mean, I don't know many women over the age of 35 who would win a bathing suit contest even against her own 20-year-old self. I don't see many older Olympic athletes either -- it's pretty incontrovertible that the body declines as it ages.
And I don't think physical "perfection" is the only measure of things. I feel more attractive in some ways than when I was 20, but not because I have a better six pack (or one pack, as I heard someone over the age of 40 refer to it recently), and less attractive in others. I don't see these women highlighting the things that become better with age -- and each of them has many such things (power, knowledge, style, success...), and that seems a waste.
George Clooney isn't posing in his Speedo, showing that he hasn't fallen off the radar now that Zac Effron and Co. is here. And we're not asking him to. He's known for his smarts, charm, twinkle, success and so on.
But I'm glad women are at least fighting for different ages to be considered beautiful and attractive. The method chosen by these supermodels isn't mine, but then I'm not in the physical specimen game. They are. They want to be able to earn a living from their bodies and posing, and I guess are trying to show they still can.
'Health is the most beautiful'
Interestingly, other women, this week, are also pushing against the boundaries in the narrow and thin definition of beauty. This week, an Australian lingerie company, called HOTmilk launched this YouTube ad.
And America's most successful plus-sized model, Crystal Renn, launched her memoir: Hungry: A Young Model's Story of Appetite, Ambition, and the Ultimate Embrace of Curves. In a Salon interview, she said she is hoping for a more diverse runway: "I'm going to say it again, there should be a variety. Nobody should look on the runway and see only 14s [or all twos]. That's ridiculous. I think there should be all different sizes on the runway, and I think that should be what's modern. Let's stop making one body type cool for a decade and start to say all shapes and sizes are accepted -- and not only accepted, but absolutely ideal, the most beautiful. Health! Health is the most beautiful."
The lines around beauty are still sharp and thin, but at least more people are trying to make them pliable.