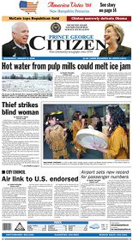 With shaky times in the publishing business, many British Columbia communities may soon see their local newspapers change hands.
One of the companies likely to emerge from the downturn owning more papers is Vancouver's Glacier Media Inc., a company that attributes its opportunity to grow to the failure of other media companies to invest in the quality journalism needed to keep readers' attention.
"They are trying to take advantage of some of the really depressed values, especially in the newspaper business," said Dushan Batrovic, a stock analyst in Toronto who follows the media industry for Canaccord Adams, a company whose investment banking clients include Glacier. "There are definitely opportunities to buy."
Despite owning scores of newspapers across western Canada, plus one in Ontario and a couple in Quebec, including what was once Conrad Black's first purchase, the Sherbrooke Record, much has been made of Glacier's media shyness. CEO Jonathon Kennedy didn't return calls for this story.
Glacier's recent public reports, however, provide a picture of the company's relative good health and where it may be going.
'Patience will be exercised'
"Management is monitoring economic conditions and business events in the United States and Canada closely to identify acquisition opportunities that can benefit Glacier," according to the company's report for the first quarter of 2009, released in May. "It is expected that the recession will create distressed conditions that should offer a variety of attractive opportunities.
"Patience will be exercised to assess optimal timing for these acquisitions."
The most obvious source of papers to buy is Canwest Global Communications Corp., a company with a debt load so heavy it missed a recent payment deadline.
Canwest owns or controls 12 daily newspapers in large Canadian cities including the Vancouver Sun, the Vancouver Province and the Victoria Times-Colonist. It also controls dailies in Nanaimo and Port Alberni, plus 18 community papers in B.C. and five in Ontario.
Creditors have taken more control of Canwest and likely will be looking for ways to get money out of the company.
Meanwhile, Glacier is in a position to buy when the time is right, according to its quarterly report. The company has done better in the recession than others, it said. Revenues and profits are down from a year earlier, but the company is relatively well diversified. "Local advertising revenue held up relatively well for most of Glacier's local newspapers, and a number of trade and business and professional operations have either grown or maintained revenue levels."
In B.C., through subsidiaries, it already owns more than 30 papers, including the Prince George Citizen, Nelson Daily News and the Kamloops Daily News. Its trade and niche publications include the Western Producer agriculture paper.
Media demise 'self-inflicted'
Glacier has also tried to avoid the "vicious cycle" many major papers in Canada have fallen into, according to its annual report released earlier this year. The analysis the company provides in that report in fact sounds more like what one would expect to hear from a disaffected journalism professor than from a competitive media company.
"The demise of many North American newspaper and media companies has in part been self-inflicted," the report said. "The Internet has been a factor, but the reduction of content and quality through continual cost cutting has played a significant role. It has weakened the product and the value of many North American metropolitan newspapers for readers, which has resulted in reduced effectiveness for advertisers, which has reduced revenues.
"Through a vicious circle, this has caused owners to reduce costs further, which further weakens quality and revenue stability. To make matters worse, the atmosphere created by continual cost reduction activities tends to demoralize staff and deteriorate the work place culture."
Often companies had to cut costs so they could make their debt payments, it said. "It was inevitable that a time would come when the reduction in content and quality would significantly weaken the business, and this appears to have happened to large market media and has been exacerbated by the Internet."
Glacier's report said it intends to improve the quality of its publications. "We will not avoid cost efficiency measures, we will instead pursue them where prudent to reduce costs through measures that do not negatively impact content and revenue related resources."
Competitors in game
"Really, it's a timing question," said Canaccord's Batrovic. "It's notoriously difficult to predict bottom on these things."
Papers and media companies could be bought at what seem like cheap prices today, he said, but they may get even cheaper. "You don't want to get overly aggressive. Guys started calling bottom last summer, and we know how that played out."
When it looks like a good time to buy, Glacier is well positioned, but so are others, he said. Victoria's Black Press Group Ltd., Torstar Corporation, Transcontinental Inc. and Quebecor Inc. all might be interested in acquiring more papers and could probably find the money.
Canwest's community papers remain profitable and there would likely be several possible buyers, he said.
Asked who's likely to own Canwest's B.C. dailies a year from now, he declined to comment. "It would be a complete shot in the dark at this point."
Chairman a Liberal donor
The last time Glacier went on a spending spree, in 2006, it caught the industry by surprise when it spent a reported $122 million on Hollinger International's holdings in a deal put together by board chairman, sometime David Radler associate, and BC Liberal Party donor Sam Grippo.
Writing in the Globe and Mail, UBC journalism Prof. Mary Lynn Young said at the time that purchase would be good for readers and writers of papers that previously had just "passable content." With Hollinger head Conrad Black's legal tribulations then in full swing, the sale would also mean employees could stop worrying and get on with doing their jobs, she said.
Related Tyee stories: