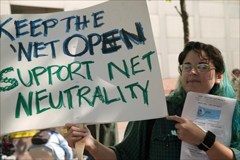 The Open Internet Town Hall events get rolling this afternoon, and you'll have a front row seat right here. The first will be held this evening in Toronto, with more to come from Vancouver, Ottawa and other Canadian cities.
The purpose: Bring together web innovators, entrepreneurs, civil society leaders, cultural workers and citizens to discus the future of the Internet in Canada.
Visit this space this afternoon (Monday, June 8) at 4:30 p.m. Pacific time to watch the meeting streamed live. You will be able to join in the conversation through online chat.
Speakers include:
Mark Surman -- Executive Director, Mozilla Foundation
Olivia Chow -- Member of Parliament (NDP)
Raymi the Minx of raymitheminx.com (Canada's most famous culture blogger)
Sass of zucket.com (Toronto hipster blogger)
Rocky Gaudrault -- CEO, Teksavvy Solutions Inc.
Derek Blackadder -- National Representative with CUPE
Steve Anderson -- Co-founder, SaveOurNet.ca
Special Guests:
Jesse Brown -- Search Engine
David Skinner -- Communications Professor, York University
Kim Elliot -- Rabble.ca
Mark Kuznicki -- remarkk consultant
Dan O'Brien -- ACTRA
Ben Lewis -- Canadian Federation of Students
Wayne Mcphail -- w8nc
If you are in the Toronto area and want to attend in person, reserve your spot here.
The Tyee is a sponsor and media partner for the Open Internet Town Hall meetings, along with The Real News Network and rabble.ca, Beyond Robson, StraightGoods, The Georgia Straight, Michael Geist, Now Magazine and p2pnet.
Get information about future Town Hall events in Vancouver and Ottawa here: http://saveournet.ca/townhall.