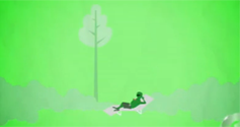 It's a classic marketing trick, one most often targeted at women: create a sense of insecurity in the consumer that only the product can satisfy.
But a new ad campaign from Gillette aims to do the same with men by capitalizing on our culture's growing uneasiness with male body hair -- and offering up their shaving products as the solution.
This collection of instructional videos featured on the company's website and spreading quickly across the Internet shows a cartoon man shaving different parts of his body -- including his groin. The series implies that hair is unacceptable pretty much anywhere on a man's body except his head.
"Taking care of the hair down there certainly has its benefits," the rational-sounding voice-over explains at the outset of the video. "When there's no underbrush, the tree looks taller."
Gillette apparently believes it can take a few liberties on the Internet with graphics and language. This ad campaign would be entirely inappropriate for network television -- and likely wouldn't make it past regulatory bodies anyway.
The racy content is clearly designed to create a buzz, and it's worked -- the "groin video" has amassed nearly 700,000 views on YouTube only two weeks after being launched.
This is not the first time a razor company has played off men's insecurities about their body hair -- and served to perpetuate them as well.
In 2008, Philips introduced the "Bodygroom Manalogues," a series of semi-ironic confessional videos about the perils of body hair -- and the benefits of shaving it.
"Body hair is something that is vastly common among adult men, but not many actually know how to deal with it," Philips Norelco marketing vice president Arjen Linders said in a statement when the campaign was introduced.
Philips launched a similar campaign back in 2006, featuring a man in a bathrobe relaying the benefits of a hairless body. Back then, it seems men still needed to be told why their body hair should be a source of insecurity.
"This whole issue used to make me quite uncomfortable," the robed man explains. "But these days, with a hair-free back, well-groomed shoulders, and an extra optical inch on my (bleep), let's just say life has gotten pretty darnn cozy."
The man's vaguely '50s hair style, hotel-style white bathrobe and tone of his delivery make the whole thing appear to be from the perspective of the average, Waspy suburban Joe. The message? Even "normal" people find body hair unattractive and a hindrance, hairless is better.
Hard to imagine, though, how stubble from head to toe could be at all "cozy."
Related Tyee stories: