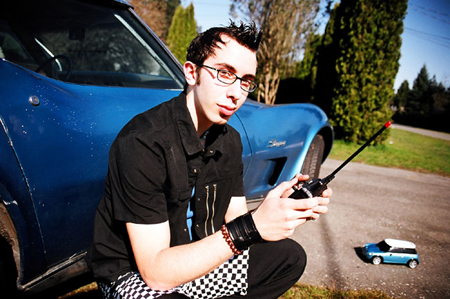 [Editor's note: This is the second in The Tyee's new weekly 'word of the week' series on cultural trends in BC and beyond.]
Josh Clarke, 22, stands in front of the mirror, shirt off, evaluating his muscle groups. "I just hit 220 pounds," he reports, "without 'roids, or growth hormones." He's not a professional body builder, nor is he a dumb muscle-head gronc.
But Clarke's about as macho as it gets -- he works out two hours a day, plays rugby, and games on-line (violent ones only). He could snap a girl in two. But he wouldn't - he's too busy talking to her about which little dogs are coolest. And no he's not gay either - anyone who thinks so is out of the loop about young gender identity these days.
A few years ago, Clarke heard about the gender-blending metrosexual, but shrugged it off - it didn't apply to him then or now. Clarke's part of a whole new niche. Forget the sensitive new age male or even the metro - in Generation Y, there's not a turtle-necked, martini-sipping male in site. Guys like Clarke could eat the metros for lunch and "out-girl" them.
Guys like Clarke, could be called the sofchos -- they revel in both their uber-macho and uber-feminine sides. Like a velvet-covered barbell, when it's time to pump iron, yell, drink beer, they're the loudest. But when it's time to talk fashion, they can list their favourite brands, ads, and trends.
Girl power victims
"About a decade ago, girl power really got going, and guys were left wondering who they were if women could do all of their jobs - and better," explains Paul Acerbi, Vice President of Synovate YC Research.
"Their first response was a kind of backlash - a retreat into the uber male world of urban rap with pimpin' and hoin', and ultra violent video games. But recently, they've adapted to the newly-feminized world and in fact are more comfortable and confident in their gender identity than girls right now."
Clarke is a perfect example of this. He went as far as Baltimore to find the right trainer to set him up with a regime. In a gym he built himself (in a friend's garage), Clarke follows his weight lifting program five days a week for two hours a time. In addition, he plays rugby for the Marilomas another three days a week and hopes to make the provincial team. Let's just say he takes his training seriously.
He credits his size to discipline: "I just started waking up in the night to drink protein shakes - that was the weak link. Those eight hours of not eating mean you lose muscle mass."
'Bitch tits'
"I work out because of rugby - and because I'm a bouncer two nights a week." He pauses and laughs, "Ok, that's not 100 percent true but that's what I'd say to anyone who asked." As he flexes his chest muscles and evaluates them, he concedes, "OK truthfully, maybe 50% of the reason I work out is rugby, or maybe 40 percent."
He and his friends are aiming for young male physical perfection. And while men have arguably always been concerned about their looks (albeit in a covert way), lately, it's stepped up a notch. One of Clarke's friends recently had some fat deposits taken out, something the American Society of Plastic Surgeons calls "male breast reduction" or "gynecomastia." Clarke and his friends call them "bitch tits."
"I have other friends who would get fat removed, like lipo. Some of my friends buy steroids off the Internet, and I have a friend who is on growth hormones and just gained 20 pounds in two weeks. But I think it would take a different person to get muscle implants." Clarke himself is too stubborn - and he likes the bragging rights that come with doing it all with weights and nutrition.
Non 'wrinkly' evolution
In addition to the perfect muscle tone, there's the grooming. Here, even macho men like Clarke have joined the crowds of men using facial products. "I just used to kind of rinse my face but now I'm using special face wash, toner, then oil-free moisturizer. I don't want to be a wrinkly old man when I'm 40."
Clarke's interest in grooming isn't just because he's "evolved" and comfortable with his "feminine" side - it's partly about marketing. Even macho men are interested in grooming because "brands have repositioned themselves," says Acerbi. "They started using technical language, male colors, aggressive themes. And it's working. Men used to pay $1.99 for deodorant, now they're willing to spend $7.49 on a can of 'body deodorant spray,' and that's just a drug store example."
Euromonitor International, a market researcher, puts the US men's grooming market (moisturizers, facials, hair products, and so on) at $5.5 billion US in 2003, and predicts that it will continue to grow by 20.1 percent per year, hitting $19.5 billion by 2008. Last year, the International Spa Association said that men made up 29 percent of their business. As the Euromonitor report says, "real men don't cry, they moisturize."
White collar polish
Acerbi himself recently started getting manicures. "I have a wife and family, I'm Italian and kind of macho, but it feels good. Even manly white collar guys are starting to understand the importance of looks and how you're perceived in the work place."
But Clarke isn't yet part of the workforce - other than his part time job as a bouncer. His "feminized" side is about more than fitting in at work. He is comfortable joining in "girlie" conversations, like about his girlfriend's day in make-up school. "Whatever, you know. I'm interested in her stuff and she's into mine. So I talk to her about weightlifting, and I'll be into it when she tells me what new eye shadow she's working with."
But it's not just about listening -- he doesn't fall silent in conversations about knitting, for example; in fact, he has more informed opinions than most girls. And girls - his ex-model girlfriend and her friends, for example - love it.
Clarke is a poster-child sofcho, but he's not alone. Other sofchos are comfortable with both "male" and "female" sides but prefer to pick just a few interests to focus on. Like Amadon Coletsis, 17, who loves music, gadgets, and video games, and also loves racing cars ("they're just so cool"), but is also obsessed with his hair. "I mean there's messy and there's structured messy. I have a faux-hawk so it takes a fair bit of maintenance. But I like it to look good, it makes me feel independent. When I get a compliment on my looks - it feels really good."
Male shopping code
Like many other young men, he considers his hair the most important part of his image. And he takes it very seriously. Coletsis positions himself as "slightly alternative" and prides himself on unusual clothing choices (like wearing black knee length shorts over his jeans) that make him stand out. He likes the attention he gets from his style, and doesn't get any negative feedback from girls or guys about it.
Acerbi says Coletsis is proof that young men have a bigger range of identity options than ever before. "Guys used to have to fit just one mold, now they can pick and choose: it's cool to be a geek, jock, teck-nerd, lazy bum, skater - whatever - and to move in and out of these categories."
But while Coletsis may be comfortable with his "feminine" side, he says the male code is still strong. "If you're going shopping with another guy, and you're both straight, it's all business. You don't ask for opinions. You don't ask how your butt looks in the jeans. You just go into the change room, then buy your stuff."
War games
That's why if Bryce goes shopping with anyone, it's his sister, Kelsey. Bryce is a young "macho" poster child: he's the midfield for the Dunbar Strikers (who won the provincial championships last year), and also the midfield for the most violent of Canadian games - lacrosse. In field lacrosse, he explains, you can cross check or even outright hit players, even if they don't have the ball.
Sports aside, he plays the ultimate male music instrument - the drums (and plays them well). And he plays video games five days a week, often for three hours a day, and often online with a headset. "I really like games about World War 2; it's my favourite war. In the Day of Defeat, the weapons are all from 1939 and it's a lot more interesting than newer games where it's harder to kill someone. In the WW2 games, when you hit them, they're dead." No shortage of cave man tendencies there.
But when it comes to clothes, he waxes lyrical. His pet peeve? He hates it when people dress the same, or just get their whole style from one store. "I try to be a bit more individual. So I'll be like 'Hey, Kels, do you like this?' And if she's like 'Yeah,' then I'll get it because I trust her opinion. If she likes it then I know other people will. " That's what makes him a sofcho: one minute the war, the next his stylist.
Bending it like Beckham
Bryce says more than ever, guys get style ideas from TV, magazines, and celebrities. Recently, he's noticed the Seth Cohen trend -- wearing short sleeved t's over long sleeved ones, and like a true sofcho, has an opinion about this fashion trend. "When you watch TV, guys aren't wearing jeans and an ordinary t-shirt, they're wearing designer stuff. It's not as crazy as girls' fashion but it's still kind of roped off. You've gotta stake out your own turf or you're just a clone."
One reason for the paradox of macho fashion obsession is celebrity culture, according to Ascerbi. Grooming and fashion are the biggest parts of celebrity culture, and guys have been given permission to focus on this "feminine" interest by macho icons. "The captain of the British soccer team changes his hair cut and wears a sarong, and there's no way anyone can criticize him for not being male enough."
But Towler's explanation is less specific. He credits normal generational change. "Guys of my generation are more comfortable with grooming because things have shifted," explains James Towler, 22. "Old school guys weren't into fashion in the same way. Their jobs were different, their lifestyles were different."
Girls 'in my pants'
While Towler may tag alleys with graffiti, and yell and drink beer while watching TV sports, he has over 100 pairs of sneakers (many worth over $200) and almost as many t-shirts. He also works along Vancouver's new early-adopter fashion area on Carrall Street in Gastown, cutting hair at JD's Barber Shop. He doesn't see his interests in sports, graffiti and fashion as being mutually exclusive. He also doesn't see them as being "femmy," and neither do his friends. "I have some friends who would say, 'you're gay,' but they're teasing. Even if I was, it would be ok."
Grooming is just one part of the "female" side of the sofcho culture, but it's an important one. And Ascerbi has a theory about why macho guys feel they're allowed to get into this part of their "feminine side." "The bottom line is often that if guys pay more attention to their grooming, they have a better chance of getting laid."
Pausing in between tagging an alley, Towler says Ascerbi isn't entirely right. "I'm sure for a lot of guys that's true. But I don't just put on jeans because I'm hoping some girl will get in my pants. There are other ways to attract women than my sneakers, believe me." Then concedes with a smile, "but when you're comfortable you do attract the opposite sex."
Vanessa Richmond is the culture editor at the Tyee. Maria Coletsis is an internationally exhibited and published photographer based in Vancouver. Her website can be found here.
*Story update, Nov. 17, 2016: The name of a source in this story was changed years later at the request of the person named.