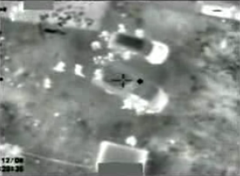 *Story updated Jan. 29, 4 p.m.
As the bombing in Gaza intensified last week, so did the Israeli Defense Forces' (IDF) online propaganda campaign. The IDF had been uploading several gun camera videos per day of so-called "smart bombs" falling on Gaza to their YouTube channel.
But recently, following an onslaught of viewer complaints, YouTube yanked one of the IDF's videos that, like the IDF's other YouTube clips, ostensibly showed their "humane actions" (purportedly, it showed operatives loading rockets onto pickup trucks before a fireball from an IDF missile obscured all view of the scene).
Then, YouTube put it back after still more pressure from viewers. That day the IDF posted a response on their channel profile: "We were saddened earlier today that YouTube took down some of our exclusive footage showing the IDF's operational success in operation Cast Lead against Hamas extremists in the Gaza Strip. Fortunately, due to blogger and viewer support, YouTube has put back up some of the footage they removed."
YouTube's attempts to censor the videos seemed to spur the IDF to post even more extreme footage. Last week, 28 new videos shot of the Gaza offensive were uploaded to the IDF's channel. Of these, 20 or so show the army's precision strikes using smart bombs purportedly destroying the Hamas government's offices, and bombs "neutralizing mosques," each of which has been viewed thousands of times. So far, these "precision strikes" have been responsible for 540 deaths in Gaza, including at least 200 civilians. The Associated Press reported that 14 children died on Monday alone.
Though the IDF has claimed its channel is designed to "highlight the IDF's humane action and operational successes" in Gaza, the videos demonstrate the group's mastery of the art of war porn.
Perhaps even more depressing, the growing popularity of these violent videos -- together with the lower viewership for the channel's only two videos that purport to show the IDF's humanitarian side -- suggests there is a dark appetite amongst the viewing public for these mainstream snuff films.
If, when and how a truce will be restored to the region remains to be seen. Certainly, however, there's a new format for the media war being waged, with the IDF's YouTube channel showing "humane actions," and other media outlets focusing on the significant civilian casualties.
UPDATE:
*An investigation by Israeli human rights group, B'tselem, alleges that the "operatives" loading rockets onto a truck in the video censored by YouTube were in fact metal shop workers loading oxygen canisters, for their work, and not Grad rockets. In a testimony given by Ahmad Sanur, the metal shop owner, claims his son and seven others were helping to salvage items, including the canisters, from being stolen after the workshop was left exposed following another bombing. Sanur's son and seven other relatives and neighbours were killed in the blast.
See images and B'tselem report here. See Ahmad Sanur's testimony here.
Related Tyee stories