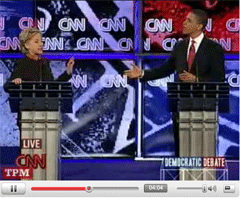 [Editor's note: Every Wednesday Tyee Video offers a guided tour of YouTube and beyond. Our media savvy guides spotlight a favourite video, with many links to others and a bit of commentary to go along. Find all Tyee Video columns collected here.]
Barack Obama's passionate speech at Martin Luther King's church on Sunday may have been the fourth most viewed video on YouTube a day later, but the most intriguing -- and likely to become the most viewed -- moment from Monday's Democratic presidential debate in South Carolina involved a heated, very personal exchange between Barack Obama and Hillary Clinton.
Presidential candidates would do well to pay attention to the YouTube barometer: tears and anger get the high numbers. Bill Clinton's argument with a reporter in Nevada last week and Hillary's tears in New Hampshire a week earlier are among the most popular on the web this month, each getting well over a million views.
Some have argued Hillary's moment of weakness was staged. But whether it was or not, many think it's what lead to her surge in the New Hampshire primary.
It seems voters, and viewers, are still moved by rare sequences of sincere, raw emotion -- or whatever seems to be so.
Another case in point: a top non-presidential video this week shows a tearful Terrell Owens, wide receiver for the Dallas Cowboys, pleading with reporters not to blame quarterback Tony Romo for the team's loss after he went on vacation with Jessica Simpson two weeks prior to the big game.
These emotion-filled moments aren't a new way to attract viewers, or simply the new fiction-less terrain left in the wake of the writer's strike -- the most popular talk show clips have always been raw. Rosie O'Donnell's candid talk is what made The View one of the most watched daytime shows and big for online video. Her epic battle with the show's token conservative Elisabeth Hasselbeck caused a monumental jump in web searches for "Rosie" and "The View" back in May 2007. (And check out her surprise assault on Tom Selleck for his NRA support [note: link requires RealOne Player and may not work on all systems], back when she had her own show.)
And the debate between Rosie and Tom was far more civil than what took place between sports talk show host Jim Rome and the now retired NFL quarterback Jim Everett. Or one of my favorites: a Romanian talk show host going ballistic on two uncooperative guests.
Fox News host Bill O'Reilly regularly gets into heated debates with guests on his show, but probably none as astounding as his blow-up during an interview with the son of a man who died at the WTC on 9-11.
These brief moments in which emotion rises to surfaces, tears flow, and anger rages can have measurable consequences on viewers and voters. Just ask Howard Dean.
Related Tyee stories: