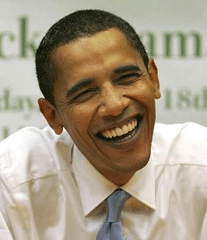 After finishing second in Tuesday's New Hampshire primary, does Barack Obama still have a shot at the U.S. presidency?
His campaign is sorely in need of cash to compete in the two dozen primaries crammed into the next month's schedule.
And every enemy he has ever had, along with more than a few people he thought were his allies, is about to turn on him.
Despite America's love of maverick lore, the Democratic and Republican parties are run by people whose interests lie in preserving the status quo. The few insurgent candidates who do well in New Hampshire tend to get slaughtered in the weeks that follow. Just ask John McCain, the reform-minded Republican who also won the Granite State eight years ago.
By tapping into Americans' longing for hope, Obama has earned one dramatic upset and narrowly missed another in as many weeks. Here's a look at what hope must endure if it is to survive until the Democratic National Convention in August.
The Clinton machine
Few couples in history are as practiced at the art of the comeback as Bill and Hillary. Many observers have speculated that it may be amid these crises that they most deeply feel one another's love.
The Clintons have already wrested co-management of her campaign from formerly trusted underlings, and by the end of this week they may toss a few overboard.
The Clintons will then divide the two dozen American states holding primaries in the next month into two groups: Those in which they will fight hard, and those in which they will fight dirty.
Roughly half of the 19 Democratic contests scheduled on Feb. 5 are so-called "closed" primaries or caucuses, in which, unlike Iowa or New Hampshire, only registered party members can vote. Clinton has fared best among such die-hard Democrats. Polls in Iowa or New Hampshire show she basically tied with Obama among loyal Dems.
Clinton will run hard in delegate-rich states such as New York, California, New York, and New Jersey. She'll swarm these and other closed-primary states with surrogates, and flood them with television ads.
Cooling out the crossovers
As Clinton parades through church halls, factories and television interviews, her squadron of speechwriters will be searching for an opportunity to recreate a Walter Mondale moment that politely derides Obama's lack of Washington experience.
In a televised debate with charismatic, tech-savvy candidate Gary Hart during the 1984 primaries, the former vice president turned to Hart on camera and said that the young senator's vague "New Ideas" platform reminded him of the popular Wendy's hamburger commercial that asked, "Where's the beef?" The quip provoked laughter, from which Hart's insurgent campaign never fully recovered.
Clinton will invest far less time, if any, in states she has little chance of winning. Instead, in places like South Carolina with its large black population, Clinton and her allies will flood the airwaves with ads sharply critical of Obama, striving to dissuade independent voters from bothering to cast votes at all. Put another way, by summoning cynicism, negative ads nurture hopelessness.
Nothing but race itself will be off limits. Every foible of Barack Hussein Obama's past will be aired; his good name, literally, will be pummelled. Expect the hardest hitting ads to air in Illinois, as well as relatively off-the-beaten-path southern states like Mississippi, Alabama and Kentucky.
The race baiters
While the Clintons will eschew any overt reference to Obama's race, their ads questioning his integrity and credentials will be supported by the veiled racial critique already being raised by the far right.
Ultra-conservative pundit Jonah Goldberg unleashed the race hounds the day after Obama's Iowa victory. In a widely circulated National Review blog post entitled, "Obama: Ecstacy & Agony," Goldberg wrote:
"I think it's worth imagining a certain scenario. Imagine the Democrats do rally around Obama. Imagine the media invests as heavily in him as I think we all know they will if he's the nominee -- and then imagine he loses. I seriously think certain segments of American political life will become completely unhinged. I can imagine the fear of this social unraveling actually aiding Obama enormously in 2008. Forget Hillary's inevitability. Obama has a rendezvous with destiny, or so we will be told. And if he's denied it, teeth shall be gnashed, clothes rent and prices paid."
No American conservative would miss Goldberg's meaning. By "certain segments" he meant African-Americans. And by "unhinged" he meant riots.
The warning is veiled but clear: Don't let this black man rise too high, or we'll all pay a price when he inevitably falls.
Such coded race-baiting will be a staple of American talk radio in the coming months.
'He's a hope monger'
Obama himself seems to know what's coming. His stump speech includes a laugh line in which he mocks Clinton's charge against him. "Obama's talking about hope again," he says, mimicking. He then drops his voice a notch, and adds, "He's a hope monger."
Upon hearing the line, Obama's audiences tend to rise to their feet. After two terms of Bush and Cheney, many Americans feel hopeless. Listening to Obama, they feel good about their country for the first time in years. They want more.
When I first heard the line, it reminded me of another gifted American orator, one who brought me to my feet 25 years ago.
The third-place finisher in the Mondale-Hart contest, with 3.5 million votes, was the Rev. Jesse Jackson. His insurgent campaign for the Democratic nomination brought together white farmers, urban blacks and blue-collar workers into a never-before-seen "Rainbow Coalition" that lived and breathed the highest values that I would later come to associate with Canadian multiculturalism.
As a young reporter still working my way through university, I covered the first few days of Jackson's campaign. I found hope there, amidst the Reagan Revolution.
But when the Rainbow insurgency was summarily swept aside by Mondale's minions, I lost hope in the Democratic Party. And when my fellow Americans re-elected Reagan in a 49-state landslide, I started to lose hope in the United States -- a process that ultimately concluded with my personal decision to immigrate to Canada.
Jackson ran again in 1988, as did Hart. Both lost the Democratic primary to Massachusetts Gov. Michael Dukakis, who despite the backing of the Democratic establishment lost the White House to the elder George H.W. Bush. I reported on each of these campaigns, and many more to follow, but never again felt flush with political hope the way I did in the fall of 1983.
To wary hope mongers of either party, on either side of the border, I suggest the following text: Jackson's speech to the 1988 Democratic National Convention in Atlanta.
"Suffering breeds character, character breeds faith. In the end faith will not disappoint," Jackson preached, just before his rousing conclusion:
"Keep hope alive. Keep hope alive! On tomorrow night and beyond, keep hope alive!"
Related Tyee stories: