The latest of Historica Canada's Heritage Minutes tells the story of Lucy Maud Montgomery, the P.E.I. author best known for Anne of Green Gables.
Montgomery's own words, taken from her journals, narrate the minute. We are introduced to her imagination, but also her battles with depression, rejection and sexism as a woman and author at the turn of the 20th century.
Watch the Heritage Minute on Montgomery above. Like all the others in the series, it's a brief glimpse into history, but a vivid one.

Home, sweet camper: Facing Vancouver's high rents and no vacancies, people are turning to their vehicles.

A speech by the late Ursula K. Le Guin on the art of words versus the business of books.
Where do these videos come from? From you. Send us the BC news, culture and solutions videos you love and and we'll use them as our video of the day. Send your suggestions here!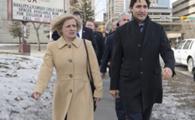 Falling prices and competition from a new Texas export terminal mean Trans Mountain fails the business test.