The Vancouver Courier shared a story last month about people who are opting to live in vehicles.
The City of Vancouver's director of streets said a "couple hundred" people are choosing to live in cars or campers.
One of the people interviewed said living in a trailer was better than paying high rent to stay in the city, where she works. It was also hard to find a landlord willing to accommodate her dog.
Here is their video interview with Gord Hocking, who bought a used tent trailer to live in after he grew tired of sleeping on the street. He now shares a rented camper van with his girlfriend and another roommate.

A speech by the late Ursula K. Le Guin on the art of words versus the business of books.

Burger King explains net neutrality with Whoppers.
Where do these videos come from? From you. Send us the BC news, culture and solutions videos you love and and we'll use them as our video of the day. Send your suggestions here!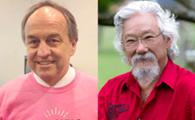 Party could have brought down the government, says enviro icon.