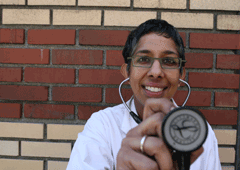 Dr. Anita Palepu and a number of her colleagues have been taking the pulse of the way health information is disseminated in Canada. They say the prognosis isn't good.
Between editorial gag orders, encroaching corporate influence and a glut of misinformation on the web, Palepu says medical publishing is grappling with big changes. As one of a number of editors caught up in last spring's bout of firings and mass resignations at the Canadian Medical Association Journal (CMAJ), the nation's most important medical journal, Palepu insists the need for free access to quality medical knowledge has never been greater.
"It's sick," she says, speaking of the influence of big pharmaceuticals in traditional medical journals. "I hadn't realized until I left the CMAJ how bad things are in scholarly publishing, and particularly in scholarly medical publishing."
The alternative publishing forum Palepu and other clinicians are launching this week, called Open Medicine pledges to put uncensored scholarly material in the hands of doctors and anyone interested in health, with no financial or political strings attached.
But while both the average person and clinicians alike stand to benefit from immediate and free access to research, some question if the new generation of online medical journals -- staffed mostly by volunteers and staunchly refusing to take ad money from pharmaceuticals -- will be a viable alternative to the old order.
Unhealthy privilege
Two recent U.S. studies suggest Open Medicine's launch comes at a favorable moment in time.
An Ipsos study released last week found that the pharmaceutical sector "is suffering from a poor reputation among Americans," a third of whom have an "unfavorable" opinion of big pharmas.
"Among other sectors measured, only the oil and gas, chemicals, and tobacco industries fare worse than the pharmaceutical sector," reads the study, noting that many of those polled suspected companies of profiteering at consumers' expense.
But Barbara Cohen points to a more significant statistic.
An editor at the U.S.-based Public Library of Science - Medicine, a pioneering open access journal, Cohen said studies in her country have shown that the Internet is radically changing where people go to learn about their health.
She points to a PEW foundation report that found that medical information was the third most searched for topic on the Internet "after porn and dating and before sports and weather."
"Clearly people are interested in finding out about medical topics," she said by phone from her office in San Francisco, "and most of what we consider the gold standard of recent research is not available to people unless they pay."
Electronic snake oil
John Willinsky, Open Medicine's volunteer publisher and an open access expert at the University of British Columbia, argues access to knowledge shouldn't cost the public a dime.
As it stands, he says, the public pays twice for health sciences research. First through taxes, which are doled out as government grants to researchers, then by paying publishers to access that research, which he says is "locked up in expensive journals."
In an interview with The Tyee, Willinsky said the current model puts the best information out of reach, since most individuals and even many libraries can't afford to see it.
According to Palepu, individuals typically pay $150 per general medical journal, and institutions pay up to four times as much. Access to online subscriptions depend on anticipated numbers of students and faculty, and may be as high as $8000 for a single journal.
Specialty journals, such as Brain Research, charge $20,000 for an annual subscription.
Under the open access system, authors of research tend to pay to be published, said Palepu, who says the fees can be $1500 to 2000 per article.
Many funding agencies, however, recognize these fees as a legitimate research cost and now encourage grant recipients to publish their work in open-access venues "to increase visibility and accountability to the public."
While the changes already won by open-access lobbyists have had some effect -- journals like the New England Journal of Medicine now offer select material for free -- advocates aren't satisfied. Willinsky, for one, says all research should be freely available. Failing to do so, he underscored, weakens the potential of the Internet, where prohibitive costs of information combined with the web's rising importance means more people are turning to free and unreliable health information on the web.
Between the covers
While she hopes Open Medicine will be a corrective to a culture of research funding in Canada, Palepu says the journal will also try to address problems she says plague peer-reviewed medical journals themselves -- namely, the influence of pharmaceutical companies.
"There's kind of this cozy relationship that is largely undisclosed to the casual reader in the medical journal," she said.
"Industry certainly has a role in what's published now," said Jerome Kassirer, former editor-in-chief of the New England Journal of Medicine. "They support the studies and they support the physicians who do these studies, and so they can have a substantial influence. Not only that, but they sometimes dictate what the studies are going to say."
Palepu cites a landmark 2003 study that shows that when pharmas or governments sponsor research, the pharma-backed ones are four times more likely to be approved or have "a favorable outcome" than studies funded without any underlying profit motive.
"A lot of the questions have become industry-driven questions in clinical medicine, as opposed to the questions that are actually important to physicians and patients."
"Now there's this movement by all medical journal editors, who are catching on and saying we want to be sure that there's not this systemic bias," says Palepu.
Trying to turn that around while still taking ads from drug companies is risky business, she said. When the editors of The Annals of Internal Medicine wrote a commentary that was critical of pharma ads and studies, several of the journal's major advertisers -- pharmaceutical companies -- yanked their funding from the publisher. Co-editors Bob and Suzanne Fletcher resigned.
Canadian procrastination
Willinsky is not alone in lobbying for mandatory open access to scientific knowledge. In a recent column for the Toronto Star, Michael Geist, the Canada Research Chair of Internet and E-commerce Law at the University of Ottawa, indicated that open access principles are gaining ground the world over. Sharing is becoming mandatory, wrote Geist, who noted that private publications are increasingly being asked to deposit electronic copies in freely available databases shortly after publication.
But research funding agencies in Canada, he notes, are slow to push for this change.
In the United States, pressure is mounting for all federally and privately supported clinical research in human volunteers, including drug trials, to be registered into a central public database. This allows everyone to see the trial's purpose, who may participate, locations, sponsorship and responsible contact person. Congress is expected to consider a bill that would make submission compulsory.
Another effort south of the border called PubMed Central is challenging the question of who owns knowledge with their push to create a free digital archive, which will store biomedical and life sciences literature at the U.S. National Institutes of Health.
Publishers strike back
The power of the web is eroding the power of publishers. But those same publishers have been going on the attack. A recent article in Nature magazine notes how, in their bid to undermine the free-information movement, a consortium of big scientific publishers in the U.S. contracted Eric Dezenhall, a man whom some have termed a "PR pitbull" and whose firm has reportedly taken oil money from ExxonMobil to attack Greenpeace.
In e-mail exchanges between the two parties obtained by the magazine, Nature reports that "the consultant [Dezenhall] advised them [the publishers] to focus on simple messages, such as 'Public access equals government censorship.' He hinted that the publishers should attempt to equate traditional publishing models with peer review, and 'paint a picture of what the world would look like without peer-reviewed articles.'"
The suggested tactics drew the ire of many, who said the strategy is as low as it is untrue. PloS Medicine, Open Medicine and many other web-based journals are in fact peer-reviewed.
Editing house calls
Like last spring's CMAJ debacle, the New England Journal of Medicine made headlines in when editor-in-chief Jerome Kassirer was fired for standing up to the journal's publishers. Kassirer refused to allow them to profit from the NEJM's logo, which they wanted to farm out to private companies as a stamp that could be used to sell household products.
"The owners of the journal were going to commercialize what I thought was a jewel," said Kassirer by phone from his home in Boston.
Despite his own principle-versus-profit run-in with publishers, and despite being a big advocate of open access, Kassirer has qualms about the latter's viability.
"I think it's a major breakthrough. The important question to me is how to sustain it."
Running a journal is "labour-intensive," he said, singling out the editing of manuscripts as the most expensive -- and often most important -- function. Without big ad revenues from drug companies, he's concerned about the quality of online health journals.
"If the editing is done on an ad-hoc basis... I don't think it can be done as effectively as if you have people that are dedicated to the task," he said. "If somebody makes a mistake in a health-related article or a disease-related article, that could be an awful thing."
Old and new
Canada's Open Medicine launches quietly this week with a shoe-string budget and voluntary staff.
Its high-profile U.S. counterpart, The Public Library of Science - Medicine, on the other hand, started out with the help of a Nobel laureate, a $10 million grant, and as one branch of a stable of science-based journals. The latter's ability to fund TV spots advocating free access to information makes it a force to be reckoned with for publishers.
Nevertheless, PLoS Medicine's Barbara Cohen admitted luring researchers away from prestigious established journals is tough.
"It's not just how much you publish, it's where you publish," said Cohen. An article among the pages of New England Journal of Medicine or the Lancet, both nearly two hundred years old, comes with a significant amount of cachet.
"I think it's difficult for any new journal to break into the existing rank and file," she said. "We are still facing that problem."
Unfazed, Palepu says the team at Open Medicine hopes to lure researchers to publish with them by giving them a broader audience, letting them keep the copyright to their work, foregoing publishing fees and by offering an uncensored forum for creating debate.
"Science is a public good, knowledge is a public good," said Palepu, who believes an emerging cadre of young doctors share and understand this view. "Why wouldn't you want to have the most people possible to have access to information, to foster interest and engagement and dialogue?"
After her ten years of collaboration with the CMAJ ended in a bitter dispute, Palepu said she was sufficiently discouraged to consider getting out of publishing altogether.
"Part of me thought that in a way that would have been complacent and irresponsible. Canadians need to have a source of medical journalism, and a source where original articles and commentary and analysis are not compromised by political and commercial interests."
Related Tyee stories: