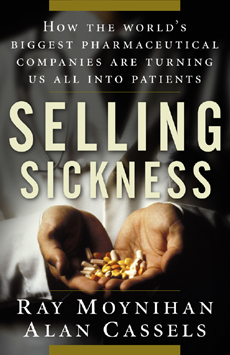 [Editor's note: Drug companies have naturally limited markets. In order to increase sales they only really have two choices: create more sickness or find more sick people.
In Selling Sickness, medical journalist Ray Moynihan and drug policy researcher Alan Cassels detail how pharmaceutical giants aggressively broadened their market by expanding old conditions and creating new ones, in the process "creating millions of new patients and billions in new profits."
The following excerpt tracks the redefinition of menopause from a natural change to a medical condition. Along the way, the authors demonstrate how celebrity hawked hormone replacement therapy "would ultimately be shown to cause some of the very health problems it was supposed to prevent."]
The summer of 2002 brought good and bad news for Lesa Henry, the busy public relations chief at the drug company Wyeth, and the woman helping to market one of the best-selling drug regimes of all time -- hormone replacement therapy. The good news was that she'd just picked up an advertising industry award for her work using celebrities to promote drugs, and she'd been named one of the top 25 marketers of the year. The bad news was that scientists had just discovered long-term use of hormone replacement therapy was doing women more harm than good.
In the world of drug marketing, Wyeth's Lesa Henry is seen as well ahead of the game. She was one of the first to recognise the value of celebrities for "educating consumers" about health conditions and the drugs that go with them. One of Wyeth's major coups had been hiring supermodel Lauren Hutton to help raise public awareness about a "health condition" otherwise known as the menopause -- the time in a woman's life when her periods, and her fertility, come to an end. Hutton's famous face has fronted a massive marketing campaign promoting both the "dangers" of the menopause, and the "promise" of Wyeth's hormone pills. As director of communications within the company's Women's Healthcare division, Henry was leading the way for the industry, according to the judges who gave her the award, "in appropriately using celebrity spokespersons in an innovative, resulrs-oriented communications effort."
Celebrities have become central figures in drug company campaigns to change the way we think about the common ailments of life. Baseball stars help transform fears about sexual performance into pills for sexual dysfunction, and football heroes now help sell shyness as a symptom of a mental illness. For their trouble the stars are paid anything from $20,000 to $2 million, yet the exact size of these pay cheques are well kept secrets. What's more, many of the talk shows and the tabloids will portray these celebrities as being engaged in worthwhile "awareness-raising" activities, while making no mention of the fat fees flowing to the stars behind the scenes. One of the most cynical campaigns of all has been Wyeth's attempt to inflame fears about the menopause at the same time as scientists have been documenting the dangers of the company's menopause drugs. The supreme irony is that hormone replacement therapy, after finally being properly studied, would ultimately be shown to cause some of the very health problems it was supposed to prevent.
A milestone in the campaign to "educate" consumers about menopause was a cover story in 2000 in Parade, the weekly magazine inserted into newspapers across the United States. Seen by an estimated 70 million Americans every Sunday, it is arguably one of the most widely read magazines on the planet, and a cover story here is a marketer's dream.' Photographed with two other beaming celebrities, the sexy Hutton adorned the Parade cover along with the headline, "Live Longer, Better, Wiser: This year's indispensable guide for every one of us." Blurring the lines between news and advertising, Hutton not only appeared on the magazine cover and in its main article, she also featured as the centrepiece of a Wyeth advertisement in the same issue talking about the consequences of "estrogen loss" at menopause.
The Wyeth advertisement detailed a horrifying list of what apparently lies ahead for women after the menopause: Alzheimer's disease, heart attacks, colon cancer, cataracts, teeth loss, night sweats, vaginal dryness, bone fractures and more. "Talk to your doctor," urged Hutton's reassuring image, "because the more you know about menopause and its associated estrogen loss, the more you'll want to take an active interest in your health."
Just a few pages away from the advertisement was an article called "Celebrities Reveal Their Secrets," where the 55-year-old supermodel and health advocate shared her tips for feeling good and looking fabulous. First she praised the virtues of apples, fish, pasta and yoga. Then came the most important part of Hutton's message. "My No.1 secret is estrogen," she said. "It's good for your moods, it's good for your skin. If I had to choose between all my creams and makeup for feeling and looking good, I'd take the estrogen." US FDA regulations forbid Wyeth executives from making such one-sided claims about the company's hormone drugs in their advertising, with no mention of side effects, yet their paid celebrity is apparently not under the same FDA constraints.
Selling menopause as a fearful time of hormone loss lays the groundwork for selling the promise of hormone replacement. As the industry magazine DTC Perspectives rightly recognised when it anointed Lesa Henry one of the top marketers of the year: using celebrities brings results. And Lauren Hutton is not the only star in the Wyeth stable. Soul diva Patti LaBelle and actress Cheryl Ladd have also been on the payroll. Not surprisingly, Lesa Henry won that same industry award a second time round, the following year.
Wyeth strongly defends the use of celebrities, arguing that the women are prompted to participate in educational programs because of their own experiences, and their desire to share those experiences with other women. In relation to the awards, a Wyeth spokesperson said the company was pleased when employees are recognised for their professional achievements. "These campaigns are extremely effective in reaching consumers," says celebrity-broker Amy Doner Schachtel. Working from her office in New Jersey, the attractive former drug company public relations expert has moved to the leading edge of medical marketing. Sometimes juggling two phones at once, she connects high-profile celebrities with big-name drug companies keen to educate the public about common conditions. "Just one segment on a national talk show, or one print article in a major newspaper can tremendously impact patients' decisions to seek treatment," she says. The goal of these company-funded celebrity campaigns, as she stresses repeatedly, is to drive patients into doctors' offices to seek treatment. Schachtel has helped find celebrities to raise awareness about irritable bowel syndrome, depression and social anxiety disorder. She's worked with West Wing heart-throb Rob Lowe, country singer-songwriter Naomi Judd and television mega-star Cybill Shepherd. "People look up to celebrities," she says, "because they trust them." Hutton's role, like that of other celebrities, was not to create a condition, but rather to help sell a certain perception of one.
In this case the Wyeth advertisement featuring her was helping to persuade women that the menopause was not simply a natural part of life, but rather a condition of "estrogen loss" which brought an increased risk of deadly and frightening diseases, and required a visit to a medical doctor. This picture of the menopause is by no means a new one, but in recent years Wyeth's reasons for promoting it have intensified, as the world has learnt more and more about the dangers of the company's hormone pills. By the time of the famous Parade front Cover in the year 2000 the preliminary findings were starting to flow from a massive government-funded study of long-term use of the drugs. As we would all later learn, the combined form of long-term hormone replacement therapy-one of the most prescribed drug therapies ever-was doing more harm than good to the millions of women around the world who were taking it: slightly increasing their risks of heart attacks, strokes, blood clots and breast cancer.
From the book Selling Sickness: How the World's Biggest Pharmaceutical Companies are Turning us all into Patients, © 2005, by Ray Moynihan and Alan Cassels, published by Greystone Books. Reprinted by arrangement with the publisher. All rights reserved.
Selling Sickness is available in bookstores, and at amazon.ca.