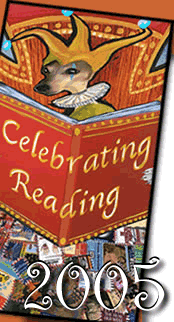 On Sunday, The Tyee will be hitting the tents at Vancouver's 11th annual, Word on the Street, a free-of-charge book and magazine festival.
We're busy finalizing this year's 'Tyee Time' line up, (taking place at 4:30 in a tent on the Homer Street side of the Vancouver Public Library - between Robson and Georgia).
We're going to start with Sara Bynoe who'll be reading some of her angst-ridden poems then (drumroll please) Shelley Franchini, the winner of the Tyee Teen Poetry Contest, will read her adolescent "Ode to John Travolta." It's awful.
Then Dorothy Woodend (our film critic) and Steve Burgess (our entertainment critic) will take the stage in the Tyee Entertainment Critics Smackdown. You heard it here first. They're going to wrestle, kick, and bite (verbally, of course) over their "best TV and movies" lists from this year. Then they've got some TV and movie poetry up their sleeves. We're supposed to be off the stage by 5:30 but might have to bring out the hook.
Finally, Mark Leiren-Young is going to do a sneak preview of his Tyee BC Year In Revue.
The Tyee has also sponsored two readings: one by James MacKinnon from Dead Man in Paradise at noon (tent on the Homer Street side). Equal parts mystery, personal revelation, investigative journalism and travelogue, MacKinnon's first book traces his search for the truth about his uncle's murder in the Dominican Republic, forty years ago.
The second is by Dara Culhane from the book she co-edited with Leslie Robertson, In Plain Sight: Reflections on Life in Downtown Eastside Vancouver (at 5:00 on the Hamilton Street side) which is a collection of seven life stories from the Downtown Eastside, voices of women who are seldom heard on their own terms. The Tyee will be running an interview with author James MacKinnon tomorrow, and currently has an excerpt from In Plain Sight on the site.
We'll also be recording the Vancouver Poetry Slam Team, fresh from the 16th annual National Poetry Slam Championships in Albuquerque this August, which we'll have available on the site as a short mp3 download next week. The Slam Team is performing at 11:30 on the Main Stage.
There'll be over 40,000 people at this free festival all day Sunday. There's a schedule of the event here, or a 48-page paper version available at any Lower Mainland public library branch. Hope to see you there.
Vanessa Richmond is The Tyee's culture editor.