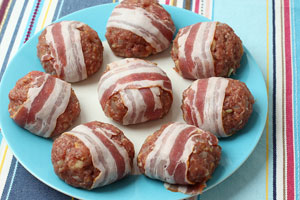 I'm a lifelong vegetarian who is suddenly allergic to tofu. No, that's not a metaphor. And it's the tip of the allergy iceberg that has turned me into the Titanic.
The hazards include potatoes, tomatoes, carrots, wheat, rye, flax, watermelon, cantaloupe, mint... it's a long and disheartening list. Death by chocolate is less a cute restaurant name than a real possibility. I won't bore you with the details, except to say my vocabulary got a new word -- anaphylaxis -- and I wield an epi-pen with aplomb.
After the allergist delivered the bad news and I finished trying to argue him out of the diagnosis, he issued a stern verdict: "You need to consider eating meat."
I resisted. I began rejecting meat as a child and eventually gave it up altogether because I genuinely don't like the stuff. It's not a political statement and it never felt optional.
My antipathy to eating dead animal carcass is deep-rooted and not helped by years as a general assignment news reporter. I covered more than my share of stories about food-borne illness. Salmonella in the packaged chicken and the poorly cooked turkey. E.coli in the hamburgers -- and if you're unlucky, the bagged spinach too. Are you a fan of eating out? Remember there's no such thing as 24-hour flu, so what you probably had was food poisoning.
Other people check restaurant reviews before picking a dinner spot. I check for health code violations.
Okay, maybe I am a touch neurotic about food. But that's hardly my fault given our culture. As Michael Pollan puts it in The Omnivore's Dilemma, it's like we're an entire society with an eating disorder.
Still, as a flexible vegetarian who occasionally ate salmon, I was sure that, despite a steady stream of contradictory reports on food, I had a reasonable understanding of what to eat in order to avoid scurvy and/or a slow and agonizing, premature death.
I ignored food fads and ate the sort of diet approved by the nutrition researchers I often interviewed. Overwhelmingly they emphasized eating whole foods and avoiding anything packaged or processed. One even told me that she, personally, didn't drink juices, preferring the whole fruit because it wasn't quite clear how other elements such as the fibre and enzymes worked in nutrition.
I recall asking one researcher working in a hospital about the cafeteria menu that featured every food he described as a menace.
"Hospital food: it's like a make-work project for doctors," he quipped. I laughed. But I've since avoided institutional food on the off-chance he wasn't joking.
The researchers had few definitive answers, but in place of that they seemed to offer a sensible approach of moderation in all things, which appealed to my worldview. But I couldn't get around my aversion to the texture of animal flesh, with all it implied.
So when faced with the idea of enforced meat eating, I panicked and my brain raced. Was it possible to subsist on coffee? And what about those Breatharians -- maybe they were onto something?
'Praise the Lard'?
The allergies had reduced me from an adult with a fine repertoire of dinner party offerings to an adolescent who didn't know the first thing about how to feed herself. So I did what I had done at 18 and needed to learn to cook: I read a book or 12. I needed to learn what a "proper" diet that excluded the verboten foods looked like.
And that's when I learned of the nutrition wars. I was inclined to mock food faddists, but I now realize their obsessions and anxieties reflect a much more serious problem: medicine no longer agrees on what constitutes a proper diet. Meanwhile, we're beset by an increasing number of ailments that are diet-related.
Since the authorities can't agree, I've been doing a kind of crowd-sourcing of other people's diets. Lately I've been listening to the views of my pal known as Antler Boy, not least because he has a science degree. But mostly because he is astoundingly fit for anyone, let alone a guy in his late 40s.
But listening to Antler Boy order breakfast is like living in a restaurant scene from the movie When Harry Met Sally. He's Sally.
"I realize the nature of hash is to have potatoes in it, but could you make me one potato-free...," he begins, when the long-suffering waitress arrives. Then come the substitutions and eliminations like a flash flood: fast and overwhelming. No toast. No fruit. Green salad, yes, but only if he can have a high fat yogurt as a dressing. Is there a high-fat cream for his coffee? Is there sugar or cornstarch in that cream? Perhaps they could bring him the carton so he could check...
And on top of it all he wants a double serving of bacon. His elegant T-shirt, which fits snugly on his lean and muscular chest, features the silhouette of a pig and the slogan, "Praise the Lard." He isn't joking. He practically worships bacon fat and cooks everything he possibly can in it.
"On the bright side, he's a great tipper," I joke with the waitress, in the fast-fading hope that the kitchen will restrain itself from spitting in our food.
"You're high maintenance!" I hiss at him, after the waitress leaves.
He just gives me that look that says he's right and has the 32-inch waist and an impressive lipid profile to prove it.
Blame the sweet stuff
Antler Boy isn't just suggesting, as did my doctor, that I consider occasionally consuming a steak. He would have me inhale animal fat and give up apples. His authority? A science journalist named Gary Taubes.
Taubes' advocacy for low carb, high fat eating has been sending the anxious wing of the fooderati to bacon and whipping cream since he ran a startling article in the New York Times magazine in 2002.
"What If It's All Been a Big Fat Lie?" the headline asks, and the article goes on to argue persuasively that everything we'd been told about nutrition since the 1950s, when researchers connected eating saturated fats with heart problems on scant evidence, is just plain wrong.
At the time fat, and red meat especially, became villains on the menu. Before long food producers were extracting fat from foods and replacing the taste with high fructose corn syrup -- that's sugar to you and me.
The powers that be overhauled the government food guides and pushed the low fat options so that by the 1970s we were all downing tons of starches -- whole wheat pasta, multigrain breads, and brown rice. We also increased our fruit-and-vegetable intake to as much as 10 servings daily. The result was a diet that was high carb/low fat and contained far more sugar than most of us can tolerate.
Those sugars, the theory goes, are what has been messing with our hormones, thickening our waistlines, and clogging our arteries. They also trigger hunger and prompt overeating. So the message is that if we want to reverse what everyone now calls the obesity epidemic, we need to cut the carbs.
Taubes makes a fascinating case for how science screwed-up when it comes to nutrition research. He carefully tracked the flawed studies and the unfounded conclusions, most of which occurred with the best of intentions.
So while it's tempting to blame the likes of Coke, McDonalds, and video games for the extra pounds -- and they're not helping -- that doesn't explain the problem. Much of the overweight two-thirds of the population eats a diet widely viewed as proper, which is to say nary a Big Mac passes their lips. But since we all eat, on average, about twice as many carbohydrates as are good for us, albeit in the form of nutritious foods, our collective supersizing is inevitable.
The 'French Paradox'
Taubes' detailed, complex research piece is worth reading, but here's the upshot: the much-maligned Atkins diet gets nutrition right, more or less. While it's famous for causing major weight loss, the real advantage is that low-carb diets serve to both manage and prevent diseases like diabetes.
His findings echo what is called the French Paradox. Despite the fact the French eat a lot of saturated fat including red meat, butter, cream, cheese, and eggs, they suffer less heart disease than the low fat zealots in North America.
Taubes has since written two books on the subject: Good Calories, Bad Calories and Why We Get Fat. And he has joined forces with a cadre of like-minded folks to launch a non-profit organization, The Nutrition Science Initiative, to fund better research than that on which our erratic (and irrational?) diets have been based.
He isn't alone. A doctor and a nutritionist, Stephen Phinney and Jeff Volek, have written The Art and Science of Low Carbohydrate Living. They've also rewritten the previously despised Atkins diet.
If you caught the CBC documentary, My Big, Fat Diet, about Alert Bay trying low-carb eating as an antidote to the town's burgeoning weight, you're familiar with Dr. Jay Wortman's work.
The Vancouver family doctor and researcher studies the role of diet in the health problems of First Nations groups where the stats on obesity and diabetes are even more frightening than in the general population. He theorized that the modern diet, which is heavy on grains and other carbohydrates, played a role and he developed a regimen based on the traditional West Coast native diet, which just happens to look like another variation on Atkins.
There are dozens of medical researchers and clinicians getting behind this approach to nutrition. The more I read, the more persuasive I find Taubes et al, despite the gimmicky paleo-diet interpretation of the theories, the generally irritating nature of food faddists, and my own discomfort with meat. Which is why I don't object when Antler Boy slips some bacon on my plate and says, "Just eat one slice."
I chew, dutifully, and take my mind off what I'm eating by reminding myself of Benjamin Franklin's aphorism: eat to live, don't live to eat.
But I just don't buy the argument that yams are the devil. And I feel the threat of food zealotry creeping in when Antler Boy, who has been eating this way for two years, tells me we're spending Saturday hunting for a butcher that has grass fed beef so he can get a shank and make me a "bone broth." I balk.
"Stop right there, Sally. If the only alternative to anaphylactic shock is an afternoon spent touring butcher shops, you can just kill me now."
He smiles patiently and offers to get me some nice Belgian chocolate.
© Shannon Rupp. For permission to reprint this article please contact the author: shannon(at)shannonrupp.com.