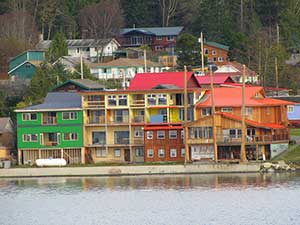 At the dawn of the 20th century, countless immigrants arrived in Canada. Some of them from Finland ended up working in Robert Dunsmuir's Nanaimo coal mines. They were hard workers, but they hated Dunsmuir's kind of brutally exploitive work. Dreaming of something better, they summoned a Finnish writer and activist, Matti Kurikka, to lead them in creating a new kind of community.
That was Sointula, Finnish for "place of harmony," a pioneer town carved out of the woods on Malcolm Island near the northern end of Vancouver Island. It was to be a co-operative community of utopian socialists.
Now into its second century, that community is still alive. But like so many B.C. towns which have seen resource jobs disappear and populations dwindle, Sointula is struggling and looking for new ways to sustain itself. In order to move forward, it is looking to its past -- and again looking to Finland for advice.
A history of self-reliance
Matti Kurikka, as it turned out, was better at writing than at running a community. His schemes effectively bankrupted Sointula within a few years, but many of the settlers kept the community alive by rowing out along the coast in search of work as fishers or loggers.
In hindsight, those working-class Finns were a paradox: believers in a co-operative community, they were also do-it-yourself individualists. They had no love for the kind of government that had supported Robert Dunsmuir and B.C.'s other early robber barons. Their original utopia might be dead, but the new Sointula was an inward-looking community determined to go its own way and to look after itself. For good or ill, it still is.
In the Dirty Thirties, Sointulans put their kids in the Soviet-inspired Young Pioneers, not the Boy Scouts. After the Second World War, a new wave of Finnish émigrés arrived on the island with a more critical view of communism.
In the late 1960s and 1970s, American draft dodgers arrived, injecting more individualism and skepticism about government. Those who lasted were hard-working, self-reliant types like the Finns, and they've blended in.
Fishing and logging brought prosperity to Sointula. But by the end of the century, they were fading industries. Malcolm Island is too far from Vancouver to be another Hornby, booming on its summer tourists; so, after years as a proud working town, Sointula is looking for ways to rebuild.
Given its demographics, it doesn't have much time. Sointula was always small; according to the Malcolm Island Official Community Plan, the original colony had just 127 people in 1902. By 1930 the population had risen to 450; thirty years later, it was 570. The island seems to have peaked in population in 2001, with 795 people, and ten years later it was down to 733, with 580 living in Sointula itself.
Ominously, the 2011 census reported the median age in Sointula as 52.8, with 340 residents aged 50 or older. The handful of teenagers living there must commute by ferry to school in Port McNeill, and few stick around after graduation. Many working-age adults also commute, to jobs in Port McNeill or Port Hardy.
Ironically, Sointula's smallness and isolation have kept its people as self-reliant as its founders. Shane Field, a former tree-planter and fisher now commuting to a Port Hardy job, told The Tyee that people have to be able to do a little of everything -- from logging and fishing to plumbing and wiring. Like Field, many move from one career to another, or simply multitask.
What's more, the island is unincorporated, a part of the Mount Waddington Regional District. People like the absence of government: rare visits from the RCMP, no mayor or council, and the freedom to get on with their lives as they see fit. The regional district looks after some chores, and volunteer committees look after the rest. You can treat your property as you please; some make their homes stunningly beautiful, while others decorate their front yards with dead Volkswagens. Or pasture a horse in their back yard.
Sointula's 'culture shock' connection
As do-it-yourselfers, Sointulans are always ready to form a new committee to deal with problems. Shane Field is active in the Malcolm Island Grassroots Development Forum, which is working with the regional district to raise funding to develop a strategic plan for the island. Another committee is planning a conference for late September on Culture Shock: Utopian Dreams, Hard Realities. Its members have called on an expert in Sointula's past to give them guidelines to its future.
Ed Dutton is a British academic at the Finnish University of Oulu, on the 65th parallel. If it were in Canada, it would be a little north of Yellowknife and south of Inuvik. It has 16,000 students and serves a community of almost 200,000.
According to one of the conference organizers, Annemarie Koch, Dutton drew the attention of Sointula with an article on the father of the theory of "culture shock" -- the anthropologist Kalervo Oberg, who was born in Nanaimo in 1901 and raised in Sointula. Oberg's father had been the treasurer of the ill-starred commune.
According to Dutton, Oberg became an American anthropologist who developed the old phrase "culture shock" into a predictable three-stage process. In the "honeymoon," the new culture is fascinating. Then comes rejection, when people reject their host culture, stick with other expatriates, and dream nostalgically of home. Eventually, the new culture is understood as "just another way of living."
Anyone who has lived and worked overseas (or immigrated to Canada) will recognize those stages. Oberg's argument was that the Finnish miners had gone quickly through their honeymoon with Canada to stage two, and Sointula was an attempt re-create Finland minus its oppressive church and aristocracy.
A local online community blog, the Sointula Ripple, is keeping people advised on the progress of the conference. It's far from the only website in Sointula, but the conference itself will be old-fashioned face-to-face talk, the way Sointula itself was first framed over a century ago.
Success depends on reinvention
What about the rest of the region? When The Tyee asked Annemarie Koch if other North Island communities are trying to redefine themselves, she replied:
"I would say that Alert Bay is certainly one of these. The Namgis First Nation is working on redeveloping the residential school site and the waterfront generally to adapt to evolving tourism and fishing opportunities.
"While Port McNeill hasn't lost its roots in logging, I have seen a growing number of young people engaged in forest management (the story of Strategic Forest Management illustrates this)... Port Hardy, Port Alice and Port McNeill have come together to manage a community forest... I am most familiar with what's going on in Sointula, of course, but our success is ultimately dependent on an overall reinvention of the North Island economy."
Seen in the light of Kalervo Oberg's insights, Sointula's later stages reflect a series of culture shocks: a honeymoon with the Soviet Union, then the postwar rejection; the shock of the American newcomers, and then the acceptance of them; the shock of a declining economy, and now an effort to find another way of living that can help Sointula remain a place in harmony with its history.
But we might say the same about all our communities. Economic, demographic, and technological change have challenged Canada's big cities as well as its remote small towns. More changes -- climatic and environmental -- have arrived; the culture shocks are coming thick and fast as we fall in and out of love with high tech, resource development and new roles for Canada in the world.
We may find new "communities of interest" through blogs and tweets, but the simple act of talking, face to face, led to the foundation of Sointula and countless other communities. When Sointulans sit down in September to discuss the creation and re-creation of their town, they will draw on resources from as far as Oulu and as near as their shoreline. They may create a template for the rest of us as we struggle to rebuild our own communities.