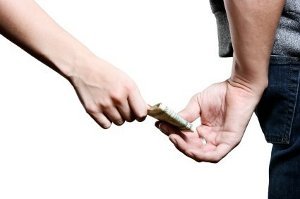 [Editor's note: This is the second part of Roquela Fernandez's inquiry into whether friendship can be bought. In the first part, published yesterday on The Tyee, Fernandez shelled out over $50 to rent the real-life companionship of a friend found online (and that was discounted). Today, Fernandez's relationship with her rented pal Godot continues.]
As I watch Godot's black Nike high-tops lay rubber as he speed walks out of Starbucks, I consider chasing him down. I don't. Instead, I finish my cake on foot. I need to put some distance between me and the coughy hipster, who probably thinks: what kind of person pays for friendship? Friendship is probably euphemism for sex. She's probably paying for sex! Cough.
Coughy hipster raises a good point. From the whole s/hebang to the implied sex of some advertisements (Is Matthew McConaughey offering me his nipple or trying to sell me cologne?), the commoditization of sex is old news, honey. Why, then, does buying friendship feel like the final frontier of commoditization, the new prostitution?
I don't know, and I couldn't possibly know because I still haven't paid for friendship. A few days later, I email Godot to ask him to accompany me to the Vancouver Art Gallery for lunch and a visit. I offer him $100 to be my RentAFriend (coincidentally, $100 is the most I've ever LentAFriend). I also request an interview, but I make it clear that it is not part of the fee.
To me, $100 for two-and-a-half hours of friendship seems expensive. If you want to compare apples and oranges, $100 could buy 100 pounds of apples, or 100 pounds of oranges. I could probably make a lot of friends with that much fruit. And the $100 doesn't even include our lunch and admission. Bother.
If you think that $100 seems like a good deal, consider that as of Nov. 30, 2011 there were 400,000+ rental friend profiles, and as of January 2012, I am the 2,482nd paying member. The supply of friends exceeds the number of people willing and able to pay for friendship 161:1. There aren't even 161 friends to choose from in Vancouver.
Furthermore, where there is Craigslist, there are hundreds of recent posts for friendship in the strictly platonic section for FREE. One guy was looking for a girl to drink beer, build living room forts, and watch movies with, which is my kind of friend.
In any case, Godot accepted my offer, confirming what I already knew about wanting my money.
$19.66: Quiche for two
For the second time in our friendship, I arrive on time. Godot strides up to me. He is wearing a classy fedora. He's smiling and for a moment I feel like he's about to hug me. He abandons the idea, with an awkward flap of his arms; I pretend not to notice and compliment his swish hat.
It's 1 p.m. and the cafe is still bustling. I snag a quiet table under a chandelier. On the sideboard beside us sits a bright orange laughing Buddha statue. He has received offerings: a green apple and an espresso.
After lunch, we start our interview. There is a façade between us, and I don't know if it's his or mine. It feels like he's preforming. His charisma is extremely loud. His smiles seem professional, like the one the server gave me when he handed me my reheated quiche. For the first time, I begin to seriously doubt the genuineness of our relations. As Buddha says, "Doubt separates people. It is a poison that disintegrates friendships and breaks up pleasant relations."
We continue our interview. I ask the question at the heart of my piece: can you rent friendship? He says, "I'd have to say yes." Yes, he'd have to say that, but I'm still not convinced. There are a great number of things money can buy, but I'm not sure if friendship is one of them. I can buy a chunk of someone's time, but it doesn't guarantee that they'll find me interesting/likeable/worthy of their friendship. Friendship is built, not bought.
It is equally plausible that they don't find me interesting/likeable/worthy of their friendship. If they feel time dragging, they might thumb wrestle with some text messages, blankly look up at Andy Warhol's brightly painted photographs of Mao, and say something like: "Are we going to be done soon? I'd really like to meet up with my [real, gratis] friend at Starbucks."
It is, however, fair to say that you can buy companionship. We are sitting here together in the presence of laughing Buddha. Godot is here for $100. I can doubt his sincerity towards me. But three times on our previous outing, I spontaneously felt the fondness of new friendship. Is that worth nothing?
$4.24: One slice of triple berry pie
Immanuel Kant thought that it was our categorical imperative to treat friendship as an end in and of itself, and not a means to another end. In other words, friendship for friendship's sake, and not because it will help achieve something else (like money, or longwinded stories).
Godot agrees, but counters: "I really do believe all the friends that I have are a means to an end. If my friends don't help catapult me to the next level of awesome in my life, then what am I doing in that friendship?"
For him it boils down to social currency, a person's value within society. Intelligence, special skills, attractiveness, popularity, and charisma increase a person's social value, while dullness, apathy, slovenliness, reclusiveness, and lack of charm decreases social value.
Money, he says, changes the dynamic. It creates the conditions for an unlikely social interaction through incentive. He tells me his friend (20s), was offered $1,000 to spend a weekend (no sex) with a woman (50s) as her companion (he said companion, not friend). This, he says, is unlikely to happen naturally without the monetary incentive.
I don't like it. The thing I don't like about it is everything, except his honesty.
Let's say that they do, in spite of the supposed unlikelihood and implied inequality, become good friends. At what point would friendship invoicing stop?
I put this question to him in terms of his rental friendships (of which I'm, so far, the only one). "I won't say no, but it would depend on the circumstance. Would I consider it? Yeah. Would I [stop charging]? I don't know. It depends. RentAFriend is hiring me to hang out so that's the premise of that arrangement."
Touché. I did, after all, contact him. But if he were to stop charging, he admits that it "changes the relationship premise, and when that changes, it changes the relationship. A circumstance can bring you together, and whatever. It's just a question of whether both people decide that's what they want to do." Gotcha.
Previously, he told me that he worked with autistic adults. Although he enjoyed the work and the people, he still got paid for his time. Normally he charges a $50 hourly rate for services, like web design (and perhaps this is what he charges his porntoon patrons for commissioned drawings). But his "social rate" for services like tutoring, dating coaching (!), and friending is reduced to $40 "because it's more relaxed and less intense. It chillin'."
But what about his friendship justifies the rate?
Presence. "My attention to you. You have my full attention."
Charisma. Accessibility. "You can take me anywhere and I'll get along. I can talk to anybody and get along."
Experience. "Stories. The ability to touch on a lot of different subjects in a way that's entertaining, and fun, and educational. I can teach you a lot of different skills."
I don't disagree. He is all of these things and emphatically so, but this does not make me his friend. According to the good book the Oxford English Dictionary, the first definition of friend is "a person with whom one has a bond of mutual affection, typically one exclusive of sexual or family relations."
$33.60 Gallery admission, one adult and one student
The interview is over, and we peruse the gallery. Andy Warhol's art has been reproduced, and reproduced, and reproduced. I can't say for certain, but I think this is the first time I've seen an authentic Warhol. I feel awe. This is real.
A few weeks earlier, I put up my own RentAFriend profile. I wasn't sure how much to charge for my friendship, so I posted a survey on Facebook to allow my friends to determine my market rate. I won't regale you with statistics. But one of my friends, one kind, lovely friend valued my friendship at $50 an hour with an addendum that was more innuendo than insult: "Lose your boyfriend and I will give you $100."
One hundred dollars is the magic number. A few minutes later, my kind, lovely friend called to book me for friendship. If your real friends won't rent you, who will? We set up a breakfast appointment. I waived my fee on the condition that she pay for breakfast. The de facto rate for my friendship is $2.95. She overpaid.
An hour later, she pulled up outside my apartment. I hopped in her car ready to go to Bon's Off Broadway. She looked over at me and said, "Would it have killed you to put on some lipstick?"
Cost
Description
$100.00
Two and a half hours of friendship
$57.56
Meals and entertainment
$157.56
Today's total friendship expense
$52.54
Memberships and Dues:
Two month membership to RentAFriend.com
$266.42
Total cumulative friendship expense
Table 2: Friendship Accounting cont'd.
Godot and I are on the way out of the Art Gallery. I'm homebound and he is off to meet a friend at Starbucks. He politely excuses himself to go to the bathroom. I take the opportunity to assemble payment. I've brought along a Thank You card to buffer the awkwardness -- I can shove two crisp, red MacKings in the envelope, thereby preserving my dignity and class. But I don't. I leave them on the outside.
When he returns, I hand him the money and card. He thanks me and tucks it in his backpack. After he has stowed his money, he pulls out a bottle of body spray. His last act of friendship is to spritz my wrist. At first it smells piney, then it smells sweet.