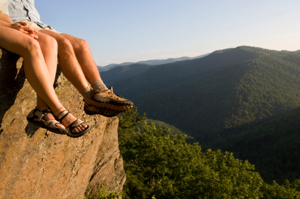 Recently, I asked a good friend how his daughter's travels in Australia were going. For the past couple of years I had listened in as she and her high school sweetheart planned their year-long, antipodal adventure. Since I had spent a good chunk of my 20s wandering the globe but had never made it to Down Under, I was genuinely curious. After a brief catch-up, he suggested that I add her as a friend on Facebook if I wanted to see the daily pictures and get in on the latest adventures.  
Laptop travelling came easy to me. As soon as she accepted my friend request, I logged on to her page and could see that she was in Perth and had updated her status just hours before. There she was on Scarborough Beach, smiling in shades in the late-November sun. This was so much more immediate than a generic postcard received two weeks later, already past its best-before. This was fresh produce, I thought, still succulent and crisp. In the next frame, her boyfriend stood on the same beach, clad in an Australia-emblazoned t-shirt. Though her thumb partially obscured the frame, I could see that he was now sporting a scruffy travel-beard. Already, her younger sister had commented. "The water looks so pretty... want to surf... now." Though Facebook was urging me to "write a comment," also being a friend of her parents, I held off.
As an observer, it was interesting to check in every few days, as the young couple headed off to hike the Bibbulmun Track, rode camels in the desert, snapped images of kangaroos lounging in the shade of Australian pines, and dove out of an airplane just outside of Sydney (OK, just he did the skydiving. She stayed back at a café and updated her Facebook status).
Eventually, I joined the crowd taking part in the journey, first by "liking" a couple of photos, then by leaving comments, to which she responded. As much as I enjoyed the process of travelling by proxy, I could not help but feel that collectively, we were holding them back from leaving home.
I wondered if, while discussing their adventures with their friends, they were really able to leave behind their everyday frame of mind, if they would be able to think outside of the constraints imposed by a Canadian, suburban upbringing. Were they able to use travel to broaden their worldview, or did it remain narrowed by the digital lens that followed them?
Virtues of a lonely planet
During my vagabond days I took in large swaths of Europe, Asia and Central America, by foot, bike, train, bus and boat. I remember well how it took a while to get into the "travelling groove." First, I had to pass through the initial excitement, where all of my surroundings were more detailed, more colourful and gritty and stuffed with life than anything at home. Next, homesick, I would long for familiarity. Eventually I would begin to feel untethered and could accept my travel experiences as not a respite from my life, but as my life right now. I would become immersed in another land until it no longer felt foreign, often going months without hearing from home. I learned to speak French, Spanish and Italian, and bits of Turkish, Thai and Czech.
When we first spend time in a culture other than our own, we see it through the lens of home, reinforcing our own preconceptions of what we expected to see. Just as our eyes adjust to the dark, given time abroad, we begin to see details in a light we did not know was there.
This process can be humorous, painful or both, but it is always unexpected.
Once at a Calcutta hostel, a cleaning woman stole money from my wife and I while we slept. When the caretaker brought us to her place to speak with her, we saw how she lived in a lean-to and how her baby slept on a shelf above the kerosene stove. We came to tell her that we saw her flee our room and that she was witnessed dropping our empty money belts in the stairway. We came to demand our money back. Instead, we told her boss that we understood her desperate need to get some respite from her crushing poverty.
Another time, while studying Vietnamese in Saigon, our language instructor commented on a small bag of groceries we had carried in. When we playfully offered her a banana, we were surprised that she accepted. When we later saw the same banana on her boss's desk, we learned that the Vietnamese never refuse a gift.
For me, these transformative moments came when I was completely unleashed, no longer roped in by the social dynamics that defined who I was at home. It was in this freedom that I became someone who had travelled. I was not just the old me with passports stamps and stories to tell, but someone changed by experience.
The pull of others
I never asked my friend's daughter why she and her beaux cut their trip short from 12 months to four. Was it the messages declaring, "Miss you!" from friends and family? Could the pictures of their crowd smiling on the slopes of Whistler have had an effect? I'd like to think that they did not feel like they were being followed and were able to get into their own travelling groove, that was as real to them as mine was to me, but I don't know.
It seems that as the outside world becomes more familiar to us, with pictures and video constantly streamed to our homes from all corners, the less we are able to penetrate it. When we do step out, we choose to remain digitally tethered to the familiar. We end up seeing the world as though through binoculars. It looks so close, but when we reach out to touch, it falls beyond our grasp.