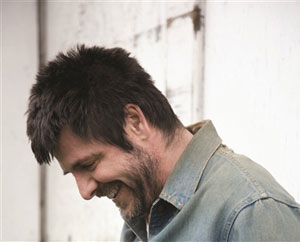 Last summer, Vancouver singer-songwriter Rodney DeCroo got into an altercation with his neighbours. When the cops showed up, one guy was unconscious and convulsing in a pool of blood, and the other was backing away like he'd just seen somebody morph into a werewolf. DeCroo was in the middle wondering if he'd go down for manslaughter. "I was scared," he tells The Tyee. "I have assault charges, I have possession records, I have a record in Canada. I'm standing there thinking, 'Way to go Rodney.'"
He adds, "You can never escape your past."
DeCroo's past has been covered quite extensively in the press, certainly more than you'd expect for a local musician. It's not like you see articles about Dan Mangan's blighted childhood or Dan Bejar's long struggle with post-traumatic stress syndrome. But that's DeCroo's biography -- a wretched saga of cruelty, abuse, addiction, madness, PTSD, and a cycle of violence that came around again on Commercial Drive last June because a couple of skids decided to fuck with the wrong guy. "But I really don't want to go there," DeCroo says, frowning. "I'm not trying to cast myself as a tough guy. I hate and despise that shit. But I've had to survive violence in my life and that means being violent myself, and I've been in lots of fights. Anyhow, the one guy swung at me, I ducked, and I said, 'Fuck it, it's on…'"
We should appreciate that DeCroo is willing to discuss these things at all. He's a little tired of seeing features that sideline his music, especially with the release of his new and probably best album Queen Mary Trash earlier this month. But we had agreed to probe something that's only come up in the last year or so of his therapy -- and so, here we are, in the Calabria on Commercial, talking about DeCroo's life again. This is the fifth time I've interviewed him, and he always tells me a little bit more. Typically for a survivor of colossal physical and mental abuse, DeCroo suffers from missing time. "I have to live with the reality that I'll never be certain about what happened to me as a child," he says. But there's another mystery he's grappling with, and it concerns his dad, a veteran of the Vietnam War. "He wasn't just a simple soldier," DeCroo says, darkly.
DeCroo's family on his mom's side was Southern Baptist, but they weren't all that Christ-like. They demanded a coat hanger abortion when their daughter got knocked up by a petty crook named Frank. She said no, gave birth to Rodney, and hit the streets in small town Pennsylvania. When her fiancé Al returned from Vietnam, he agreed to adopt the boy. Gradually, Al would desert the Marines, load up the station wagon, and disappear into Canada with his wife, Rodney, and another two sons in tow. They moved from town-to-town, with Al taking jobs along the way, penetrating deeper and deeper into the empty Canadian wilderness. They were also tailed by a mysterious agency or agencies that shadowed Al his entire adult life. Occasionally these men would turn up, ask people questions, and make it impossible for Al to get work.
The family had more immediate concerns, though. "My father was violent," DeCroo says, "he was angry, he had other ways of acting out that I'm not going to talk about here, but they were very destructive and they hurt us a lot. But he was a very talented man. He could do anything. He was a Vietnam veteran and a Marine. He was highly, highly competent. And he got that way in the context of combat. Men like that are different from you or I. Their confidence and ability to do things is honed, so he always adapted perfectly."
He didn't adapt so perfectly to fatherhood. When Al was running a hundred miles of trap line in northern B.C., he would come home after weeks in the bush, get loaded, and follow his kids around in the scope of his thirty ought-six. His friend Marty told DeCroo's mother to pack up the boys and get the fuck out of Dodge -- he expected Al to slaughter them. "He'd do this thing," DeCroo continues, "where he'd lock himself in a room and black his window out with big banners that had the USMC insignia on them, 'Shoot 'em first, ask questions later,' that kind of stuff, and he'd just drink and ramble on about torturing people. It was pretty frightening."
In DeCroo's teen years, Al dragged him around small town B.C., managing hotels and peeler bars in places like Wells, Cranbrook, Quesnel. By now, Rodney was a chip off the old block. Inevitably, one or both of them would go nuts and turn into a drunk, violent berserker, and the two-man wrecking crew would have to move on to the next temporary home. Eventually, Al simply abandoned his adopted son in Cranbrook. "I was standing outside the Tudor House Inn going, 'What do I do now?'" he sighs.
DeCroo would move to Vancouver where he continued his career as a violent offender until a biker brawl in Burnaby turned him around. From there, he established himself as a threat to national security when he led a student protest against Chrétien at Langara College. He dabbled in acting and spent some time working alongside the kindred psychopaths of the Vancouver Stock Exchange. In the '90s, he was a decorated soldier in Terminal City's war on the Georgia Straight, city hall, and No Fun. At 33, with a marriage in tatters, he finally picked up a guitar. Most of his friends thought he was completely insane. Not unreasonably, given his record up to this point.
'Vancouver's own Piss Pissedofferson'
It's 10 years later, and a clean-and-sober DeCroo has just released his fifth record, Queen Mary Trash. It's a classic double album -- two discs, 24 songs, and there isn't a boring second on it. This city is lousy with alt-country and roots artists, but if I was gonna lay money on who was in for the long haul, DeCroo would be my guy. "I'm a lifer," he once said to me. He can't really do anything else. He's Vancouver's own Piss Pissedofferson -- a songwriter in the classic American outlaw mold who can somehow transmute rough beauty from the hell he perceives both inside and out. My five-year-old daughter thinks his songs are "pretty," although I'm glad the subject matter escapes her.
It escapes me, too, much of the time. DeCroo's a poet and there's a force to his words, even when they collude to keep you in the dark. The spectral "Napoleon Hill" plays on the name of the author of a popular '70s boondoggle called Think and Grow Rich, but that's as explicit as it gets in its view of a culture gone terminal. DeCroo also has a masterful way of creating tension that suddenly gives way to a yawning, wide open bridge or chorus, as if the clouds break and the sunlight is rushing in. It's where the humanity tends to reside in his songs. "Van City" is a good example. "Part of the success of 'Van City' is just a feeling that comes through in the music that doesn't even require a lyric," DeCroo offers. "But in that song I was able to put across how I feel about the degradation of human beings in this city."
DeCroo's hugely versatile band, the Convictions, plowed through a mindboggling 32 songs in a fevered, five-day recording session. Led by guitarist-producer Jon Wood, and featuring the great Carolyn Mark on backing vocals, the five-piece tackles willowy beauties like "Borderline" or "Voyager" just as easily as it kicks the living shit out of "Paris Spleen" or the rampageous "Night Field Again." Somewhere in between is the ersatz lover's RnB of "Out of this World" and the anguished soft rock of "Minotaur," a hymn to self-loathing that begs for love and understanding. It might be DeCroo's single greatest achievement yet. "They said my birth, it was obscene," he howls, in a voice that gets compared too often to '70s Dylan. Speaking of which, if there's a track on Queen Mary Trash that the Peak, Shore, and CiTR radio need to start jamming down your earholes pronto, it's "You Ain't No One," in which DeCroo happily admits, he "ain't Steve Earle, Neil Young, or Bob Dylan."
"I was surprised how many people like that song," he smiles. "Why would we wanna identify with that sentiment? But if you're a baker, a postie, a downhill skier -- we all feel that way. Cause the overarching message in our world is that you are inadequate, you're not enough, you are no one, so buy our shit and then you'll be closer to the goal that you'll never attain. Plus we're given this ridiculous myth from the cradle onwards that we're all gonna be stars. We're not, and the idea that it's even desirable needs to be closely looked at. I wanna be successful and I enjoy having people know who I am, but that's more to do with an abysmally low sense of self-esteem."
An S&M conference with dad
Oh right, DeCroo has some issues. The 2005 live effort that put him on the map, War Torn Man, was dedicated to Al, who DeCroo managed to forgive in the end. "He died a couple years ago of cancer, in Austin, and by the end of his life my dad had really turned a corner with a lot of this stuff, and we talked. He changed."
Things were settled to the degree that Al was comfortable enough to invite Rodney to an S&M conference in Edmonton, where he was the keynote speaker. Rodney told him, "Erm, no, that's okay, thanks, Dad," but it brings us back to this gaping question about Al's experiences in Vietnam. "We always knew that he'd been involved in some kind of intelligence work," explains DeCroo. "When he went to 'Nam, nobody heard from him. He just disappeared, which wasn't typical. When he came back, he was suddenly into bondage and role-playing that simulated torture. In the last several years of his life he ran a dungeon, and he sold Japanese whips that he made himself that were specialized for S&M play. He wasn't like this before. And he would dress up in these horrifying, pseudo-military tribal costumes. I mean, there was something pretty twisted going on there, and I think it was connected."
When Al met his last wife on the internet, he risked everything by crossing the border and heading for Texas. In Pennsylvania, he was pulled over, arrested, and dispatched to the nearest Marine base. "But instead of court-martialing him," DeCroo says, "they reinstate him at a current rate of pay." Not only that, but Al was hailed as a hero, given full privileges, and pulled into the protective bosom of the upper echelon. "For several months they did some process with him that was never really clear. I think it was a debriefing of some kind. He was offered the opportunity to do some contract work with security services in Iraq, which he declined, and he was given an honourable discharge. Why was he hanging out with military brass? Why was he treated like a hero? He was obviously involved in some things that had significance beyond just being in Vietnam."
And then there's the question of those spooks who used to turn up periodically to drive Al and his family deeper into hiding. "Most deserters didn't get trailed by intelligence people," snorts DeCroo, "or private investigators in the service of the US Marine Corps, following them around and asking questions." So what was going on? By the time Al shipped to Vietnam in 1968, the Vietcong Infrastructure and unknown thousands of civilians had been subjected to four years of a brutal, secret torture and "counter-terrorism" program. As author Douglas Valentine writes, these CIA-run Special Operations Groups recruited "highly trained Americans who… were 'motivationally indoctrinated' by the military and turned into killing machines with all the social inhibitions and moral compunctions of a Timmy McVeigh."
In the context of his other vices and proclivities, Al's taste for ritualized S&M seems to point to a sinister transformation in Southeast Asia. The lust for sexual torture that seeped from Abu Ghraib onto the front page is nothing new -- it stretches back through decades of the CIA's secret wars, all the way to the notorious Phoenix Program in Vietnam, maybe even before. One can only imagine what kind of work Al was being offered in Iraq. Says DeCroo, "The kinds of things he would talk about if he was drunk enough, and triggered enough -- and talking to my own therapist who for 20 years was a military physician, he was in Rwanda and does specialized treatment for PTSD -- there's a lot to suggest he was working in Special Ops, or the Phoenix Program. But," he adds, "it's nothing you can prove."
And that's where the trail ends for DeCroo. Like his dad, the 43-year-old has turned a few corners himself, and he has his own mysteries to deal with. But whatever it is that came back from Vietnam with Al, it left some mighty scars on the son, and it's odd to contemplate that I'm face-to-face with a casualty of the seamy and largely unknown side of a pointless war that ended when both of us were kids. That DeCroo can extract such beauty and humanity from his experience is miraculous. He just rolls his eyes. "I don't want people to get lost in this narrative," he pleads. "I want them to remember I'm a songwriter."