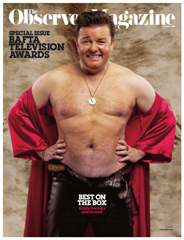 Ricky Gervais is in trouble this week for the fat jokes in his new audiobook, The Ricky Gervais Guide to Medicine, currently the top download on iTunes.
Talking about gastric bypasses, liposuction and other weight-related surgical procedures, he said, "I really don't know why a doctor under a Hippocratic Oath takes the risk of something going badly wrong, sometimes with general anesthetic, because someone can't be bothered to go for a f---ing run.
"They have bits sliced off and tied up and sucked out. I want to say to them, 'You lazy f---ing fat pig. Just go for a run and stop eating burgers. You might f---ing die.'
He added, "In supermarkets, the really fattening stuff should be behind a really thin door. Shops should be full of salads, but if you want to get to the pies and cakes, you've got to crawl through a little tube."
Gervais, who frequently says he's ashamed of his own weight, and makes jokes about it in his stand up, went on to defend himself on his blog, "I heard someone on the radio once say that they were tired of the prejudice aimed at the overweight. They said something like 'you're not allowed to make fun of gay people, so why are you allowed to make fun of fat people? It's the same thing.'
"It's not the same thing though, is it? Gay people are born that way. They didn't work at becoming gay. Fat people became fat because they would rather be that way than stop eating so much. They had to eat and eat to get fat. Then, when they were fat they had to keep up the eating to stay fat. For gayness to be the same as fatness, gay people would have to start off straight but then ween themselves onto c--k. Soon they're noshing all day getting gayer and gayer. They've had more than enough c--k... they're full... they're just sucking for the sake of it. Now they're overgay, and frowned upon by people who can have the occasional c--k but not over indulge.
"When a doctor tells me that that's how you become gay, I'll stop making jokes about fat people."
Funny but not because it's true
This week, gyms across North America are the busiest they'll be all year, and the top stories in the tabloids are about celebrity weight: weight loss "victories" credited with both physical and career resuscitations (Britney Spears), weight gain sagas full of pain and shame (Oprah), and apparently noteworthy detoxifying cleanses (Gwyneth Paltrow -- based on the cleanse in her weekly newsletter). Plus stories and photos of ordinary people who have "lost half their size!" and get lots of kudos for doing so.
I'm glad Gervais has raised the topic of fat; it's a white elephant in the cultural politics room. But though I am a big fan of his, and though he's right there's a supersized problem that needs fixing, this time, his funny bone is pointed in the wrong blame direction.
The only reason Gervais gets away with it (if he gets away with it at all) is because he's overweight (by his own admission) and his humour is, therefore, self-deprecating. If he were skinny, it would be a bit, well, mean, wouldn't it? But the point he's trying to make, it seems, is that while we're bombarded with messages encouraging us to consume, we're not off the hook when it comes to self-control and personal responsibility.
Not that simple
What's weighing on me (sorry) is that while the tabloids and comics are, in my opinion, one of the best barometers of public opinion and of interest in a topic, the issue is a bit more complex than the simple stories they and others are telling. Healthy eating isn't always about self-discipline. It's not just about pulling yourself together and battling your personal Goliath. Because it's not as if everyone has equal access to information about nutrition, nor to bank accounts that can finance organic food and local ingredients instead of a McDonald's hamburger.
Sure, Britney Spears turned it around and it took grit and hard work -- but she hired a team of people to help her. It's great that she works out six hours a day and has had a nutritionist design a 1200 calorie a day, nutritionally complete menu, but most people actually have to show up at the office for most of the day and don't have dietitians on staff. And, yes, people can theoretically do it themselves, but it's not always that simple (though the message we get from the headlines is always simple).
Like most hot button topics, weight is an issue mired deep in class, gender, education, money and politics. It's one with medical factors (hypothyroidism to name but one) and psychological ones (eating disorders and depression to name but two). It's one that's driven by a multi-billion dollar industry, with high stakes for junk food companies, diet companies and everyone in between.
So, on the one hand, we're fed (again, sorry) a constant stream of messages to eat, eat, eat. And on the flip side, we're fed simple morality tales and quick fixes (liposuction, diet pills, fasting, stomach staples) that allow us to, well, continue to eat.
Run away from the buffet
So it's not really surprising that in pop culture right now, when it comes to rise of obesity, the tendencies are to ignore the problem or blame the overweight person sidling up to the all-you-can-eat buffet or getting gastric bypass surgery or liposuction, rather than to grapple with issues like a lack of public health education, poverty, the constant message to consume, and the host of other factors that are the real culprits -- ones that deserve some pointed humor as well as real political action.
But here's what I'm wondering: isn't overconsumption of food as much an environmental problem as the overconsumption of fossil fuels or any other resource? And isn't it's time it got the same kind of attention that other kinds of overconsumption get?
Don't get me wrong. We shouldn't use someone's weight to determine their ecological footprint. In fact, maybe it's time we looked at the Ironman athlete who consumes 3000 calories a day and then turns around and spends all those calories on bikes plugged in to the wall at the gym, and in heated swimming pools. Yes, they're healthier. And yes of course we need to encourage exercise for a whole variety of reasons. But it's double the food and likely double the food miles.
How about targeting some humor at double standards like that for a start?
Related Tyee stories: