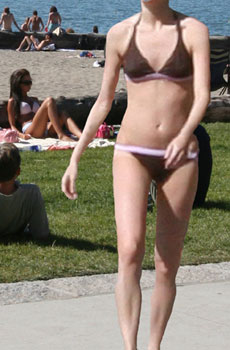 Hillary Duff is joining the newly starved celebrity crowd. The few people not totally jaded by celeb diet gossip are talking about how she looks "too thin," even "scary." One commenter at TeenSpot.com even says she looks "like an extra from 'Dawn of the Dead.'"
Duff's in glamorous company. Let's see, recently Boney Spice (aka Victoria Beckham), Lindsay Lohan, Nicole Ritchie, Jessica Simpson, Courtenay Cox and a whole host of others have joined (or rejoined) the thin-to-the-point-of-concern list.
Yes, certainly, many women are naturally size 2 (ok, not so many in the above list).
But what many teens call the "pinners" (pin-thin) constitute a second, worrisome category. Pinners only get to size 2, and stay there, by constant dieting.
And the recent weight loss dramas played out in celebrity land reflect – some would say reinforce – the trend.
Thin 411
Eating disorders are lousy publicity for celebs, whose flaks work overtime explaining away their sudden emaciation. Lindsay Lohan had a "bug". The skeletal Victoria Beckham, the press release said, had merely returned to her pre-pregnancy weight – three weeks after giving birth.
High-profile teen celebs, meanwhile, are said to be dropping their "puppy fat" – see Lindsay, Jessica and Mary Kate. But as one blogger put it "you dropped all your baby fat in one month – nice try!"
Such weight loss actually has more to do with the fact that as teen stars, they enjoyed some protection when playing the roles of young girls, but "as soon as they started playing post-pubescent women, they had to conform to the standard ideal" according to Merryl Bear, Director of the National Eating Disorder Centre.
In celebrity world, the thinness fetish goes hand in hand with plastic surgery. In season one of Nip/Tuck, a plastic surgeon takes a jiffy marker to a 26-year-old model who says, "I don't wanna look beautiful. I wanna look perfect." With circles around all of her "flaws," she exclaims "I look hideous," only to be comforted by the surgeon's wise words: when we stop striving for perfection, we might as well be dead. Satisfied, she goes ahead.
Super undersize me
In the real world, that pursuit of thin-but-not-anorexic "perfection" can create a perfect pressure cooker for girls.
I spoke to a dozen women in Vancouver, aged 16 to 35, from very different socio-economic backgrounds. All said they've noticed more of their friends are either thinner than even a few years ago, or at least, are "obsessing" more about their weight than usual. Almost none have friends who are "skeletal" but many have friends who are "very very thin," or pinner. They say perfection used to mean fitting into a size 4 or 6. But now the "perfect" women are size 0 and 2.
Of course, generally speaking, size 2 doesn't land you in the eating disorder ward. In fact, according to Bear, the number of patients has been relatively constant both nationally and provincially. And Stats Can puts only 2.8 percent of women aged 15 and above even "at risk" of an eating disorder (even though they caution these numbers are unreliable as they're "self-reported").
But such stats may be missing girls whose eating seems "normal" but is actually obsessively out of whack. Counting calories and carbs, being on highly restrictive "trendy" diets, having rituals around eating, never "feeling hungry," not really liking food, worrying constantly about their weight - all of those are signs that young women's eating is generally disordered, according to Bear.
As one woman (a size eight) told me, "Anyone who counts the number of grams of carbs they eat is obsessive, whether they're skeletal or not." And obsessive is at the core of disordered eating.
Trendy diets like Atkins, Zone and South Beach "prescribe a particular way of structuring one's day and one's eating. They give you a sense of efficacy," says Bear. She argues that not only do these diets not work, they can easily become a coping mechanism for dealing with stress: a form of disordered eating.
Many women I spoke to said they equated thinness with health. But Bear says weight loss isn't about health. "Young people feel invincible and want to feel good and fit in and in our culture that means looking thin, successful, popular, in control and wealthy."
The Body Project
In her book The Body Project: An Intimate History of American Girls Jean Jacobs Brumberg, the Cornell University professor says that girls and young women today "make the body into an all-consuming project in a way that young women of the past did not."
Brumberg points out that "before World War One, girls rarely mentioned their bodies in terms of strategies for self improvement or struggles for identity." Brumberg isn't arguing times were better then, just that the emphasis was different, and the female "ideal" wasn't all about physical perfection as it is today.
The women I spoke to said that perfect thinness is about more than "fitting in," it's about power and status. After all, aren't most fat people poor? Actually no. Despite a common perception that obesity is higher among poorer people, Statistics Canada reports that most obese women are middle class. And most obese men are well off. And yet, Bear confirms that many women see dieting and staying rail thin as a way to signal that they are affluent. In fact, the stigma around body weight can be oppressive. Some women I spoke to said that even though BC has the lowest obesity rates in the country, there's still overwhelming prejudice and disgust for obesity.
But whatever the motivations, women who make themselves pinner still suffer from many of the same health concerns as serious eating disorder patients: depression, low energy, mood swings, and a sense of inadequacy brought about by the diet cycle.
Bear says that being slightly overweight actually is far healthier than either being very thin or being obese.
So Hillary Duff, good luck with your new perfect thinness. Just remember, this new thinness has nothing to do with health. It's about "fitting in" and about status – things you probably know lots about. But more than anything, it's about perfection. Obsess about food (starve yourself if needed), and get thinner than most women – especially those darned obese ones. But never get so thin that you look, for shame, anorexic.
Vanessa Richmond is the culture editor at The Tyee.
What's the Tyee word of the week? It's the word that defines a sub-culture. Each week this summer, the Tyee explores contemporary BC.
Have an idea for a word? Send it to editor@thetyee.ca with the subject "my word of the week."