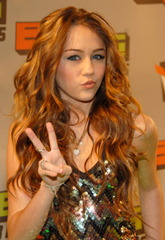 So You Think You Can Dance, the underdog but odds-on-favourite in the race to be America's Next Top Reality Show, gets going for real tonight. If you've been watching for the last few weeks, you've seen hundreds of ugly ducklings and a few swans audition, all with stardust in their eyes.
Nigel Lythgoe, a co-producer and judge, told them last week, in fact, that if they didn't want to be stars, they should get off the stage. They all stayed put. Because that's what it and other star-making TV shows are about -- achieving the American Dream through the most meritocratic contest around.
But though I have been glued to the box since its first season, I have seen no previous winners of the show anywhere after. And this is true of the other shows; I have only seen anything of three winners of American Idol -- ones who have actually gone on to have songs on the charts. And only Adrianne Curry, the first season winner of America's Next Top Model, has had even moderate career success (if Playboy counts as such).
Interesting, then, that despite a few dips in Idol's ratings last season, these are among the most popular shows on TV, when some, like Radar Magazine, have just declared the meritocracy officially dead.
They shall inherit the glory
Forget talent and hard work as the route to fame and power. In "Attack of the Aristo-Brats!," Radar welcomes readers to the new age of nepotism saying, "children of the rich and famous are taking over the world," and "an aristocratic chill is gripping the nation as never before."
Cruz Beckham's impromptu breakdance at a Spice Girls' concert at Madison Garden got more screams from the 15,000 audience members and more media chatter about future career success than the winners of So You Think You Can Dance enjoy. Miley Cyrus is already a more famous singer (and whatever else she is), at 15, than any of the Idol winners can hope to be. And as far as modeling goes, Riley Keough (Elvis' granddaughter), Frances Cobain Bean, and Keith Richards' daughters Theodora and Alexandra, among others, are appearing in shows and glossy ads for designers like Dior. "Indeed, with each new fashion season, another genetically advantaged aristo-brat elbows some anonymous Lithuanian bombshell out of the way."
Given the obsession with corporate branding, the phenomenon of second-generation celebrity should come as no surprise, Radar argues. "Increasingly, children are just brand extensions in person form -- human sequels, easier to green-light than untested projects." When Maddox Jolie-Pitt decides to make his first film, studios will likely outbid each other for it (very similar to what local film students experience, I hear) because regardless of whether it's good or terrible, audience members will pay to find out. His is a household name and story, and many want to find out the next chapter in the tale.
Look no further than the current A-list crop in Hollywood to see where last name gets you. Some are talented, some not, but all start on the top floor: there's Gwynneth Paltrow, Angelina Jolie, Jennifer Anniston, Kate Hudson, Tory Spelling, Nicole Ritchie, Paris Hilton and Kim Kardashian to name a few of the royal daughters.
And the next generation proves to be even bigger -- already getting attention, contracts and tabloid coverage as young as the age of three: Lourdes Ciccone Leon (Madonna's daughter), Bindi Irwin (daughter of late croc hunter, Steve Irwin), Ally Hilfiger, Ivanka Trump, and even Rumer "Potato Head" Willis. They're models, singers, artists, talk show hosts, novelists, actors and talentless but tabloid-hogging stars.
Meritlesstocracy
MTV's new show, Rock the Cradle, is an American Idol-style competition show starring only the children of famous musicians. Most aren't great. But even so, they'll likely easily surpass their non-aristo-brat, non-celebreality TV show brethren -- like the winners of American Idol -- in contracts and fame.
And, of course, there's also a new episode of Living Lohan on tonight -- a show that follows Dina Lohan as she tries to make Ali into the star Lindsay is (though with how well Lindsay's doing lately, as a result, it's a wonder the show doesn't feature the intervention of child authorities). Ali Lohan is already in the tabs and will probably grace screens, but hopefully not rehab centres, soon.
Because the meritlesstocracy is becoming so blatant in Hollywood -- and elsewhere like the White House -- people are starting to scratch their heads. Recently hosting Kim Kardashian on The View, Barbara Walters tried to get her to explain what's been going on in the last decade, culturally, that could make someone like Kardashian a household name. "Why are you famous?" she demanded, perplexed, furrowing (well, kind of). Then, unsatisfied by the answer, "But what do you do?" Maybe Walters should invite Dubya on next week for the same grilling.
Sure, a hand up from mom or dad is nothing new -- we all want the best for the people we love. What are we going to do -- institute a law where kids aren't allowed to go into the same professions as their parents?
And spawn do have some genuine advantages; athletically, it's clear that super-genes are real (see Peyton and Eli Manning). And artistically or politically or otherwise, if you grow up with mentors and lessons and practice, and hear adults talk shop at the dinner table, you clearly do have a leg up over others who start the process a couple of decades later.
Obama to the rescue?
But it's the power of the powerful to open doors and trade on favours that clearly is accelerating a lot of young careers in Hollywood these days.
As it has in Washington, and other centres of political power. Which brings us to another refreshing aspect of the Obama moment. Perhaps, as some have claimed, the fact that he is more popular than the aristo-brat Bush, and defeated the royal Clintons, signals a cultural sea change. Having won the Democratic Idol contest with grit, talent and hard work, many expect the third black American senator to resuscitate the ailing American Dream.
I tried that on a friend, who said Obama can't revive a meritocracy that never existed. The celebretocracy, in one form of another, has always the main show. But despite that, some producers manage to sell us the idea of hope.
So tonight I'll be watching, riveted, as 20 dancers try to become stars in their own eyes -- if no one else's.
Related Tyee stories: