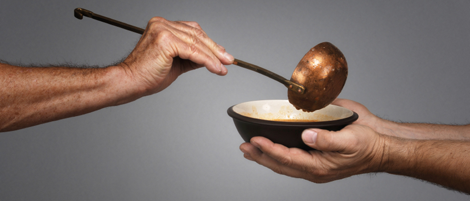 In saturating rain, on a bitterly cold Friday morning this spring, we stood in the charity food lines in the Downtown Eastside.
We were curious about the daily experiences of vulnerable peoples dependent on charitable feeding programs in our own community. We wondered whether the Canadian and B.C. governments were implementing their obligations under international law to "respect, protect and fulfil" the human right to adequate food (International Covenant on Economic, Social and Cultural Rights, CESCR, 1976) in Canada's poorest community.
Setting out at 7:30 a.m., we walked the streets and back alleys visiting charitable breakfast and lunch programs -- the Dugout, First United Church, the Carnegie Centre and the Salvation Army's Harbourlight Centre. Between soup lines, we visited the Safe Injection Site and the United We Can Bottle Depot. Waiting our turn, we stood in the lineups in the rain, and once escaped to the sanctuary of a church service at St. James when it was just too wet outside and the doors to breakfast, or rather a cup of soup, a block away had not yet opened.
We were always welcomed, no questions asked, never turned away. The food service was always prompt and efficient. Military precision was pretty much the order of the day. You were told to move on, you did. There was little time for socialization or enjoying one's meal. When you had eaten what was provided (no choosing from the menu here), there was another anxious and meal-less person to take your place. At the Dugout and the Salvation Army you were quickly on your way and out onto the rain soaked streets again. The foods served lacked any sense of sitting down to a good nourishing breakfast or an inviting and well balanced lunch, save at the Carnegie Centre where the cafeteria serves a welcome choice of wholesome and affordable foods and breakfast.
Macaroni in brine
Breakfast at our first stop -- the Dugout -- was a small Styrofoam cup of bitter-tasting hot coffee and a disposable cup of over-salty noodle soup. In fact, the broth, as Judy commented, was saltier than sea water. Impossible to swallow a second teaspoonful. Perhaps just as well, as the policy was only one cup. We carefully fished the few pieces of macaroni out, and ate them. We wondered whether a person might expend more calories walking to the Dugout and standing in line than they received from the pasta in the soup.
It was a crowded space of hurried eating and conversations around small tables. A talkative and articulate young man -- nervous and with a bad chest cold -- conversed about his health issues and how pleased he was about the Canucks' playoff run, as it made folks more generous when he was out panhandling. Most of the customers were men. People were polite, looking for a smoke but unable to linger as the Dugout closed at 8:15 a.m. Everyone was shepherded out onto the street again -- still undernourished and facing another soggy day pounding the concrete.
Wet and cold, and after a refreshing conversation with a young First Nations man from northern Manitoba sitting on the sidewalk, back to the wall -- we stepped across sodden blankets and garbage on the stairway entrance and into the First United Church. Breakfast was already available -- another cup of broth, this with a single tortellini and a tablespoon of frozen mixed vegetables in the bottom of it. Somewhat more tasty, but in no way a well balanced nutritious meal to fortify you after a night sleeping rough or for a rain drenched day ahead.
Carnegie cooks
We left after a brief stay and trudged on, getting more soaked without the protection of umbrellas, to the Carnegie Centre, and were pleased to find a choice of fresh scones and cooked breakfast available for $1.75. Yes, this is a good price and an affordable meal. Yet, even with the recent $50-a-month hike in the welfare support allowance, you would not on a daily basis have enough cash in your pocket for lunch and dinner as well. Little wonder food lines are in business.
Before reaching Harbourlight, the lunch destination, we stopped in at the safe injection site shortly before the 10 a.m. opening time. We were warmly welcomed. Once across the threshold, we had entered an oasis of up-market architecture, light wood flooring, modern lighting, and an open, inviting and roomy space with semi-private drug injection booths. Such modern, well-equipped and comfortable surroundings were a stark contrast to the mean streets and poorly furnished facilities of the community agencies offering free food. Why would one want to leave the warmth of these premises for the turmoil of the streets outside?
While the safe injection site is saving many lives, those using it remain dependent on street-purchased drugs, which have become for the users their substitute for food and nutritional sustenance. Yet, as it was explained to us, there is such a lack of detox programs that the safe injection site is prevented from playing a pivotal role in moving people off drugs. And, in any event, once free of drugs, people would be hard pressed to find nourishing sustenance or life-enhancing diets in the food lines and soup kitchens.
Barren grocery markets
Passing the United We Can Bottle Depot, we dropped in. The place was a hive of industry. The sad reality is that by digging dumpsters for cans and bottles, many people are able to earn money for food.
Back on the streets, we checked out the local corner stores for produce, but drew a blank. Lots of junk food, canned drinks and cigarettes, but no fresh food, fruit and vegetables, fish or meats -- in fact, nothing of any real nutritional value. Yes, there are wonderful produce markets a block away in Chinatown, but unaffordable on a welfare budget of $7.72 a day for food, clothing, transportation and phone calls. On our patch, it was like walking through a food desert, with groceries, farmers markets, supermarkets nowhere to be found even if one had the money to purchase adequate supplies of nutritious food. A community without food is an unforgiving place where the daily grind of survival becomes the norm. And this in Vancouver, a top-ranked international city.
Hurray for a banana
Looking for lunch, we joined the wet and bedraggled lineup outside the Salvation Army's Harbourlight Centre. The food line supervisor issued us red meal tickets. We slowly inched inside and found a couple of seats in the fifth row (of seven) from the front of a large hall -- somewhat akin to being in a holding tank -- and waited for 20 minutes or so until our row was summoned to eat. Facing us high on the wall was a biblical text, and seated at the front of the hall a serious young man played tunes on a grand piano. Other young men, wearing high visibility vests (the kind worn by city road maintenance workers), monitored the crowded hall and gave the signal to collect one's food. As one row emptied, it was quickly filled by newcomers looking for food to fill empty stomachs. All waited patiently until their row was called. When the signal was given, everyone moved with speed.
Like everyone else in the food line, we were each presented with a tray with a set meal: a plate containing a croissant and a bagel; white rice topped by three small slivers of sausage; faded and overcooked green peas; tired-looking cabbage and some kind of curry on the side. And a banana (the food highlight of the day), quickly eaten. The meal was lukewarm and unappetizing, consisting mainly of refined starchy carbohydrates. Presumably it was designed to fill empty stomachs. The temperature at which the meal was served would not have met Food Safe standards. Yes, the meal would sustain as a stopgap. However, those eating there have to rely on the food lines for most of their nutrition. It was not a social occasion, and possibly not intended to be one. And not a meal you would serve to your family or friends.
An older woman, sitting next to us, gladly accepted our leftover croissants and bagels and tucked them in her bag for a later snack. Neither of us could have done a good day's work sustained by the food we were served for breakfast and lunch that morning. We sat, huddled over our trays, facing the lunch supervisors busily moving the food line to the front. If food shared and eaten together is a nourishing and nurturing experience in everyday culture, this was its antithesis. We left more quickly than we had arrived. It was still raining outside, but somehow there was a feeling of relief.
Compassion lacks vitamins
What, then, to make of the food lines visited on this wet, cold morning?
There was abundant evidence of poor, ill-housed or homeless men and women, but mostly men, constantly searching for food or drugs. Compassion, yes, and evidence of social agencies responding through charitable food aid to dire human need. Yet there were glaring disconnects between the quantity and quality of the food provided and any pretence of offering wholesome meals and nutritious diets with the goal of seeking optimal health. Given the quality of the food on offer, with the exception of the Carnegie, one has to ask to what extent the food lines themselves are contributing to poor health and mental illness.
There was no evidence of the right to food, which, as Mary Robinson, the former UN High Commissioner for Human Rights, has publicly stated is not about the handing out of free food, and certainly not in a city as wealthy as Vancouver. While it is easy to be critical of charitable feeding programs, governments at all levels sit idly by. Welfare incomes condemn recipients to hunger and poor nutrition. Why not an action plan for food security -- with benchmarks, indicators, targets -- in the Downtown Eastside, informed by the right to adequate food and nutrition? Is this not Victoria's responsibility? If housing is a priority of the Vancouver Agreement (as it should be), why is access to adequate food and nutritious diets also not a key commitment? Are the Ministry of Health and Ministry of Employment and Income Assistance talking to each other?
Walking the streets, waiting in the food lineups, one is constantly challenged by the question of who is in charge. Ironically, the many acts of charitable goodwill prevent us from asking who is accountable for this morally unacceptable state of affairs. They allow the state to look the other way. Is public indifference by our politicians the flipside to community tolerance? Most of the evidence suggests that the food lines are part of the problem and not the solution. A disturbing question is whether charitable food lines are contributing to malnutrition even as they ease hunger.
Starch for the sick
While acknowledging the intent of the Vancouver Agreement, what explains the absence of governance structures and institutions with the appropriate powers and necessary resources to create a thriving neighbourhood with an affordable, healthy and sustainable food economy? Surely this is the first line of defence along with housing in any effective poverty elimination action plan. What about the long-term health care costs, which must be skyrocketing due to persistently inadequate diets. Should not the food security and optimal nourishment of our most vulnerable populations be our highest health-care priority? If cheap or donated starchy noodles, croissants, bagels and white rice are the main offerings, we have a long way to go.
Many of those who depend on the food lineups are ill. The disabilities and illness were visible among those standing with us. Rates of Hepatitis C, HIV/AIDS and cancer are disproportionately high among people who are homeless and live in the Downtown Eastside. These are people in need of a more nutritious diet than the rest of us, not less.
Vancouver's food lines invite a public conversation about food security, health and welfare policy and human rights. Study after study confirms what we already know: good diets, nutritious food and healthy eating are essential to the physical, mental and social well-being of all our citizens -- the poor who cannot afford or find nutritious foods and the rest of us who patronize junk foods. Nutritious diets are the foundation of all health, and personal, family and community well-being. This is why the universal right to adequate food and nutrition is enshrined in international laws, and why our governments have ratified them.
'Until they are fed'
As governments, health authorities and the Vancouver Food Policy Council today work to develop food policies directed at the optimal nourishment of the population, they need to ensure that those living outside the sustaining boundaries of our economic system can gain access to nutritious foods and diets. Adequate incomes and welfare benefits are absolute prerequisites. A walk through the food lines of the Downtown Eastside shows that compassion by itself is not enough, and that the task is beyond the capacity of charity alone.
As the 2010 Olympics approach, we should be mindful of the words of Jacques Rogge, president of the International Olympic Committee: "Until they are fed, housed and trained, our athletes can't skate, ski or slide" (Celebrate Humanity, 2004). Would it were also the case for the hungry and homeless in Vancouver and British Columbia.
Related Tyee stories: