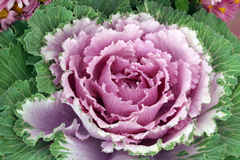 When Alisa Smith and James MacKinnon kicked off a year of local eating on the first day of spring, 2005, they expected that the vernal equinox would also bring the year's first harvests to the grocery stores. Well, it wasn't that simple. "We were eating last winter's food for about six weeks before any new crops were available," says Smith. They managed to stay alive and on course for their 100-Mile Diet, but fresh produce was scarce and the farmers' markets didn't open until May.
"I was actually outraged when I heard that," recalls Smith with a chuckle.
This year, Vancouverites looking to buy their food close to home won't need to worry about losing weight or eating the musty beets and turnips that Smith and MacKinnon call "war vegetables." For the first time, the folks who organize the Trout Lake, West End and Nat Bailey farmers' markets have planned a monthly winter market in East Vancouver. The time of year when we settle in for the long stretch of dark and wet also turns out to be a season when our local farmers produce a surprising amount of food.
Chilly bounty
"We've been running a holiday market for ten years on the second weekend of December," says Tara McDonald, the executive director of Your Local Farmers' Market Society. "It was more of a gift show until 2005, when we brought some farmers back and we were absolutely jammed beyond belief." The long lineups made it clear that there was a year-round demand for local food, and after consulting with the growers and finding an indoor venue, the winter markets were born.
"A lot of our farmers -- especially fish and meat producers -- were coming into town once a month to meet their customers anyway, so this is a great way to facilitate those transactions and get people access to other local products," says McDonald.
Farmers are responding cautiously but optimistically. The winter markets will be held on the first Saturday of each month, with the first on November 4. Expect a selection as varied as at any time of the year--greens, apples, garlic, grapes, peppers, potatoes, root crops, nuts, pumpkins, fish and meat, cheese and every imaginable colour and shape of squash.
"We're basically gleaning from our fall crops," says Susan Davidson of Fraser Common Farm, which goes to market together with four other operations under the Langley Organic Growers banner. Her farm will feature standbys like winter salad mix (hardy leafy vegetables such as spinach, baby chard, kale, radicchio, escarole and dill, plus edible flowers), bunched collards and other greens, sunchokes and frozen raspberries, while the other farms will add their own surprises. Davidson's only concern is that the demand this year could exceed the supply. "We want to test the market, and if it's a success we'll plan more for next year."
Which is exactly what McDonald is hoping will happen. Along with providing markets for what is already in production, she says, successful cold-weather markets will encourage farmers to grow more intensively all year. Already, the Fraser Common Farm is considering plans for specific winter crops and two "hoop houses" -- simple greenhouses -- next year.
Self-preservation
If anyone knows how to prepare for a local-eating winter, it's Smith and MacKinnon, who estimate that 90 per cent of the food they eat at home is still grown or raised within 100 miles of their Kitsilano apartment. "We're right at the dawn of whatever winter farming might look like ten years from now," says MacKinnon, who adds that the new farmers' markets offer would-be locavores another chance to buy produce in bulk. "It's a good season to start moving toward a more seasonal diet. There's much more available then people would think and it changes more than people would think."
Preserving and storing food is the key to local eating in the Canadian climate, says MacKinnon. "Last winter wasn't too bad because we put food away," he explains. "We had time to plan for it. We did a lot of canning, we filled a little cube freezer with fish and prawns, even a little beef." Revolutionary stuff for formerly strict vegetarians who realized their well-travelled tofu and dried beans were typical of a global food system in which most products are shipped 2,500 to 4,000 kilometres from farm to plate.
"The longer you do it, the easier it is," adds Smith. "We're in way better shape for winter this year than we were for last year. We've figured out details like quantities. We bought 60 pounds of tomatoes last year, and you think, 'Wow, that's a lot of tomatoes!' but it didn't actually turn into that many when we canned them. So this year we have twice as many tomatoes."
This year the freezer is also full of goodies they've agreed not to touch until the autumn harvest is over. Things like frozen berries, asparagus, fava beans, summer peas -- hardly starvation rations. The 100-Mile Diet, the two say, was far more diverse than they'd expected, from the countless heritage varieties of familiar standbys like radishes and apples to delicacies like Pacific sardines, celeriac and seaweed.
Friendly frost
Some foods even taste better in winter, say Smith and MacKinnon. Kale, beets, carrots, Brussels sprouts and turnips all taste better after they've been touched by a frost. Shellfish taste fresher, and winter fish are richer in savoury oils. "It's looking at your food in a new way," says Smith. "Look at what's available at the farmers' market and say, 'OK, what recipes do I have that can use these ingredients that are available right now?'"
"This isn't a hard-line thing," notes MacKinnon. "It can be as simple as switching from drinking a glass of orange juice from Florida every day to drinking a glass of apple juice from the Fraser Valley, or berry juice. Why not just decide that all your potatoes this year are going to be from local sources?
"What we find is that when people start to do it, they just do it more and more because it's interesting, it reconnects you to the people and the landscape that produce your food.
"And it's really good eating."
You can find more information about the 100-Mile Diet at the official website.