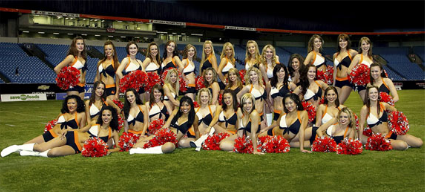 Forty teenaged cheerleaders wave their arms and jump in unison in front of a large mirror. Their coach has to shout to be heard over "Wild Thing," and "I'm Your Venus." She points at one girl: "Keep your head up!" then, "Higher, higher, higher, good!" Another twenty cheerleaders are practicing tumbling passes: back handsprings, flips. It's Sunday night in a Port Moody gymnastics club that smells like chalk and foam mats, and the high school cheer squad is training for the competition season, which starts in a few weeks.
They're some of BC's 10,000 cheer athletes. Some of the best, in fact. Last year, the Port Moody Secondary Blues won both the Canadian and US high school cheer nationals, becoming the first non-US team to enter one of the inner sanctums of the American sporting world. "If we were from Texas, we'd be household names, everyone would know about us. Actually, in Texas, people do know about us. But no one here does," says one 16 year-old member of the squad. "Here, when you tell people you cheer, they think you cheer at football games and date jocks and are like ditzy. But oh my god no! I've never cheered for a game in my life," she says, rolling her eyes and laughing.
You might think these young women aspire to join teams like the BC Lions' Felions squad. But they don't. In fact, cheer athletes and cheer dancers see themselves very differently. "I coached the BC Lions cheer squads for three years on the condition that they run a cheer team and a dance team so people could learn the difference. In dance, you don't fly, you don't tumble, it's all about sex appeal. But I realized after three years, the clientele just wanted to drink beer and see cute girls," explains Liz Gigante who since started the Blues and Vancouver All-Star Cheer programs.
The differences run deeper than athletics. An example many cheer athletes point to is in education and future career goals. There are 32 cheer dancers on the Felions squad, and most are between 19 and 24 years old. On their bio pages, only ten state that they are students; most list dancer, dance teacher, receptionist, waitress and model as occupations. On the Port Moody Blues squad, however, most athletes say university is their top priority and list doctor, lawyer and marketing executive as their hopeful career choices. Gigante said every cheer athlete on her squad last year went to university, four of whom got full or partial cheer scholarships to US universities.
It's part of a larger, cultural difference between the two activities; one that cheer athletes and coaches say the Canadian public is unaware of. "People here just don't understand what cheer sport is. A colleague in my MA program told me cheer simply isn't a sport. I told him several of my athletes are nationally ranked in other sports. 'So when they're competing in gymnastics or soccer, they're athletes, and when they're in cheer, they're not?' And he said, 'Yeah.' I could preach, but it's pointless. After 21 years of being involved in cheer, I don't care anymore. I don't need you to understand," says Gigante.
Okay, so let's not confuse cheer sport with the spectacle of the Felions strutting their stuff at this weekends Western Final extravaganza. But clearly, that's not to say that cheer athletes aren't about emodying a female ideal. In the 1950s, that ideal was the perfect housewife and back then, cheerleaders were wholesome, only vaguely athletic and existed to cheer for male athletes. Now, they're hard-bodied, pursue cheer as its own event, and pom-pom free. Today's cheer athletes are also overtly sexy and ultra-disciplined in a team setting. They are training to be corporate or professional stars. So never mind housewives. Today's cheer athletes represent the "perfect girl" of their times.
Corporate cheerleaders
Ironically, cheer's role as the breeding ground for future corporate stars is closer to its roots. Only in the beginning, it was a kind of testing ground for male entrepreneurs, the next captains of industry. In 1884, Thomas Peebles shouted "rah rah sis boom bah" at Princeton, then other male "leaders" started to engage the crowds at universities across the US and Canada, gaining prestige for themselves and their universities. Women weren't allowed. But in World War II, women took over the cheer role, along with jobs in the workforce, and remained standard fixtures afterwards.
Cheerleading started to go out of style after that. "It became feminized, so men who participated were often labeled as effeminate because it challenged traditional notions of maleness and masculinity," explains Jo Anne Dillabough, a professor of youth studies at UBC. But in the mid twentieth century, it started to be popular again as a showcase for the perfect, non-athletic, cheerful young woman.
Then it changed again in 1972 with the passage of Title IX in the US, which increased funding to women's sports in universities and colleges and lead to the development of more cheer sport teams. Since then, it's become an increasingly athletic, even dangerous sport that enables the athletes to gain status through team work and competition, characteristics prized by the corporate world. And it produces young women who recognize that beauty and enthusiasm are still keys to their success.
Spirited away
"Spiriting is basically when you're like 'C'mon let's hear you,' when you're in a competition and trying to get a crowd reaction, or when you're like, 'We're the best!' pumping yourself up and trying to get the crowd into it as well. Deep down at the bottom of it all, it's about spiriting as much as cheer and stunting and tumbling and stuff," explains one 17 year-old cheerleader who won the title of "All Canadian" this summer at cheer camp. That means she's "as close to perfect as possible, even though they expect you to have some flaws. So you're good at spiriting, leadership, jumps, stunting and tumbling."
At any high school cheer sport competition in BC, like the biggest one at Port Moody, teams throw the "tops" over eight feet in the year, form pyramids several athletes high and display tumbling passes that seem fresh from Olympic competitions. But that's only one of the things on display. In a warm up gym next door, among 500 gym bags and several different competing stereos, 200 girls in various stages of dress wear hair curlers or work with curling irons and focus intently as they apply make up to each other.
"Before a competition, we have a team meeting to decide on hair. It used to be up here [high ponytail] really curly with a ribbon but this year I think we'll be leaving it straight more." The Blues' team make up is bright blue eye shadow and almost fluorescent pinky-orange lipstick. "If you come to cheer and your make up's not bright enough, someone will attack you with more," she adds.
"They're looking for a fresh look," explains another cheer athlete. "It all has to look easy. So if your hair's a mess, judges don't want to see that. They want something that will catch their eye. It's about presentation, just like food. You're not going to serve a dish that doesn't look appetizing; nobody'll want to eat it. Here, it's about impressing a judge when you're competing against style and stuff."
Perfectly sexy
Perfect girls in the 1950s were pretty and sweet, often "wholesome," and now according to Anita Harris, perfect girls have to be "sexy, smart, and successful." The fact that it changes is a key part of the "perfect girl" phenomena. In her book Future Girl: Young Women in the Twenty-First Century, she argues girls have to adapt constantly (almost daily) to new definitions about perfection.
Overt sexiness is now a key characteristic of the perfect girl and the perfect cheerleader. In one chat room, a fan said, "If you did not have hot cheerleaders doing incredibly hot things in short skirts and tight tops... why would you go?'
And another added, "Is cheerleading sexual? Yes. That's the way it is, though, that's what the sport is about. It doesn't mean the girls on the team are sluts or bitches. Dancing and shaking your butt is just part of being a cheerleader, just like running and shooting are part of being a basketball player."
But Al Edwards, a politician in Texas, thinks cheerleaders have gone too far and blames them for the increased sexualization of high school culture, for teenage pregnancy and STDs and for undoing the progress of abstinence education. He tried to introduce legislation this spring to make overly sexual moves in cheerleading against the law. It's not the first time critics have blamed society's ills on cheerleaders.
Sexy status
But if sexy young women, including cheerleaders, are "guilty" of anything, maybe it's merely of being correctly perceptive; they've picked up on where the power and status are in adult culture. In Female Chauvenist Pigs, Ariel Levy makes that argument, pointing out that Paris Hilton got famous not because of her smarts or her professional knowledge, her leadership skills or even her money, but from leaked sex tapes. She argues that most adults disapprove of the increased sexualization in teen culture, but says we can't blame young women for adopting it. In our current celebrity-obsessed culture, Paris Hilton and other sexy stars have more status than most other women, and far more status than women whose currency is their smarts or skills.
Gigante also argues that the focus on appearance in cheer is a by-product and not a cause of the problem. "If you don't want to instill in your daughter that the way she looks matters, then you need to take her out of society and throw her on an island. It's not cheerleading that's doing that, it's going to school, it's watching TV, it's music videos."
The two dozen cheer athletes I interviewed don't see any problem with the focus on beauty and enthusiasm. All say cheer is equal to men's sports, despite the makeup and smiles. One said, "If a girl wants to play football she can play it. It's just like a personal choice." But when I asked if she had ever wanted to play football or hockey she wrinkled her nose and said, "No."
She says she picked cheer because she loves it and plans to continue cheering. After practice tonight, she's going home to study. She wants to be a doctor, and says, "Cheer has prepared me for the future better than anything else could have."
Vanessa Richmond is the assistant editor at The Tyee.