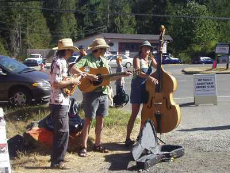 According to an informal table poll on the boardwalk and patios of several BC gulf island establishments, only 70 percent of newcomers consider themselves rural aficionados or "islanders." Not treefolk or farmfolk-friendly? Are these guys for real? Au contraire.
What do they think they are if not rural islanders? Biotechnically-engineered robo-sapiens lost in the woods? Or just the latest urban hybrids who will buy then leave?
Well, if their residence is planted on the craggy, sacred island soil, they are now islanders whether they want to admit it or not. And luckily, in spite of such a worrisome poll, native islanders have long learned to tolerate such newcomers pretty well (and even salute those who prefer to return to civilization seeking fame or real estate riches).
But perhaps these confused souls are actually suffering from an image crisis - they don't know how to be islanders. If so, there's only one thing for these transplants to do. They must immediately join a 12-Step Program and attempt to turn their lives around:
The Ruralista 12 Step Program
1. Unless your island is Vancouver Island or Manhattan, admit you are indeed rural.
2. Believe that the numerous advantages of living on a BC gulf island and a glass of island wine or rolling a fat one can restore you to sanity.
3. Make a conscious decision to turn your will and life over to island music, public meetings, summer drought, slow island talk, and yoga.
4. Make a searching and fearless inventory of the reasons you moved from Calgary, T.O. or Waco, Texas in the first place.
5. Admit to the Creator, yourself, and a native islander the exact disadvantages of having to scrape ice and shovel snow, reside in a condo high-rise or choke while playing leapfrog on an expressway.
6. Be entirely ready to explain the difference between an island environment and an investment environment.
7. Humbly ask for your shortcomings and your Alberta twang to be removed.
8. Make a list of all the rural folk you have ever offended and be willing to make amends to them.
9. Make direct amends to them whenever possible unless there is a reporter or mean dog nearby and to do so would injure them or others.
10. Continue to take personal inventory and admit that being against vegetarianism and tribal commons wisdom, and pro-Hummer, was wrong.
11. Seek to improve your interactions with islanders as you understand them, praying for rural common sense and the power to use a little bit of it.
12. Having had an eco-spiritual and intellectual awakening as the result of these steps, try to carry the truth about island living to others and to practice island hospitality in all your affairs.
Island truths for island-phobes
Here are some "time-honoured island truths" to help whether you're a new city-phobe, recovering plunderer or a single mom in a Liberal witness protection program:
Islanders do live longer, but they do get much less done. Think about it. Do nothing. Enjoy.
Profit predators and faux-green entrepreneurs of useless, toxic, or wasteful consumer products and services beware - you will likely be publicly interrogated and strip-searched. Nothing personal - though the personal is always political on an island.
You can pick the island but you can't pick your neighbours. You must remember their names.
Men are from earth. Island women are from Mother Earth. Deal with it.
Islanders grudgingly accept that nothing matters as much as they wish it would, and rural living is never as simple as it first appears, especially so for newcomers.
You can have as much rural preservation as your Islands Trust Trustee wants. Political wisdom, like any good Trustee will tell you, is keeping them in our OCP.
Clocks do lie. A twenty minute ferry ride will take forty minutes if you're not in a chatty HOV (high occupancy vehicle), or bookless, and paying attention.
The truth is out there
Green is the colour of money - as well as our island. Ruralistas like developers as much as a snake likes rats.
We like Islands Trust procrastination and value its art of keeping up with yesterday. There is no hidden meaning in our Official Community Plans: Keep It Rural. And yes, island progress is an illusion. Ask anyone.
If an islander remains calm about new island logging it's because they haven't yet got all the facts.
Island teens stay home because islands are a pleasant place to live and parents have let the air out of their tires (poor dears).
Never underestimate the power of stupid people from large nearby cities. For example: "Gates are up, the lights stopped flashing, but the ferry isn't here."
A feared island epidemic is the sickness that spreads from the post office when the property assessments are delivered.
Draft dodgers and radical conservationists from blue states seeking asylum are always welcome. Visitors from red states should really ask themselves why they bring such joy when they leave, before they consider returning.
Are you getting it?
If two islanders argue, it doesn't mean they don't love each other. And, just because they don't argue, it doesn't mean they do. Ask anyone.
There are no great islanders. If you need an island hero you probably diminished yourself in some way, as any one of the many island alternative healer-therapists will also tell you.
If you see two ferry-goers talking and one looks bored, the realtor is the other one.
Until a newcomer has lived here five years or better folks will think you're out of your depth in a tide pool, if you launch into frequent, loud oratorios at public meetings. You'll be sure to publicly demonstrate a knack for making strangers immediately. Only pub comedy nights enjoy a smartass, so practice some mouth management even if your new hippie therapist forgets to tell you this one.
No matter how good an island friend, we're going to hurt you every once in a while and you must forgive us for that. Then forgive yourself. Then take your nearest and dearest out for a cruise. In a fix, anything ocean-wise generally helps.
Newcomers do have a way of wanting to start things that only they seem to want. (Oh the horror).
Feeling islandy yet?
On an island you can run but you can't hide. We have only ourselves, and one another, and we do for the community what has to be done when it needs to be done, regardless of the consequences. No excuses will be accepted. The only community impossibilities are completion and perfection.
If you don't like our island paradise, its time to admit there's no other place left to go, and that you've finally run out of scapegoats.
Islands are not for everyone, but the longer you stay, the better you realize you were for doing so.
Slow island living has finally given us time to think for ourselves. The future can wait. We're on an island that time forgot (or so we like to think).
To wrap, remember that a transplanted islander is always in danger of returning to self-destructive prejudice against ruralistas. Breathe deeply. Ponder the plethora of available island koans daily: e.g. "Why is it called tourist season if we can't shoot at them?" and "I'm an islander, therefore I'm a ruralista."
With hand over heart, you hereby doth swear to continue to study the 12 Steps and say the Serenity Prayer for the Good O' Newcomer at every opportunity.
Whatever you do friend, when you're facing a relapse, repeat at least ten times: "Rural People Rule Here!" And give yourself time.
Howard Breen, is a Gabriola Island newcomer of fourteen years, raised in a rural community co-operative north of Greater Toronto, and is the Executive Director of a BC conservation organization.