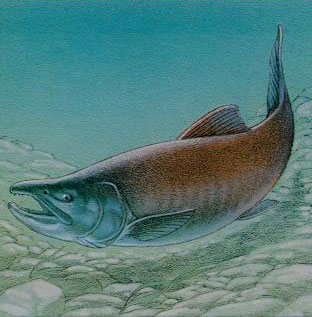 TheTyee.ca
My ageing father sat in a lawn chair on the Nelson city wharf, baitcasting, while I used his father's bamboo fly rod, a family heirloom made of Tonkin cane. Even though he had a career as an engineer, Dad defined himself as a salmon and steelhead fisherman. His hip-waders would hang in the hall closet, and you could always find bait smelt in the freezer.
Many of the moves our family made when I was growing up were not done for occupational reasons, but in search of better fishing grounds. In each new place, I would learn the names of the local rivers before I learned my address. There was the Stillaguamish and the Dungeness, the Trinity and the Humptulips. I got to know the fogbound salmon towns of Oregon and Washington -- Moclips, Sekiu, and Tillamook -- and I heard the stories of his trips to Prince Rupert and to Kodiak.
Dad and I hadn't fished together for years, but he was old and ill and wanted to go on one more nostalgic salmon expedition, maybe to Campbell River. When I quoted him the prices of fishing charters, his Depression-era sensibilities were offended. I think he also sensed my hesitation about a trip that would pit the current salmon situation against his memories of it from forty years previous. In the end, he came to my landlocked town of Nelson, British Columbia, and we fished for kokanee from the city wharf, sandwiched unromantically between the hotel and the airstrip.
We fished mostly in silence, both fully aware this was our last trip together, both knowing our distant and sometimes stormy father-son relationship was approaching endgame. Neither of us fished with much conviction; Dad because he didn't know the kokanee, and I because I didn't really expect to catch anything on a dry fly from a city dock next to an airstrip. But the methodical swish of cast lines and the click of reels was satisfying enough, and the darkened planks of the dock began to heat up pleasantly in the sun.
Why he fished
Dad's enduring frame of reference for sport fishing was catching big kings and chinooks up and down the West Coast in the 1950s and '60s. He knew something had gone terribly wrong with those salmon runs, but wasn't sure what it was or who to blame, and so retreated into a kind of aged silence. He, like many men, fished from a curious combination of motivations: a passionate attachment to nature, an enduring mystification about his role in society, and a kind of primitive male satisfaction in showing that he could still bring occasional food home from the wild.
His rage over the turning of the environmental leaf, from the unspoiled abundance of his youth to the current climate of uncertainty, seasonal closures, and environmental disasters, was played out in fishing. As I watched him cast and reel, I wondered over how many Pacific rivers and coastlines he had performed that same motion. The bright aluminium lawn chair I had brought for him to sit on looked garishly out of place against the backdrop of water and mountain.
I reminded Dad of the time he came home with the first steelhead he claimed to have caught. I was about ten then, and we had moved to a rural area on Washington's Olympic Peninsula, mainly for the quality of its steelhead waters. Dad fished unsuccessfully for weeks and months for that legendary and elusive fish until an accomplished local fisherman took pity and gave him one. Dad brought it home triumphantly, claiming he had caught it, but he was a lousy liar and my sister and I forced a confession out of him. Dad and I had a good laugh about that, but he reminded me that midway through his second winter of fishing he finally did catch his first steelhead.
Tangled up
A sudden strong tug on my fly rod grabbed my attention and I realized that this symbolic fishing exercise had suddenly been hijacked by a real fish, and a feisty one at that. I had lots of slack line at my feet, so I paid some out, slowly, at the same time as I raised the rod high into the air. The ten feet of ancient Tonkin cane, which I often cursed in dense bush, came into its own, bending in modulated arcs as the fish worked frantically back and forth. Dad stopped his casting and watched, the approving professor beaming as his graduate performed. I offered him the rod as a gesture, but I knew he wouldn't take it. At that moment I would have given anything for the fish to have taken his hook instead of mine.
I knew I was going to keep this fish, so I played it slowly, letting the runs and years and contradictions spin backward and forward between us. At the appropriate moment Dad came around behind me and in a movement surprisingly graceful for his age and bulk, he bent down and netted the fish, tail first. It was a sleek, platinum-sided kokanee, an obvious salmonid, bearing all the classic characteristics of Dad's storied kings and chinooks, except for the size. It was about fifteen inches long, a healthy length for a mature kokanee, but smaller than its coastal doppelganger, the sockeye. We both marvelled at the fish's clean, sculpted lines, its perfect marriage between streamlining and muscle.
Here was a tangle, one far more complex than any mess I have been able to make with six-pound test: a tangle of fathers and ecology, engineering and fish, regions and people.
The dam maker
Dad was part of that boundlessly energetic postwar generation for whom the re-shaping of the earth with technology was not only a right, but a sacred duty. But his was a generation that also loved the outdoors, and the manly arts of hunting and fishing.
The irony was that this man, this salmon-lover, exercised his talents precisely in those technological earthworks that so negatively affected the life of every fish in North America, especially the salmonids. As an eager young high-school kid, Dad spent an enthralled summer as a labourer on the Grand Coulee dam project, that giant stake driven through the heart of the world's greatest salmon river. It was not surprising that he went on to become an engineer. Berms and penstocks, cantilevers and caissons: fitting these to the earth was seen as the western male mandate, which he passionately embraced. I don't hold him to blame though; he was a true scion of his own era, as am I of my more ambiguous one.
He held the kokanee for quite a while, looking at every graceful detail. This was a fish that had also suffered from technological modifications of its environment, although the burnished silver of this one gave no hint. Then Dad finally handed them back to me, the fish, the engineering, the generations, the tangle; American coastal father offering silent approval to renegade Canadian Interior son. I slipped the kokanee into a plastic bag, wishing that I hadn't lost the old wicker creel that was companion to Grandfather's cane fly rod, and our last fishing trip was over.
We both felt the curious power in this wild creature, beyond the essential marvel of its separate life form so different from ours, and beyond the power of its undeniable beauty. When we as passionate observers, thoughtful fishers, or scientists are able to experience their presence deeply, then we recognize these wild animals and plants do carry the power of symbol. The opportunity to sense wild things in this way, and thus to appreciate their symbolic power, is in decline. Transactions now are largely with machines and each other, not with nature. And in our modern, science-based society, we have convinced ourselves that we cannot tolerate symbolic representations.
What the salmon says
Humans do not have dominion over beasts of the field and fishes of the sea, that much I believe. On the other hand, I don't revere nature over humanity.
I do believe that organisms and ecosystems, like that silver-sided kokanee, have an inherent right to existence. Perhaps that is what separates my father's experience from mine. He lived in an age when the average person did not have to take a position on the value of nature or judge whether society's actions were destructive to it.
But now, as undeniable evidence links us to species extinctions and ecosystem degradation, evidence my father suspected but never had to contend with, we must make those judgments. The grand experiment for us is whether we can grant and respect those multiple rights of nature's existence, a kind of ecological charter of rights, if you will. If we can somehow do that, then we will have the diverse regional parts of this big blue marble as a permanent stage on which to play out our mostly tawdry -- but occasionally splendid -- human dramas.
Wild things, and the regional ecologies that caress and support them, can tell us much, if we learn to listen. I think I hear the kokanee speaking of organism, of the far-reaching connectedness of ecology, and of a bioregional culture of the Kootenays.

Don Gayton is an ecologist in Nelson, B.C., and the author of The Wheatgrass Mechanism and Landscapes of the Interior, which won the U.S. National Outdoor Book Award. This piece is excerpted from his Kokanee: The Redfish and Kootenay Bioregion, published by New Star Books in the Transmontanus series.