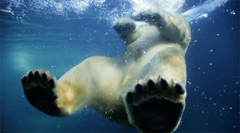 I had every intention of going to see Earth, the first offering from Walt Disney's new Disneynature film label. The film opened on Earth Day, it was playing right across the street from my house, but honestly I couldn't make myself do it. Even the idea of trashing the damn thing wasn't sufficient enticement. I'd still be patronizing a company that has produced more plastic junk than almost any other. That being, perhaps, the least of its crimes.
Disney's plan is to release one film per year from this new tentacle of its empire. Even reading the word "Disneynature" gives me a weird Orwellian feeling, and when I watched the trailer for the next installment called Oceans (opening on Earth Day 2010), I felt like throwing up.
If there was ever much question about Earth Day being one of the world's biggest sellouts (It was bad enough when Starbucks came on board, offering free coffee to people with plastic Starbucks mugs), Old Walt setting up camp here seals it for me.
Never forget the lemmings
Disney has a lot to answer for, but its worst sin may be one of its oldest -- anthropomorphizing nature. Not only making animals into cute fuzzy cartoons, but giving them motivations that only a human (perverse creatures that they are) would think up. Disney's 1958 nature film White Wilderness (one of the True-Life Adventure Short film series) featured lemming supposedly leaping from cliffs, in an effort to reduce their own overpopulation. In point of fact, the lemmings didn't jump, they were thrown (by the filmmakers).
The film, which was shot in Alberta, actually imported the doomed rodents from Manitoba, before hurling them to their death in the Bow River (not the Arctic Ocean, as the film maintained). As the narrator woefully intones, "A kind of compulsion seizes each tiny rodent and, carried along by an unreasoning hysteria, each falls into step for a march that will take them to a strange destiny... This is the last chance to turn back. Yet over they go, casting themselves out bodily into space."
Someone ought to have provided those poor besmirched creatures a good lawyer. Not only were they hurled to their deaths, but their reputation as sensible beings was stolen, replaced by an urban myth that persists to this day.
In the Disney version of nature, the whole rest of the planet simply exists for human delectation. Fix your eyes upon the big screen, suck down sugar water from giant plastic cups, cram in popcorn and candy, while animals cavort for our viewing pleasure. There is definitely something porno about these films. Maybe because the animals in question couldn't give their written consent. They have no rights, no advocates, no voice to speak up and say, "Bugger off Disney, or I will chew your face off and eat it."
The nature of profit
The boring old truth behind Disney's decision to get back into the nature film business is that it makes money, and plenty of it (especially when the work has largely been done elsewhere). Directors Alastair Fothergill and Mark Linfield's Earth consists mostly of footage shot for Planet Earth (the BBC/Discovery Channel Series). Nature films tend to have a longer shelf life, they can be shown in the context of museums and IMAX theatres, where they have longer runs and higher ticket prices, all of which add up to more money. Not to mention DVD sales and merchandising galore. How exactly this helps the planet, is difficult to say. Although Disney has offered to plant a tree for every moviegoer who goes to see the film, this type of tokenism might look good on paper, but will probably have about the same impact as Starbucks offering free coffee. Just another marketing ploy, in a sea of them.
If you need any more convincing about Disney's invidious style, here is the case further made. The entire article is well worth reading but one paragraph, in the context of Disney's new nature film initiative, jumped out at me. Henry Giroux writes: "Given its powerful role in monopolizing all modes of communication, especially those that are media driven, Disney exercises a highly disproportionate concentration of control over the means of producing, circulating and exchanging information, especially to kids. By spreading its ideology all over the globe through film, television, satellite broadcasting technologies, the Internet, posters, magazines, billboards, newspapers, videos, and other media forms and technologies, Disney has transformed culture into a pivotal educational force."
Disney's nature films were, and still are, aimed primarily at kids. What has changed is the scale of the issue. In Earth, there is some mention made of the global climate disaster, but the emphasis is still on the cuteness factor -- baby ducks, baby elephants -- animals existing in some far-away fairy world of pristine nature. It's equivalent to hurling innocent lemmings to their death, only now we are the lemmings, led over the cliff with the assertion that the problem isn't nearly as terrible as we think.
The fact that these films are offered up in educational settings (classrooms, science centres and museums) further cements the notion. Giroux describes this effect. "Through this insidious form of public pedagogy, Disney not only commercializes and infantilizes most of what it touches, it also shuts down those public spaces where kids can learn non-commodified values."
Sell, sell, sell
While watching bits of old Disney films, and reading about the studio's upcoming plans for more documentaries to come, my mind kept circling back to another documentary about the advertising business called Art&Copy. The film is playing at HotDocs in Toronto and has been making the festival circuit. Art&Copy interviews the people responsible for creating the multi-million dollar ad campaigns for everything from Nike's "Just Do It" to milk's "Got Milk." In between the interviews are statistics about sheer amount of money, time and human energy invested in convincing other people to buy more stuff.
The odd and terrible discrepancy between advertising and reality is what I kept coming back to. In Art&Copy, a case in point is ad-exec Hal Riney's campaign for re-electing Ronald Reagan, "It's morning in America." The campaign, which largely was written in a bar, came out of Riney's desire for that perfect Disney-fied childhood experience, not the actual dysfunctional and drab one that he actually had. The buffed amber glow of nostalgia and yesteryear blarney sold like hotcakes, and played a role in getting Reagan back into the White House. The film presents this story with some amount of pathos, but given what we know about the Reagan presidency, it just seems horribly creepy.
The worst thing is that Art&Copy is, in essence, an ad for itself. Funded in part by the One Club, an organization that "exists to champion and promote excellence in advertising and design in all its forms." Funded by the very same business it purports to examine, the film does not question the hand that strokes and feeds it. Rather, it celebrates it. It is not documentary at all, it merely resembles one. I think the same is probably true of Disney's new nature films. They are simply more advertising for the Disney version of reality. While we coo over baby polar bears or baby penguins, the real business of protecting corporations and their profits continues.
If you really wanted to celebrate Earth Day, it would probably be best to simply sit in a hole in the ground, and pile mud on your head. Or perhaps, find a film that really does aim to pull the covers off the larger forces at work. There are films about nature that are pretty damn good (anything that Jacques Cousteau ever made). You could even hold a "Nature-hates-you and-wants-to-kill-you" film festival. There's plenty to choose from, everything from giant mutated bears (Prophecy), to sinister sibilant plants (The Happening).
Whatever you do, don't let Uncle Walt get his clammy hands on any more innocent animals, and that includes you and your kids.
Related Tyee stories: