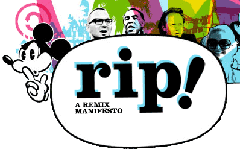 If you want to watch Billy Wilder's wonderful film Some Like it Hot, starring the positively luscious Tony Curtis, and Marilyn Monroe looking not unlike a big dollop of whipped cream on heels, you have a variety of choices. The film is screening this Saturday morning at Vancouver's Fifth Avenue theatre. Or your local video store can no doubt supply a copy. And even if you are trapped inside your house, or pinned underneath something heavy, you could probably still creep one hand out and find your computer. On YouTube, some kindly soul has divided Some Like it Hot into 12 chapters, where it is free and available to anyone who wishes to view it. Twenty-four hours a day, every day of the week. At least for the time being.
On YouTube, the ongoing war between the copyright holders and copyright takers keeps raging. Even threats of ridiculous lawsuits haven't worked very well in getting people to stop posting stuff they like online or downloading stuff to share with the world. In fact, copyright law has worked about as well as prohibition did with alcohol, which simply made drinking look more enjoyable. In the opening scene of Some Like it Hot, the speakeasy was the place to be because it was fun. And illegal.
So, what is your point, Dorothy?
Only this. Just because a new way of watching a film has come along, doesn't mean that all the old ways instantly disappear, or might do in the immediate future. The video store I frequent in my Vancouver neighbourhood, Black Dog Video on Cambie Street, still does extremely brisk trade every evening, and not only because they have excellent films and toothsome staff (who seem too happy to actually be working very hard). People like to hang out there and jaw with the clerks simply because it's fun. The same can be said of movie theatres, where attendance has actually gone up in recent months. Despite the fact that you can easily pirate current films at any number of different websites, people still like to go out and see them at the movie house. There are lots of other people there, popcorn and snacks. For now, YouTube and the Cineplex are coexisting just fine.
'No way to kill this technology'
Which brings me to a film about the copyright revolution now playing at the Ridge Theatre in Vancouver. Brett Gaylor's documentary, RiP: A Remix Manifesto, takes the theories of Lawrence Lessig, creator of Creative Commons, and runs madly away with it. The film is so wadded full with ideas that they come squishing out the sides. But one of the film's central chapters revolves around Lessig's TED Talk, in which he argues "That there's no way to kill this technology, you can only criminalize its use." Lessig is speaking specifically about the idea of remix, taking older material and changing it to make it into something new. But the idea applies equally as well to any technology that allows users to share content (Napster to YouTube and beyond).
What is interesting in both Lessig's talk and Gaylor's film is the underlying change not only in how we use content, but how we understand it. Like any good movement, it was born out of love, not greed.
I've been thinking about Rip: A Remix Manifesto in light of an article that has been making the rounds of the Internet these past few weeks. Clay Shirky's piece entitled The Death of Newspaper and Thinking the Unthinkable went viral almost immediately. The piece popped up like a big old mushroom after the rain at The New York Times, Slate and SFGate, among others, where others commented on Shirky's commentary.
One of the central pegs of his story concerns what happens when the gates fall, and the barbarians overrun the place. It's not because they want to kill you and take all your stuff, it's because they too want to be a part of the process of making culture. Thus, a 14-year-old boy makes copies of his favorite Dave Barry column and distributes them widely not because he hates Dave Barry, but because he loves him, and wants to share his love with the world. It is the same argument that Lessig makes, and by extension Brett Gaylor makes: that creators in a read/write culture want to do more than simply passively consume stuff. They want to make it themselves. And lo! Remix was loosed upon the world.
If it's great, will it pay?
Shirky is writing specifically about the decline and fall of newspaper, but you could extend his analogy to most other forms of media as well. Just as freedom of the press has largely been limited to the people who actually own one, to paraphrase Henry Mencken, so too, the creation and distribution of movies was previously limited to people who owned enormous film studios and giant film projectors. Technology made it ridiculously easy to copy and distribute films, as each new technological innovation made clear. From video cassettes, to DVDs, and now immediate online delivery via iTunes, it's easy to get your hands on stuff. But increasingly, the question becomes: Is it is worth watching?
As ad revenues continue to fall, and people move en masse to the Internet, newspapers and TV tremble under the weight. Look to documentarian Adam Curtis's indictment of TV journalism in four pithy minutes to be convinced.
The curious thing is that even something as blandly stupid as TV seems to have cottoned on to the notion that content works. Shows such as The Wire have inspired epic devotion because they're actually good. How revolutionary is that? If you want to see something great or read something great you will still pay for the privilege. The proliferation of access doesn't mean the death of one form, just more and better means of access. Cell phones spread like a disease because they were convenient and useful, but people obviously still have landlines. They still sound better, and are way more reliable, than cells.
Filmmakers and ink-stained wretches
Shirky argues that although newspapers and journalism have been bound up together in the public mind, they are in fact two very separate and distinct things. People still need journalism, probably more so now than ever before, and if newspapers aren't going to give it to them, then to hell with them. But who will fill void? Bloggers or citizen journalists? The dweeb down the block with an Internet connection and an axe to grind?
Not necessarily, since nothing and nobody can do what print journalists, the foot soldiers of the information age, have done and have continued to do in spite of being systematically downsized. The same can be said of filmmakers, who have traditionally had to work inside an enormous apparatus, in order to do what they do.
But how films get made also has undergone a sea change for the better. Maybe there are a bunch of new Billy Wilders out there, simply waiting to be born, or at least distributed widely. Certainly there is way less control, and way more content, and an extreme polarization between freedom and quality but, by and large, it's the traditional gatekeepers who are panicking because no one needs them anymore.
Things have changed, are changing, will continue to change. We're in the middle of revolution. Meanwhile, content endures, and so does love. Someone has taken the time to carefully post Some Like It Hot online, not because they expect to reap any financial benefit, but because they love it so. I watched the entire film on YouTube and it was still as good right now as it was in 1959, when the World Wide Web was but a glimmer in the distance.
Related Tyee stories: